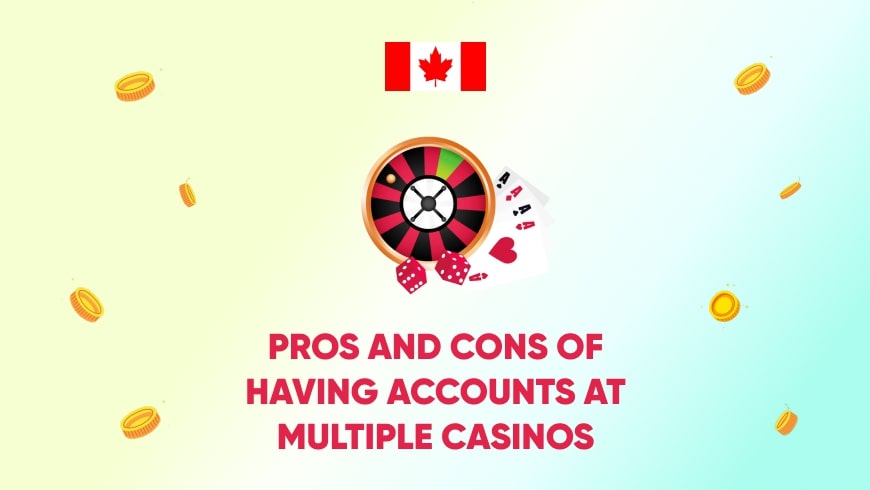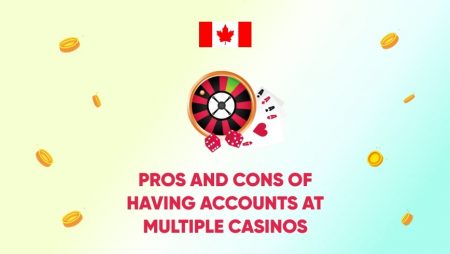 As a more or less regular casino player, you have certainly had thought about creating a few accounts at different online casinos. Getting services from several casino operators means more money, more bonuses, more games, and more chances to hit a progressive jackpot. But is it that beneficial to have multiple accounts at different casinos? Or can it damage your budget and mental health? Let's figure it out today in this post.
Join Best Online Casinos
If you decide to register with several online casinos, we simply can't help recommending you the best online casinos in Canada. They are registered by different companies, so there should not be any case of dispute while connected to all of them at one time.
Pros of Having Multiple Accounts
If you are a new player in the gambling market, you probably stick to one online casino that has caught your eyes at first glance. However, if you look for other gambling sites, you might find that there are casinos with better conditions, better offers, or anything that you lack at your current casino.
In fact, there is no need to terminate the agreement with your first casino. Simply switch to another one and test it for yourself. Even though you aren't super encouraged to play at many gambling sites, having several casino accounts has some advantages. And let's see what you can get if you can afford to have multiple accounts.
Right Choice of Casino
If you don't really want to be a player of several online casinos, you still might need to register with a few of your liking. There are plenty of casinos that offer different services and conditions. Some of them are crypto casinos, while the others don't set wagering requirements for their bonuses. Each of them stands out for something unique. That is why it gets difficult to choose one.
You can use the tactics of choosing a casino site by having multiple accounts. For this, you need to determine which sites draw your attention the most, sign up with them, and make the first minimum deposit that you can afford to lose. Then, you need to play a few games, use the welcome bonus, and try to withdraw the winnings. If all these stages are fine and fair, then a casino is safe to stay and play.
You can dislike some of the selected casinos and log out forever. Don't worry about your money left in their accounts. If the sum was not big, it costs nothing. At your newly chosen online casino, you will earn more than that. Still, be cautious of the site you are signing up for. Always read casino reviews before joining them.
If you don't like the idea of registering and verifying your account with your private documents at multiple casinos, simply choose the no ID casinos.
Unlimited Welcome Bonuses
Perhaps the first thing that comes to your mind is a new welcome bonus! The sign-up offers are usually the biggest ones proposed to the players. But the thing is that a player can receive it only once.
Good news! If you have multiple accounts with many online casinos, you can get a welcome bonus every time you register with a new one. Most players create many accounts with different casino sites exactly for this reason.
Also, mind that according to the welcome bonus terms of most online casinos, you can claim the offer only within a few weeks after registration. Thus, many Canadian players simply create an account, use the bonus and withdraw their winnings. You can do the same if you want, but make sure that the casinos are reputable and pay out for real.
More Promotions and Tournaments
Aside from the welcome bonus that is given only once, players receive other promotional offers on their emails and casino account messages. These offers range from recurring reload bonuses and weekly stuff to seasonal tournaments and promotional monthly calendars. Any type of promotions that a casino can come up with is available on their 'Promotions' page.
Often, the offers mentioned on the site when you are logged out are fixed bonuses that players receive on the regular basis. But when you become their player, you get more exclusive bonuses and perks to your mailbox.
When you register with many casino sites and subscribe to their email messages, you receive more offers. Thus, you can take part in all of them or choose one that you like best.
More Gaming Options
All online casinos are different, having their individual portfolio of games. One casino can have 500 games in total, while the other will have 2,500 titles in the slots category, 200 titles in table games, 100 titles in the live casino section, and a diverse sportsbook as a bonus. But the second casino might not have games from a software provider that are offered by the first casino. Do you get the idea?
That is why you might want to sign up with multiple online casinos, and not just one. So, think about the variety of games and gaming activities as a whole, when you choose several online casinos to play at.
Progressive Jackpots Are More Accessible
If you like playing big for bigger sums, maybe progressive jackpot games are your choice. Of course, mega jackpots are more difficult to hit, but still, you can try playing one progressive jackpot game from different casinos. This will increase your chances of winning the jackpot prize.
Or you can participate in daily local jackpots at your multiple online casinos. One day, one of them will hit. So, again, you have more chances to win a jackpot by playing from different online casinos.
Cons of Having Multiple Accounts
As you can see, you can benefit a lot from having several accounts on different gambling sites. But what can stop you from having multiple accounts? Look for the reasons below.
Bigger Spendings
To keep several casino accounts, you need to make more investments. If you gamble your whole salary away, it will not be good for you. So, before creating several accounts with many casinos, make sure you can afford it.
And even though you have enough money to wager on all of your accounts, you still need to have limits for deposits. Don't let yourself wager more than you can afford and be disciplined as gambling can be addictive.
Gambling Addiction
The most negative outcome that can occur when playing from several accounts is the addiction to casino games. It is very easy to start gambling, but very difficult to stop at the right time. So, in addition to your limits for the amount of money you deposit, set the limits to timing. Create a special schedule to gamble on all of your selected sites.
Besides, always track your gambling behavior, if you have any symptoms of the addiction, you'd better stop gambling for a while. We advise you to get a new habit that will help you identify at what stage of gambler-addict you are at the moment. On a regular basis, take our gambling addiction test online to check yourself for the symptoms.
Possible Disputes
It might not become real, but still, we need to warn you as we at CasinoBest.ca care about our readers. Some online casinos can belong to the same casino group owned by the same company. If you join multiple casinos from one group and start using their perks like a welcome bonus, sooner or later they can notice it and interpret it as bonus abuse.
Any situation of this kind with a sister casino can cause disputes. Consequently, the casino will refuse to pay you out. So, to avoid any possible disputes, create multiple accounts at online casinos from different gambling operators. Always check out the owner of the company on casino review. On our review pages, we always mention the names of the head company.
Closing Thoughts
Probably, you've already got your opinion formed. And your decision about joining multiple casinos is clear to you. No matter what you choose to do with your gambling career, just know that having multiple accounts is not a bad idea, especially if you have discipline and track your gambling behavior.
Rate this post, please:
5
4
3
2
1
FAQ
If you've tried out a few casinos at a time and determined the one you want to play at, you might wish to terminate the agreement with the other casino sites. The easiest way to delete your casino account is via the customer support service. Some online casinos have Help Center pages where they describe the process of account closure. Generally, you need to open the customer support page where you will have to fill in the form. Put a message subject as "Account closure request"; provide the required personal information including your nickname, real name and surname, address, email, and the rest of the required info. Also, tell them why you want to close your casino account.
When you choose online casinos to create several accounts, you need to check them for reliability. The easiest way to do it is using help from websites posting casino reviews such as Casinobest.ca. On our site, we review Canadian online casinos and give safe recommendations on which casino is better to join. So, read reviews to select reliable gambling platforms.
No, you can't. Creating several casino accounts within one website means you are probably lying about your name, address, and other personal stuff. Even though you do it all smoothly that no one will ever notice, online casinos know what PC or a mobile device you are using to play. Online casinos don't like bonus abusers and other frauds, so they will simply block you from using the site from any of your accounts.
More articles on gambling topic