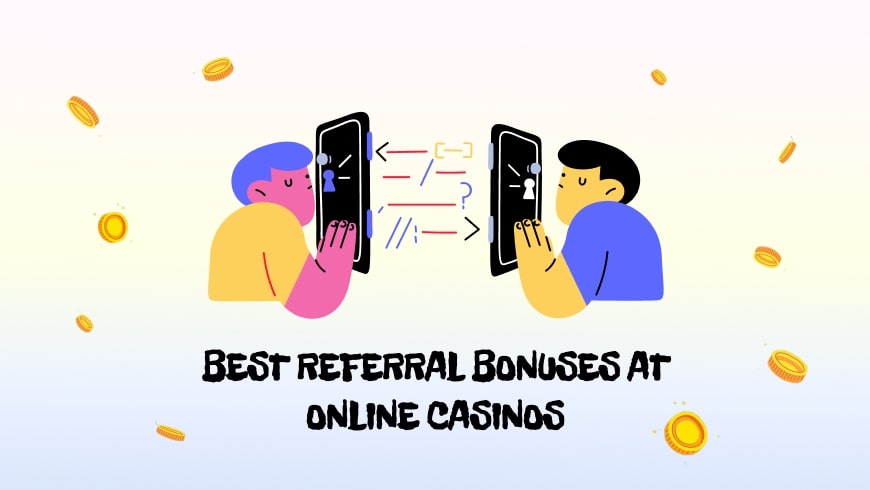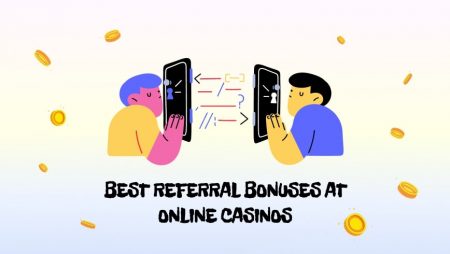 This may sound a bit mercantilistic, but you can use your friend to get a casino bonus. Many online casinos have referral bonuses, meaning if you attract your friend or just someone you know to your online casino, you can get a nice reward. So, here we've compiled a list of the best refer-a-friend bonuses that Canadian online casinos offer. Moreover, we will tell you all the details of these bonuses: how you can benefit, and how your invited friend can benefit from this online casino!
Refer a Friend to Bodog
Bodog casino offers an awesome refer-a-friend bonus by claiming which you can receive a 200% bonus up to $100. And Bodog is also a bitcoin casino, so if you refer a friend and he will deposit with bitcoins, you will get an extra $25.
There are two ways your friends can join Bodog and trigger a bonus for you:
You send them an email with the referral link, they click on it, register with Bodog, and make their first deposit.
Your friends enter your email address in the sign-up field titled 'Referral E-mail Address'.
Referral Bonuses
After your friend has successfully joined Bodog and made a deposit, you and your friend get the following bonuses.
200% Bonus Up to $100. Depending on how much your friend has deposited, you can get up to $100. The 200% bonus matches your friend's deposit. So, for example, if your friend deposits $20, you get $60 on your account.
$25 Bitcoin Bonus. If this friend uses bitcoin to make a deposit, you are at a better advantage. In addition to the match deposit bonus, you get $25 extra to play Bodog games.
Friend's Welcome Bonus. By following your link, your friends receive a whopping bonus of up to CA$1,800 which they can bet on sportsbook, racebook, live casino, or other online games.
Besides, the online casino features Bodog Rewards program with more and bigger perks for all existing players.
Refer a Friend to mBit
Another crypto online casino, mBit casino offers all players to show their friends how cool the casino is and invite them to play games too! Both you and your friend will get 200 free spins and a 30% match deposit bonus!
To refer a friend to mBit casino is done easily with the following steps:
Simply ask your friend to join mBit casino and make the first deposit.
Once the deposit is processed, your referred friend should contact the support team via live chat and tell them you invited him.
The support manager will confirm your email address.
You both immediately get 200 free spins.
The match bonus will be sent to you on your next deposit and to your friend on his 4th deposit. Before getting the 30% match, your friend can use the welcome package with bonuses spread over the first three deposits.
MBit online casino belongs to the group of no ID verification withdrawal casinos, meaning that if you join mBit, you won't need to verify your documents to cash out your winnings.
Refer a Friend to Royal Panda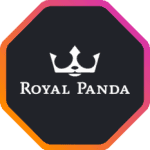 Royal Panda casino has a super rewarding referral program. You, together with your friends, can get 25 free spins and 100 loyalty points to the Royal Panda rewards program.
The conditions to get the bonuses are pretty simple and require you to have an account on Facebook. So, what exactly you need to do is the following:
Find the Royal Panda Gaming page on Facebook and follow it.
Search through the wall for a refer-a-friend post.
Comment the post with your Royal Panda username and tag your friends.
Your friends should join the casino.
Let them comment back to you under Facebook's post saying they've joined Royal Panda and leaving their casino usernames.
The casino will check both accounts and reward you two with 25 free spins and 100 loyalty points.
The 25 free spins are given to play Irish Pot Luck slot. There are limitations to the number of friends you can refer. Only three friends who sign up first following the instructions will get the bonus. Thus, you can get a total of 75 free spins and 300 points to the rewards program.
How Referral Programs Work
Refer-a-friend programs are loyal methods to attract new players to online casinos. It works like a jungle telegraph with the difference that the online casino is aware of it and rewards you for telling your friends about the casino.
Referral programs usually contain special links that an existing casino player sends to his friend that has never played at this casino. Often, you complete the requirements of the referral program and become eligible for the rewards only after your friend follows the referral link, signs up and makes a deposit to the promoted casino.
Bonuses from the referral program vary depending on the casino. It can be a match bonus, a bunch of free spins, or even some no deposit bonus. As you could notice from the mentioned referral programs, they all have different offerings for you and your friends, and also different communication ways.
Always pay attention to the terms of refer-a-friend bonuses. Most online casinos that tend to generate referral links will allow you to invite as many friends as you can. This is in the interest of online casinos to get more new customers. However, some gambling sites limit the number of referred players to a few people only. For example, Royal Panda allows you to invite only three friends.
Speaking of the bonus terms, also make a note of the wagering requirements. Usually, online casinos set their standard requirements to the refer-a-friend bonus with the playthrough ranging between 20x and 40x the bonus amount.
Play Casino With Your Friends!
Perhaps, there is nothing better than having fun together with your friends. So, cement your friendly relationships with another thing in common — online casino. If you gamble online, consider inviting your friend to the casino. For this simple move, you both will get awesome rewards from online casino.
Rate this post, please:
5
4
3
2
1
FAQ
Often, online casinos state in the terms of a refer-a-friend bonus that you are eligible for the bonus only after playing at the online casino for real money. In other words, you need to deposit at least once to get the link and associated rewards. However, this rule may vary for some online casinos. So, always check the bonus terms beforehand.
Most people confuse these two things, but they are completely different. The referral program is made for casino customers. The existing players invite their friends to their online casino and benefit from it. But the affiliate program applies to the casino partners. They also get a special link that they allocate on their sites or blogs. Then, players follow these links and register with the casino. Consequently, the partners get benefits from online casinos for promoting them.
Again, this depends on the online casino of your choice. Usually, referred friends can get a refer-a-friend bonus and welcome package as well. But some casinos substitute the welcome bonus for the refer-a-friend offer. For example, at Bodog casino, new players get up to $1,000 as a bonus. But the referred players can use up to $1,800 in terms of a welcome bonus. In the referral program of CasinoRocket, referred players get their match bonus as a fourth bonus added to the welcome package of three deposit bonuses.
More articles on gambling topic