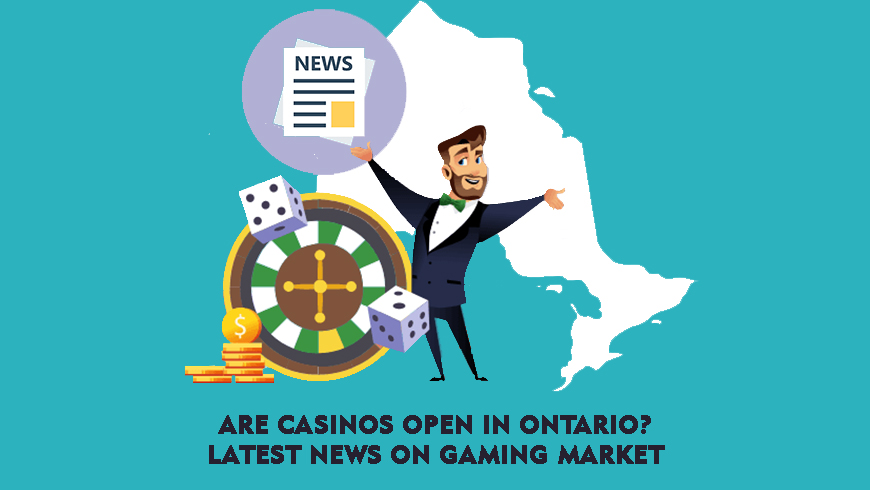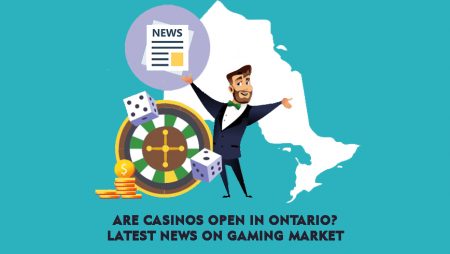 Ontario is one of those provinces that owns and regulates the most casino establishments in the country. But as anywhere else, Ontario casinos have restrictions for visitors due to the pandemic. However, in March, the situation is a bit better. This post will tell you the latest news on gaming and iGaming markets in Ontario. And as usual, we'll tell you about the online alternatives to casinos in Ontario. Check out the top Ontario online casinos on CasinoBest.ca!
Top Ontario Casino Sites
Most Canadian players choose online casinos over local casino establishments because they are way more comfortable. Online casino games are available everywhere and at any time. Play them in the comfort of your home or on your mobile phone when you are on your way to work. Gambling sites do not require you to dress up formally or travel all the way up to play games. Just launch a casino online and win money!
Ontario Casinos
In January, the Ontario government had plans for casino reopenings. It allowed casino and sports venues to reopen at 50% capacity. It means that they would let only 50% of visitors in. This plan is supposed to be accomplished by March 14. So what do we see now as we get closer to the date?
Already in the middle of February, the provincial government announced that it would be moving on to the next step of the reopening plan 4 days ahead of schedule. It includes lifting proof of vaccination requirements as well as lifting capacity limits for public places.
Starting on March 1, casinos, bingo halls, and other gambling establishments lift capacity limits in their indoor public settings. It means that most of those who wish to gamble at public casinos in Ontario are free to visit them in March 2022.
Although proof of vaccination requirements are lifted too, some casinos may still require the document. Masking requirements are also still in place at this time. So make sure to wear your mask when heading to a casino venue or bingo hall.
April Changes in Ontario iGaming Market Regulations
To lead you in the following news, we remind you that several Canadian provinces approved new legislation on legalization and regulation of the online gambling industry.
Thus, the government of Ontario is going to launch its legal igaming market on April 4 in cooperation with iGaming Ontario, a subsidiary of Alcohol and Gaming Commission of Ontario. It is responsible for overseeing and regulating the gambling market in the province.
Before this time, the iGaming market in the province belonged to the Ontario Lottery and Gaming Corporation as only this company has an online gaming platform in the province, including the betting platform Proline+ that provides single-event sports betting.
The new legislation allows private gaming operators, including foreign companies, to provide online casino games and sports betting to Ontario residents from April 4. However, these private casino operators must be registered with the Alcohol and Gaming Commission of Ontario and have an agreement with iGaming Ontario.
Specialists expect that around 70 casino brands will seek a license to provide legal gaming in the Ontario market.
What does it mean for Ontario players?
The executive director of iGaming Ontario, Martha Otton said that consumers could be assured that new casino operators that successfully entered the new market in Ontario would have met strict standards of game fairness, player protections, and social responsibility. It means that players can gamble with confidence and trust.
The new market will provide clients with the enhanced choice of entertainment in the industry of sports betting and iGaming.
Moreover, thanks to the collaboration of the Alcohol and Gaming Commission of Ontario and iGaming Ontario, Ontario will be established as one of the biggest and most important regulated gaming markets not only in Canada but in North America.
Besides, players will be able to try legal gaming products from a number of leading brands, which is why Ontario will attract more and more players. With the population of 14.8 million residents, the iGaming market of Ontario can become the second largest market in the continent after New York.
Of course, private gambling operators will not get behind the top international casino giants in terms of bonuses and incentives for players. They will have to attract new customers with better, bigger, and more bonuses.
Expectations and Reality
The new regulations in the Ontario iGaming market will bear on many businesses, including local casinos and offshore casino sites.
The local casinos that finally become free from the Covid-19 restrictions will probably have fewer visitors. They will have to create online versions. However, thanks to the new legislation, it will be possible to get a license. Thus, players who used to visit their gambling establishments will return to them because they already have trust.
Offshore casino operators will have to compete for the attention of Ontario players. As is expected, new online platforms regulated by Ontario iGaming will attract consumers with enticing promotions, while also providing games from branded software developers.
Although offshore gambling sites also have a broad range of games and sports betting, attractive bonuses, and fast payouts, the question of trust remains open.
The future gaming sites of Ontario will be more trusted by players than international online casinos, even those that hold licenses from the top authorities such as the Malta Gaming Authority and the UK Gambling Commission.
However, it's only expectations that players hold for Ontario-regulated casinos. In reality, it may all turn the other way round. Players may dislike the choice of games, available payment methods, verification procedures, and even the withdrawal timeframe. The changes will take effect in April. So only time will tell whether Ontario-regulated casino platforms are good or not.
Choice of Ontario Casinos
Regardless of what April changes bring, Ontario players still have many options of how to spend time gambling.
Ontario province has 70 casino establishments. There, you can find about 40 thousand slot machines and around 1000 tables of blackjack, poker, baccarat, roulette and other popular table games.
Lottery tickets are available at local retailers and on an online platform from the Ontario Lottery and Gaming Corporation.
About 20 bingo halls are open across the province.
About 20 sports betting venues allow visitors to place sports wagers in both single-event sports and parlays.
Finally, thousands of legit trusted casinos based offshore accept players from Ontario and provide them with thousands of online real money slots, table games, live dealers, bingo, lotteries, and other games of chance.
Offshore sportsbooks also offer a range of odds on the most popular and unusual sports.
The question is what YOU choose to play. And the answer is very individual. Some players will keep visiting casinos every Friday evening, while others will decide it's more reasonable to stay home and place bets online. The reason for this choice is the same — a wish to win real money while playing games and having fun.
How to Choose Ontario Online Casino
We at CasinoBest.ca are focusing on online casinos because of their simplicity, convenience, and payouts. This is why we encourage our readers to consider online gambling as a way of entertainment. But if you choose to play games online, be it on an offshore site or a site regulated by Ontario iGaming, make sure to pick the platform right.
Check the casino's license and certifications. Only licensed casinos online are legal to play in Canada. So be sure to check the number and validity of the license and certificates.
Check the games and other entertainment. Your perfect online casino should give you the opportunity to play your favorite games. So if you like slots from Microgaming, it should offer most slot machines from this provider. If you prefer betting on sports, find an online sportsbook that has many options to bet on. In case you are a bingo player, find a casino site that has both RNG-based and live bingo games.
Pick a casino according to your preferred payment method. Some online casinos in Canada accept PayPal deposits and withdrawals along with other most popular payment options, while others accept only cryptocurrencies. Determine what method you want to use for gambling and make sure your casino has it.
Withdrawal timeframes. Fast payouts are one of the biggest reasons to join a casino. Most players choose online casinos according to the waiting time. If you want to receive payouts as soon as possible, choose a same-day withdrawal casino.
These key factors will help you choose a casino that will suit most of your needs and preferences.
Conclusions
Ontario is one of the largest provinces in Canada. It has most casino venues and other gaming establishments. The new changes may significantly increase the popularity of casino games and attract new businesses to the iGaming industry in Ontario. Besides, the new legislation will expand the already wide choice of gaming entertainment for Ontario residents. Anyway, whatever these changes bring to the iGaming market in the province, players will be happy to have more options for having fun and winning money.
Follow our gambling blog to get more news about gambling in Canada.
Rate this post, please:
5
4
3
2
1
FAQ
Yes, most online casinos that accept Ontario players let them play for free. In some cases, you don't even need to sign up. But if you plan to continue playing games for real money, you need to register first.
For now, players from Ontario can sign up at offshore online casinos or at the OLG website. Starting on April, players will also have a choice of other private gambling platforms regulated by the Ontario iGaming.
Ontario government is lifting Covid-19 requirements for public places in March 2022. Visitors can play at local casinos, bingo halls, and sports betting venues. However, players still must wear masks and have a proof of vaccination in case a casino asks for it.
More articles on gambling topic