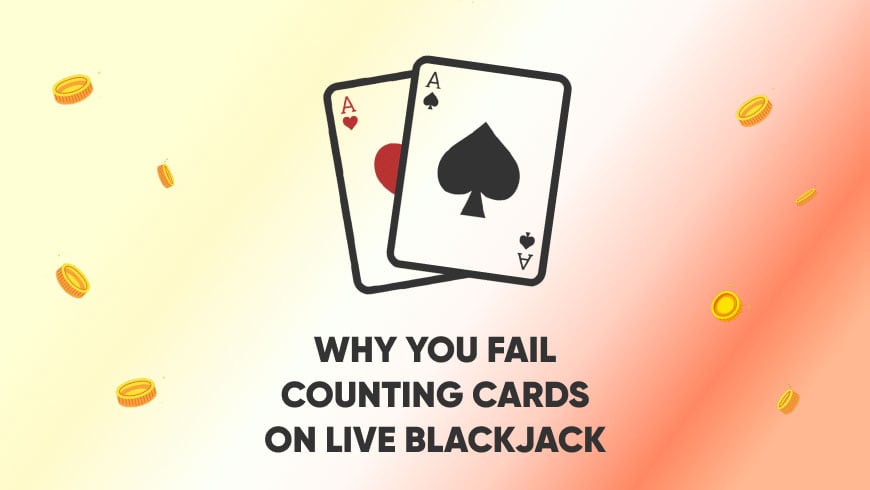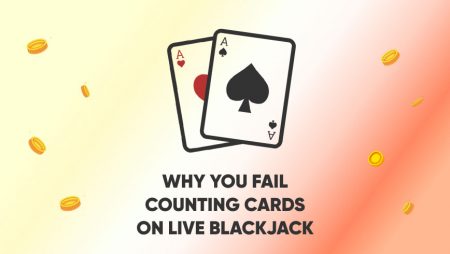 Counting cards in blackjack games only applies for real gambling when you physically sit at a table and hold your cards in your hands. Try it at land-based casinos, but be careful because once caught, you can be expelled from the casino. When sitting in the comfort of your home with a blackjack live dealer on the other side of your screen, no one can see you counting cards, but it still won't work. Why? Read below.
Live Blackjack Online Casinos
You can trust our theory or not, but you can fairly prove it for yourself at the following Canadian casinos that offer you to play live blackjack, other live dealer games, and online blackjack in Canada.
Also, see live blackjack offers here to receive special bonuses to increase your winnings!
Card Counting in Blackjack
If you don't know what we are talking about here, then this paragraph is for you to understand what card counting is. Simply put, players count cards in blackjack to increase their odds of winning. By knowing which cards were already dealt and which are yet to come, one can predict the dealer's hand and make a right decision of the next move.
None casino, be it a land-based or online venue, likes when players use this technique at the blackjack tables. This isn't illegal but you can be asked to leave the place. If you don't do so the easy way, the security will have to go the hard way. At online casinos, it's easier. If they notice you counting cards, they either create a technical issue with your account or ban you so that you can't count cards on their blackjack games anymore.
Live Blackjack is Resistant to Card Counting
When live blackjack games were on the stage of production, the developers used all their knowledge to make the games resistant to card counting. Surely, by that time everybody knew how to increase the winning probability in blackjack, so the software providers had to avoid this to happen.
The following things were designed to prevent card counting in live blackjack:
Blackjack games feature 8 decks of 52 cards.
The live studio workers change the shoe after the 4 decks have been dealt.
Card burning is used, i.e. they remove the top card or face-down cards fron the deck in the middle of the play.
As you can understand, a card counter can easily be confused and lose the thread of counting while playing live blackjack.
You Can't Actually Hide
If you thought it's easier to count cards in front of the screen than the real dealer, you were wrong. Indeed, the game software is watching you, although not through the web-camera.
The software providers implement such a thing as shoe counting. And when you count the cards, the computer can analyze your betting patterns. If they match the shoe count, they notify the casino about it.
So, do not try to deceive this system or count cards as long as you can until they ban you because the systems can quickly identify when you count cards or at least seem to be counting.
Live Dealers Don't Tell Anything
Some of our readers could have heard a myth that live dealers know their cards when they have been dealt. Thus, they can make a slight sign telling the players what kind of cards they have.
This isn't true, though. Dealers see their current cards at the time of revealing them after all bets were placed. Or even though they did know it, do you think they would let you predict the cards? We doubt that.
For the purpose of live gameplay, the dealer's cards are scanned, but the dealer doesn't see them until the round is completed. This developers' move is made to prevent fraudulent actions and any tells of the dealer.
Automatic Card Shufflers
Some live gaming studios use automatic shufflers that change cards after each round. The mix of the cards results in a random outcome. So, card counters will hardly ever guess the following card right.
In fact, players try to avoid the live games with these continuous shufflers. That is why not all live casino studios keep employing this feature into the games. To find out if the game uses a card shuffler, open the game rules.
You Simply Need More Time
Card counting is a time-consuming thing. Advanced players might do it fast, but still not everyone can limit the calculations in the time frame the live games allow for betting. Usually, casinos won't give you more than 30 seconds to make your bets. For this short period of time, a card counter should convey the ever-changing 8-deck card counting and place bets. Otherwise, the time runs out and the blackjack player misses the round.
This and the previously given reasons simply don't let players count cards accurately. One has to be a very skilled player to manage this.
Concluding Thoughts
The reasons we've put earlier lead to only one outcome — a player fails to count cards in blackjack. Besides, this applies not only to live blackjack but also to online blackjack. The latter seems to provide impossible counting conditions at all due to the random card generators. So, most probably, you cannot succeed in card counting on any blackjack game on gambling sites. Or even if you can, you will soon be banned from the casino. The only recommendation here is to play fair and not to try chasing the better odds.
Rate this post, please:
5
4
3
2
1
FAQ
Counting cards is typical of those players who want to increase their chances of winning. This way, they cheat on blackjack games and win more. However, casinos notice this behavior and try to prevent it. Online casinos make it almost impossible by employing special techniques that identify players' betting patterns and block them.
Live blackjack games are not rigged if you play them at a reliable online casino. Besides, software providers must also be reputable on the market. For example, if you pick a game by Evolution, Pragmatic Play, or Playtech, you will certainly have a good live blackjack experience. Their studios feature high-end technologies and qualitative equipment.
Card counting is not illegal. No one will send you to jail for it. However, casino venues prohibit counting cards. And if you get caught, an online casino will ban you, and most probably, it will deny your access to blackjack games. Therefore, we do not recommend counting cards in blackjack. Moreover, it is almost impossible at online casinos.
More articles on gambling topic