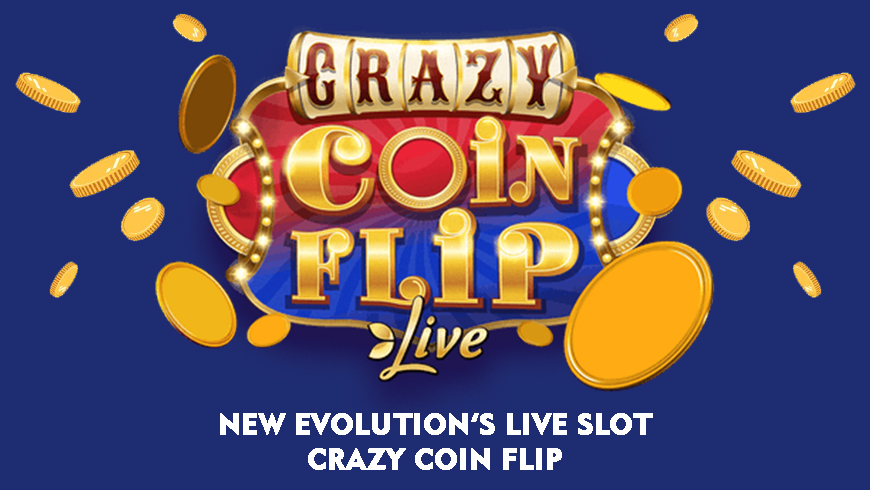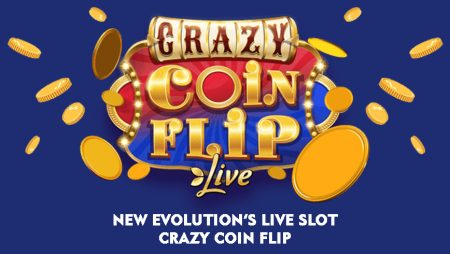 Welcome a new slot and live game by Evolution — Crazy Coin Flip is out now at the best Canadian online casinos. If you like Crazy Time and games alike, you will definitely enjoy the new game. It combines an RNG slot mechanic with a live game show experience. While the main game looks like a regular slot, its Coin Flip bonus round is hosted by a live presenter. If you want to experience this innovative and exciting transformation of the slot into a live game show, play Crazy Coin Flip for real money at top Evolution casinos:
Some online casinos partnered with Evolution like Wild Fortune Casino open a pre-release of Crazy Coin Flip. It means that their players are among the first who can try the new game and win real money.
About Crazy Coin Flip
Crazy Coin Flip is a mash-up of a video slot and a live game show. It has three phases: qualification, top-up, and Coin Flip bonus round. In all three phases, an average return to players is 96%.
Your objective in this game is to pass the qualification stage and collect three scatters that will transfer you to the stylish live game room with a beautiful host. Then, you will have a chance to play a bonus round with a coin flip feature. However, no matter which side the coin lands, red or blue, you will get paid. Both sides of the coin have multipliers of up to x100.
Rules of Crazy Coin Flip
Before you start placing real money bets, make sure to understand how the game works. Let us describe all three phases in detail.
Qualification phase
At the very beginning, you need to qualify for the bonus round with a coin flip. For this, land three scatter symbols in one spin. You will need to spin a 5×3 slot machine a few times.
Some scatters have multipliers that are added together once you qualify. It will boost multipliers that appear in the bonus round.
The video slot has a turbo button if you want to play the game at a faster pace. In general, it looks like a standard slot machine with three spin modes: Normal spin, XXXtreme spin, and Super XXXtreme spin.
If you choose to play in the Normal spin mode, your bet becomes your base bet. And you play normally, meaning your chances to hit scatter symbols are standard.
You can achieve the bonus round faster if you activate one of the two XXXtreme spin modes. When XXXtreme spin mode is on, you are guaranteed to land one scatter in each spin. It will cost you 5x your base bet.
The Super XXXtreme spin mode will cost 50x your base bet and it guarantees two scatter symbols every time you spin. These two XXXtreme spin modes also guarantee more frequent multipliers. So their cost pays off.
Top-up phase
Once you have collected 3 scatters and qualified, you enter the top-up phase. You will need to spin a 3×3 slot machine with red and blue coin symbols. Each of them contains a multiplier value. You can also increase the multiplier values by increasing your top-up bet in the game panel.
The objective is to collect three coin symbols of the same color in the middle row of the machine. The values are summed up and added to the total bonus round multiplier. When the time runs out, the game transfers you to the live bonus round with a host. And, this is the final phase of Crazy Coin Flip.
Coin Flip Bonus Game
The bonus round generates random multipliers for both sides, red and blue. These multipliers contribute to the total amount of winnings. And, they are common for all players in the live room.
When you receive the multipliers of the Coin Flip round, all other multipliers, including scatter multipliers, top-up phase multiplies, and coin flip multipliers are added together and shown on both sides of the coin.
Then, the live host pulls a lever to flip the coin and generate a random result. However, regardless of which side of the coin is facing up, you will be paid in accordance with the multiplier on the winning side.
How to Play Crazy Coin Flip
Now that you know everything about the phases, you can begin to play for real money. Here's how to start:
Log in to an Evolution online casino that offers Crazy Coin Flip.
Make a deposit.
Go to the lobby and search for the game.
Open it in real money mode.
Place a base bet in the normal spin mode.
Choosing one of the XXXtreme spin modes is optional. Enable it only if you can afford it.
Click on the spin button and try to land three scatter symbols in one spin.
Pass the qualification and enter the top-up phase.
Increase your bet if you want to.
Land three coin symbols of the same color in the middle row.
Progress to the next phase and watch the host pull the lever for final results.
This game seems complicated. However, in practice, you will easily pass through all phases of the main game and get to the live game. Besides, the game gives the opportunity to increase the chances of getting scatters on the reels thanks to the spin modes.
Play Slot Live!
Evolution is one of those software providers that create innovative products in the gaming industry. Crazy Coin Flip is one (and the first) of those innovative products that combine both slots and a live game show experience. This adds up to the level of excitement and allows players to do the incredible — play online slots live!
Evolution offers some of the best live games online. Check roulette online casino easy verification websites to play Evolution's games.
Rate this post, please:
5
4
3
2
1
FAQ
Crazy Coin Flip is available at all Evolution online casinos since June 14, 2022. So check it out at the best casinos that are partnered with the leading software provider of live games. Use our casino reviews to find the perfect casino for you.
Crazy Coin Flip offers up to 100x multipliers. The maximum win amount is 500,000 EUR. You can reach such a result by placing the biggest bet and winning the most multipliers through all three phases of Crazy Coin Flip.
No, you can't. Crazy Coin Flip is available only for real money because it's a live game. So you cannot practice it before placing real money bets. But at the beginning, you can play in a normal spin mode with the lowest bets possible.
More articles on gambling topic