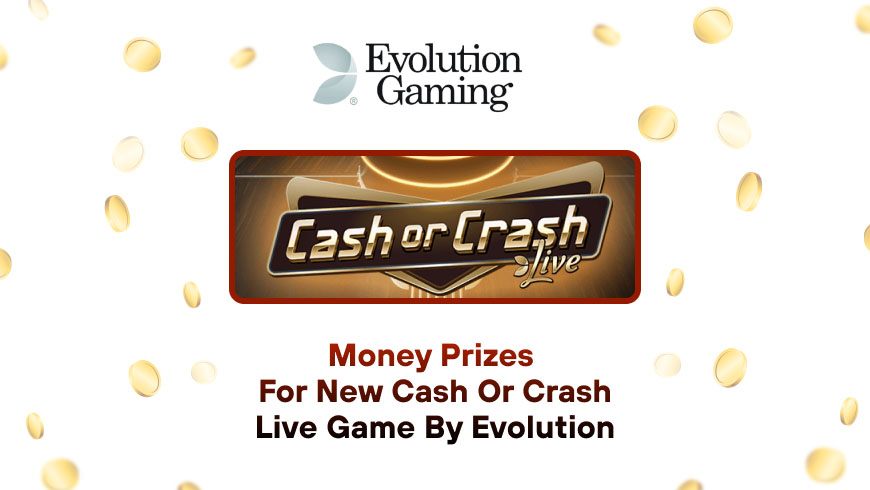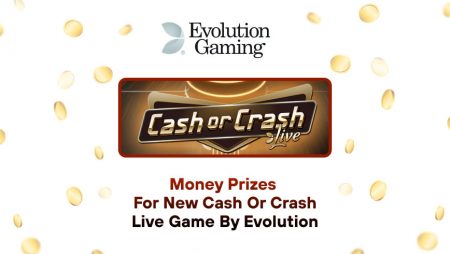 Evolution provides us with a new live game show Cash or Crash that will soon become players' favorite due to its high RTP that rivals blackjack and really good stake multipliers of up to 50,000x. Moreover, Canadian online casinos have already prepared good promotions for Cash or Crash live players. If you want to try out your luck in this new game, there is no better way than doing it while participating in tournaments. Read on to find out more about the game and casino promotions with real money prizes for Cash or Crash.
Casino Promotions for Cash or Crash
Double your win of up to €1,000
Only at three online casinos, you can play Cash or Crash live and double your prize. The promotion is already running and it ends on September 30 at 23:59 UTC. To grab your cash prize, you need to play Cash or Crash and try to land a win that is multiplied 1,000 times or more.
In fact, you can make as many qualifying wins as you can. There is no minimum bet limit or wagering requirements. Anything you win, you take it home. So, join Wildz, Wheelz, or Caxino right now and take part in the promotion!
€20K Cash or Crash Live Tournament
The name of LeoVegas casino appears again on our news blog. The casino operator launches a live tournament with a prize pool of €20,000. The promo runs till September 26 at 23:59 CEST. So, hurry up to take your position on the leaderboard.
In fact, there are four mini-tournaments in this promotion, each having a pool of €5,000. Every weekend, you have a chance to win a share of this cash pool. To earn leaderboard points, simply play Cash or Crash and make net wins. 1 point equals €1 in net wins.
The tournaments are scheduled as follows:
1st tourney: September 2 at 00:01 CEST till September 5 at 23:59 CEST
2nd tourney: September 9 at 00:01 CEST till September 12 at 23:59 CEST
3rd tourney: September 16 at 00:01 CEST till September 19 at 23:59 CEST
4th tourney: September 23 at 00:01 CEST till September 26 at 23:59 CEST
More Online Casinos to Play Cash or Crash
About Cash or Crash
Cash or Crash is an exclusive game yet. To date, you won't find it at all Evolution online casinos. Only featured casino operators have access to present the game's early release.
Cash or Crash is also a unique live game show with an interesting theme. When you open the game, you feel like a passenger on a big blimp that is cruising in the sky. A live dealer is standing in front of you and next to the "pearl of this game" — a huge lottery ball with multiple colored balls inside.
Cash or Crash is pretty profitable as it pays back 99.59%. However, it depends on how you play. The riskier your stake, the more chances to win the highest bet multiplier. See below the guide on how to play Cash or Crash live.
How to Play Cash or Crash
First of all, players make their bets. Then, the game starts and a live dealer randomly selects balls.
Each game round includes a 20-step ladder, in which every step increases your potential win. So, your aim is to climb the ladder as high as possible. To climb the ladder, a green ball should appear from the ball drawing machine. Green balls take you up one step.
When a green ball is drawn, you need to make one of three choices:
Continue with 100% of potential prizes
Take Half and claim half of what you've earned while playing with the other half
Take All and claim the entire prize + end your round
Unless you pick Take All, the round finishes when the red ball is drawn. However, if the next ball is golden, you can keep playing because it acts as an extra life. And if after the golden ball a green ball appears, then your total prize is increased. In short, you need to play with green and golden balls and avoid red balls as they finish the game and you crash.
Finally, when the round finishes, the winnings are credited to your account.
To win in Cash or Crash, you need to place stakes and make the right choices. If you choose to continue playing all the time, your winnings will be bigger than those who choose to Take Half. However, the Continue option is riskier than the two others.
The biggest prize you can win is 50,000x your stake. But this is possible if you get a golden ball in a risky game only.
Features of Cash or Crash
Unlike other games from Evolution, Cash or Crash doesn't feature many specials. Golden Ball can act as a special feature allowing players to keep playing or increasing their wins. But in this game, you won't find any super spins or bonus games with hourly jackpots appropriate for many Evolution's games. Anyway, it isn't that important because the game is highly profitable without it.
As for conveniences, Cash or Crash features a history of past records, Autoplay function, winners list, live chat, and etc.
Try to Take Real Cash or Crash!
The new live game show from Evolution is intriguing. Though, at the same time, the game rules are pretty easy with no special features. But the simplest games are the best. So, maybe Cash or Crash will be your next favorite. You can use various strategies to benefit from playing Cash or Crash. But there is another proven way to make the most out of this game by taking part in casino promotions. If you are ready, go ahead and don't wait a mere second. The promotions will be over very soon!
Rate this post, please:
5
4
3
2
1
FAQ
Cash or Crash is a new game release from Evolution. So, you can find this game at all Evolution online casinos. However, some online casinos may not provide it yet. That is why we recommend playing Cash or Crash at the Canadian casinos we mentioned in the article.
It depends on the promotion terms. For example, if you take part in the Cash or Crash offer at Wildz, Wheelz, or Caxino casino, you will get your cash winnings within 72 hours after the game. But if you play live tournaments at LeoVegas, you will receive your real money prizes after each tournament finish.
Yes, you can play Cash or Crash using your mobile device. But make sure that your Evolution online casino is compatible with smartphones and tablets. If you aren't surer which mobile casino to choose, use our recommendations on CasinoBest.ca.
More articles on gambling topic