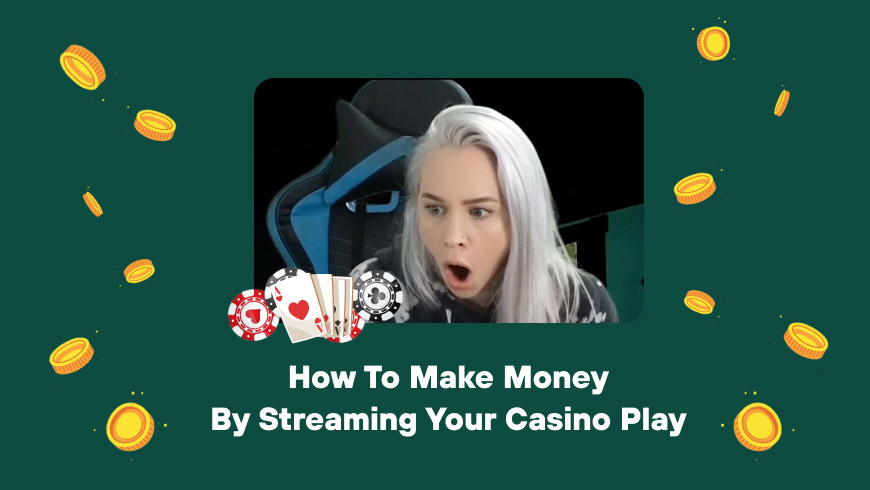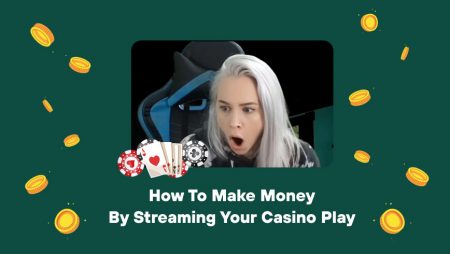 If you think that playing casino games is the only way to make easy money on casinos, you are focusing on stereotypes. Nowadays, players can make money by playing games and streaming them online. But the difference between simple play and streaming play is that you are guaranteed to get paid in the latter case, whereas by playing at casinos you can either win or lose. Read this post till the end to find out how you can earn millions on streaming your gameplay.
Online Casinos for Streamers
To be honest, a streamer can pick any legit online casino and deposit money to play and stream videos. Still, it's important to play on trusted casino sites, so rely on our casino reviews when looking for the best casino platform.
What is Streaming?
Video streaming is a totally new direction in the industry of media perception. Anyone who has a stable internet connection can become a streamer and make thousands of dollars a month by live-streaming how he plays. Professional streamers play and stream for multiple hours, sometimes even more than 10 hours per day. Although it isn't considered a full-time job, many streamers would dispute that.
Streamers even work in groups to stream video games 24/7 and make more money. There are several Internet tools to acquire for this kind of activity. The most popular platforms for streaming are YouTube, Twitch, and Facebook.
Streaming has become popular since people realized that many social media users like watching other people wager real money, win prizes, and level up. This way, viewers entertain themselves and even get inspired.
Ways to Make Money by Streaming Games
If you hate your current workplace or don't have a sufficient educational degree, don't get frustrated because nowadays there are plenty of ways to become rich and famous. One of them is streaming online games. It's as easy as a, b, c. Just pick one or several ways to make money by streaming games that we describe below and get started!
Become an affiliate of Twitch
Twitch platform has a program called Twitch Affiliates. It aims to help experienced streamers earn money on the media platform. However, you need to fulfill certain criteria to qualify for the program:
Have at least 50 followers
Stream for 8+ hours within a month
Stream for 7+ days within a month
Have 3 viewers per stream on average
Once you meet the requirements, Twitch Affiliates automatically invites you to the program. Then, you need to provide your payment method details and tax information to the Twitch team.
You can earn money on Twitch Affiliates through three sources: Bits, subscriptions, and selling skins and games.
Bits include emoticons and badges. They help your followers identify with your Twitch channel and streams. One Bit is worth $0.01. Thus, you need to sell 1000 Bits in order to get $10.
By selling skins, you can earn 5% of the collected revenue when your viewer purchases a trending skin that you use while streaming a game.
Bits and skins are cool, but a huge part of your revenue comes from subscriptions. As soon as you become a Twitch Affiliate, you receive the subscribe button on your Twitch channel. This means your fans can subscribe to your channel and get notifications once you appear live streaming.
Subscription costs differently depending on the period. The price varies at $4.99, $9.99, $24.99. However, you don't get all this money because Twitch takes half. Still, if you have thousands of subscribers, you can make a fair amount of money. Imagine that you have 1000 subscribers on the first pack, it means you earn $2,500 a month. What is more, you can try to negotiate with Twitch and get 70% of the deals instead of 50%.
Join Affiliate Marketing
You can become an affiliate of your casino operator and promote it while streaming games online. New players would like to play at a casino that pays you cash, so they will follow the link you shared. And with each new player coming from you, you get a percentage of his deposit from the casino.
To conduct affiliate marketing, you don't have to sign up at Twitch. You can easily do it on YouTube. Simply place the link in the description under your video stream and wait for the first players to come.
You can also promote PC accessories on Amazon if you know that your followers like gaming equipment.
Accept donations
Your viewers can support your channel by donating money. This function is available on YouTube, Twitch, and Facebook. Don't forget to provide a means for donation. And make sure that your followers know how and where they can donate. Constantly remind them about it in your videos.
No one guarantees that you will receive regular payments through donations. But it's an additional method of receiving money by streaming games.
Advertise
We all hate 5-sec video ads on YouTube, but for the media company, it is the primary way to earn money. However, it isn't that easy to monetize your YouTube channel. Users are required to accumulate 4000 watch hours within a year to qualify for the privilege.
Speaking of YouTube gaming streamers, they earn $18 for every 1000 ad views on average. But not all viewers watch ads, which is why streamers can make only $3 or $5 for the same number of views. Sadly but it will be a long way to make $500 on YouTube as you need to have about 100,000 viewers.
Twitch platform also supports advertising. However, viewers hate it because ads disrupt them from watching. The only way to avoid ads is to subscribe to a channel. But this depends on the viewer. He prefers either to buy a monthly subscription or watch ads.
Get sponsored
If you think why would anyone sponsor my channel, here's why. It's another method of promoting a game or a gaming platform. Companies and brands are always looking for new ways to get noticed. They need an audience, and the best and biggest audience is on Twitch, YouTube, Tik Tok, and other social media channels.
Top streamers can make millions for a deal with a sponsor. However, you should be a well-known gaming streamer with a huge fanbase to attract sponsors. Try to create quality content as a professional player and streamer. This way, you will get sponsorships way faster.
In Conclusion
Many casino players are thinking of different ways to make money on top-rated casinos. And one of the best ways is to stream their gameplay online through different platforms. It is easy as you don't have to do anything but entertain yourself and your audience. It is comfortable because you can stay home or stream a video from your mobile device. And finally, it is profitable. Money that you make by streaming is guaranteed.
Rate this post, please:
5
4
3
2
1
FAQ
It depends on how you stream games. Streaming games is a suitable method to make money for compulsive gamblers. They don't regret how much money and time they spend on casinos. This risky gaming style is attractive for viewers. However, it doesn't mean you must be a problem-gambler. You can gamble in your own style and have a lot of fans. The key is to stream constantly.
It's absolutely free to open an account on any platform, be it Twitch, YouTube, Facebook, or anything else. You don't have to pay money for this. Instead, when you have enough followers and views, you will receive money from these platforms. People call it account monetization.
Considering that you need to stream at least 8 hours a month on Twitch, you need to manage your bankroll to fit this requirement. It depends on the size of your bets and your strategy. The first couple of months will be pretty difficult from the financial point of view. But remember that when you monetize your account, you will make money. Therefore, you will be able to afford bigger bets and bigger deposits.
More articles on gambling topic