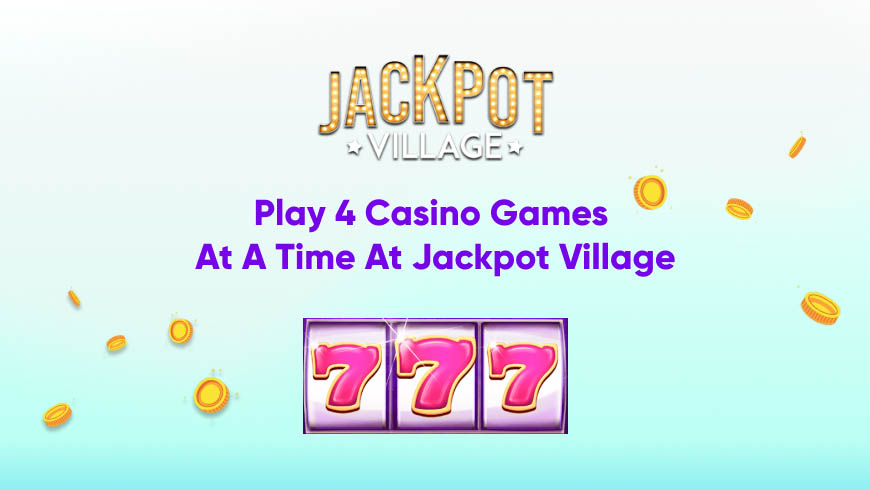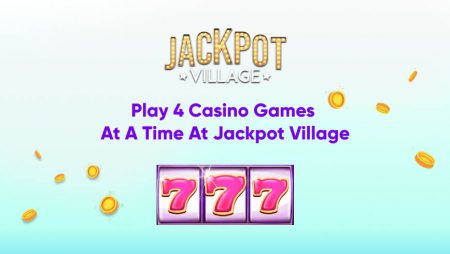 If you have ever imagined how cool it would be to play multiple casino games at the same time, then your thoughts have materialized. This Multi-Play feature has become available at Jackpot Village casino. You can play up to 4 games at a time! This means 4 times more winnings!
The four selected games will appear on your screen in four smaller windows. You can participate in each of these games. Spin the reels, place real money wagers on RNG-based table games, and play against live dealers — all at the same time! You have to be concentrated, thus the feature even develops your multitasking skills.
Already excited to play the four of your favourite games at a time? Go on reading to find out how you can start!
Multi-Play Feature
Jackpot Village casino always tries to surprise their players with exclusive promotions and opportunities. At the casino you can win a huge jackpot from the total jackpot pool already more than $41 million! You can take part in giveaways and cash drops! But now, Jackpot Village offers something even more exciting — the multi-play feature.
This gaming mode is becoming popular among online casinos. Thus, LeoVegas casino has a Blast Mode feature which also allows to play multiple NetEnt games on mobile and spin only bonus rounds.
Jackpot Village took things a step further by making ALL of its games available for the multi-play feature. You can add up to 4 games and play them all at once, being aware of what's happening in each game.
There are certain restrictions, though, connected with the live casino category. You can play only one live game using this feature. Thus, you can play 3 slots and 1 live game, or 2 slots, 1 table game and 1 live game. Any pattern will do, meaning there is 1 live casino or none of them at all.
How to Activate Multi-Play Feature
You can activate and use the multi-play feature very easily. Make sure you signed up or logged in to your Jackpot Village account. Also, don't forget to make a real money deposit to get the super wins from the four games immediately!
Open any game you wish to play at Jackpot Village.
At the bottom left corner, click the '+' button to add a game.
The search window will show up, displaying all game categories available.
Click any of the offered games, use the search bar option, or add a game from your favorites.
Choose up to 4 games. They will be added to the screen.
To play in full-screen mode, click the green arrow down.
How to Exit Games
If you feel a bit tired of the multitasking gameplay or your funds have already increased and you wish to withdraw, you can close the multi-play games.
You can exit each game in two ways. Either by clicking the 'x' at the top right corner of each game or by clicking the 'x' button when you hover over the game icons on the bottom left.
Max Winnings with Multi-Play Feature
The Multi-Play feature can maximise your winnings and change your bankroll significantly. While winning at one game, you can hit a bonus round at another game, and thus increase your bet at the third game. It is that easy! The feature requires only enough money on the initial balance and its constant monitoring.
Here are a few patterns you can use the Multi-Play feature and maximise your winnings at Jackpot Village.
For live casino enthusiasts
Open your favorite live game and add up to 3 slots or table games. First, play a few rounds on slots to hit the bonus round or a winning streak. Once you've won everything that you could win with the bonus round, place wagers on your live game. You can wager as high as your recent win on slots.
Provided you are good at your favorite table game, whether it's a live blackjack or live roulette, you will likely win on that wager. Continue playing on other games in the multi-play cluster and win your next wager amount for the live game.
For jackpot hunters
Jackpot Village lets you know by its name that you can win multiple jackpots on the casino. So, why not doing it now with the Multi-Play feature?
Add up to four jackpot games to the multi-play mode and start spinning all of them. The odds of winning are not the best, but it's a jackpot game — if you win, you grab it all!
You can add progressive jackpot games, daily or weekly jackpots to add diversity to your winnings. You can even bet on the four games from the Mega Moolah series with a single jackpot pool prize. Thus, you will increase your chances by 4 times since you are playing four Mega Moolah progressive games at a time.
For slot discoverers
This pattern of multi-play gaming will be used by the most slot players. Just open the four slots, either new or your old favorites, and play them all at one time. Make sure your bankroll is affordable for such a move.
Choose slots with high RTP percentages. The higher the RTP of the slots, the better. Your odds of winning will increase, especially when you hit the bonus rounds at all the four games.
It's also advised to play games with the Buy Bonus feature. You can buy the bonus rounds at each of them and watch the booming outcome.
How Advantageous is the Multi-Play
The four games at a time can either increase your bankroll or put it down low. It's very important to use multi-play responsibly because each game will take the percentage of your money. These are the pros and cons of using the multi-play feature:
Advantages
Up to 4 games in play
All Jackpot Village games are compatible
High winning odds
Easy to navigate
Multitasking activity for your brain
Disadvantages
1 live game at a time
Requires monitoring the balance
Conclusion
For sure, no one can guarantee that you will win every time and at each selected game. The game rules of each remain the same. Some games will bring you a random fortune, whereas other games will reduce your balance. But the final result depends on you and your decisions. Control your budget and everything will be alright and even better!
Read more online casino in Canada reviews on our site.
Rate this post, please:
5
4
3
2
1
FAQ
You can play live casino games, but the choice is limited to one game at a time. You cannot play two or more live dealer's games. But you can open your favorite live game and add up a slot or a video table game. Multi-play mode at Jackpot Village allows up to four games, so you can choose any three games in addition to your live game.
The multi play mode allows you to play up to four games at a time. So, you must be prepared to make multiple bets at a time. If you wager $5 at each game, then your balance will reduce to $20. It can increase back to $20 or more, but only if most outcomes were winning. Thus, we recommend playing the multiple games only if you can afford it.
You can play up to four games with automatic wagering. But you need to turn on the autoplay on each game if it's available. For example, if you play four slot games, then you can set a number of automatic spins on each game panel. Mind that autospins are fast. If you miss out on the losing track, you can lose a significant sum. However, the winnings from the other game can act as an insurance for your bankroll.
More articles on gambling topic