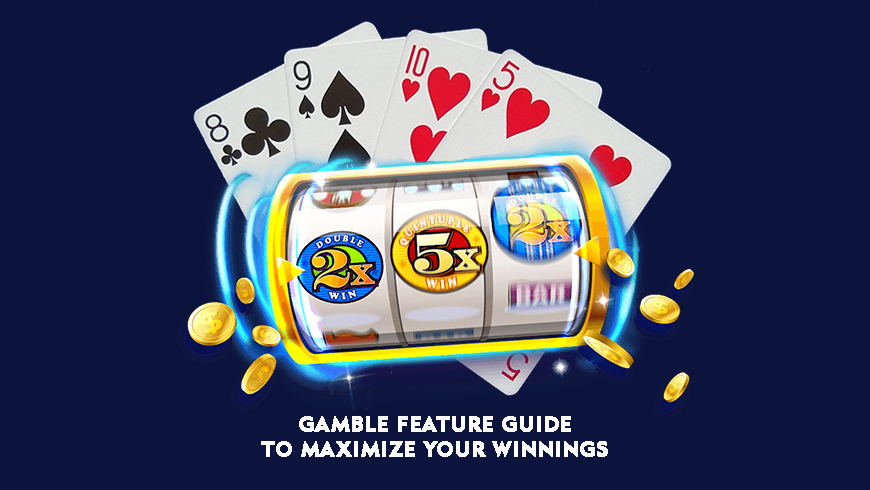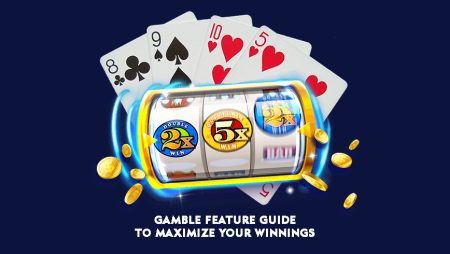 Whether you are seriously hunting for big wins on slots or just want to turn a small payout into a big one, you must try the gamble feature! There are hundreds of slots that offer players to play a gamble game. With the first successful round alone, you can double your payout. But if you take the risk and gamble more, you may get a very nice reward. In this post, you'll find everything you need to know about the gamble feature. But before, look through online casinos that offer slots that you need:
Lots of casinos have the best slot machines in their lobbies. Later, we will name the titles of the most exciting gamble feature slots. Find them at the top online casinos in Canada and grab your money!
Some Yukon Gold Casino winners Canada also played games with the gamble feature and made a fortune. Join Yukon Gold too and try to repeat their payout.
What is a gamble feature?
Although slot machines are the clearest representation of gambling games, they feature a more gambling thing — a gamble mini game. Simply put, it's a game option that appears after you hit a win on a slot that features this gamble game. It allows you to double your latest payout and maximize your winnings.
A general gamble game looks like a casino table with five cards. One of them is face-up, while the four others are placed face-down. And you need to guess which of the four cards matches the face-up card by the suit or color. If you select the card right, you double your win. If not, you lose the entire payout.
After that, you can choose to continue playing the mini-game or collect winnings and get back to the base game.
The Gamble game is optional, so you don't have to play it and risk your payout if you don't want to. Not all slots feature this mini-round, so pay attention to the games you choose to play.
How does it work?
It's like a coin flip game, you either win or lose. So there is no strategy for it. Use your luck and hope for the best is the only piece of advice. Once you land a winning combination in the base game, you have the option to double your win or take your winnings and continue wagering in the base game.
But if you click the gamble button (which is usually a small button somewhere by the side or down the screen), you'll start the mini bonus game.
Like all gambling games, it uses the random number generator to determine the outcome. So you just pick a card, a number, or whatever it is, and see the result.
Nowadays, software developers create something more interesting than just cards. It can be coins, characters from the game, or any theme-related items. The idea is still the same — you have to choose the right one to double up.
Some gamble games don't stop in one round and allow players to quadruple their payout and multiply it even more. But this is available only if you pass the first gamble round.
How many gamble rounds can you play?
Most games with the gamble feature have a limited number of rounds. In most cases, it's about 5-10 rounds of the gamble game. The more rounds you play, the bigger your final payout. But the riskier it becomes because if you choose the wrong option, you will lose all you've doubled and your win amount itself.
Imagine your feelings after you complete all 10 rounds looking at the final sum of your win. This is something you want to achieve. But don't forget that all casino games, including mini games, are risky.
It's also worth mentioning that some slot games have a limit on how much you can win by playing a gamble game. Thus, if your initial bet and win in the base game is pretty big, you might be limited to the final amount. If you are planning to wager big, check this out in the game rules before playing the game.
Best slots with a gamble feature
As we said, not all slot machines have this feature. To find all available gamble game slots at your online casino, use the lobby search functions. Some casinos collect all gamble feature slots together into a group so that players can easily find them.
Below, we're giving you the titles of the most popular gamble game slots you can play to maximize your payouts:
Spin and Spell
Elvis Frog in Vegas
Diamond Riches
Reel Hero
Sonic Reels
Platinum Lightning
Space Gem
Secrets of Cleopatra
Book of Dead
Voodoo Reels
Unlimited Wishes
Infinity Hero
Literally, thousands of slot games have the gamble feature. So it's difficult to name all of them on one page. Choose a gamble game slot according to your favorite theme, slot's RTP, paytable, and other bonus features. The more features, the better your chances to maximize your winnings.
How to use the gamble feature for the better
The gamble feature doesn't guarantee a win, and you must understand it. Therefore, you don't have to use it every time you win a spin. otherwise, you may lose everything if Lady Luck isn't looking your way. Use the feature only if you feel lucky at the moment.
Besides, if you are on a budget and you'd rather keep your big payout from the base game, collect the wins and continue wagering as usual. But if, for example, you hit a small payout, you can try to multiply it by using the gamble feature. If you win — great, if you lose — it's not a big loss.
High-rollers can use the feature to maximize their winnings too. But they must be careful because, as we said, some slots have limits to how much you can win by playing the gamble game.
Ready to double up?
Now that you know all the details, you are ready to bulk up your wins with the gamble game. Mind that you don't have to play the mini-game every time you hit a win. But if you wish to try your luck, go and tap the gamble button to add some extra layer to your initial payout.
Rate this post, please:
5
4
3
2
1
FAQ
If you are playing a slot machine in demo mode, you can test all its features for free. It includes testing the gamble feature too. You can play as many gamble game rounds as you want when playing the game for free.
It depends on your initial win. After you hit a winning combination, the game offers to gamble and multiply the current win. Depending on how many rounds you play, you can multiply your payout up to x10 or as suggested by the game.
Slot machines that feature a gamble game usually make it visible to players. In most cases, you will find the button next to the spin button or somewhere on the game panel. But sometimes, you can find it by the side of the game screen. So pay attention to what comes next to the main screen.
More articles on gambling topic