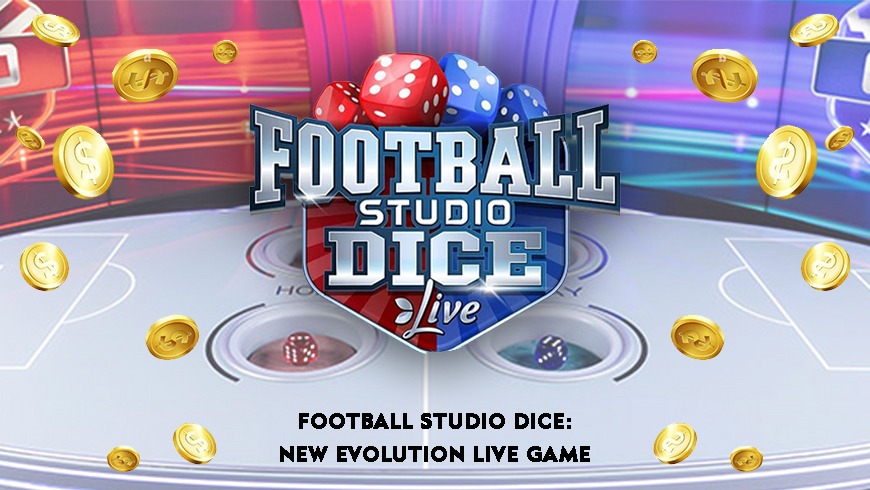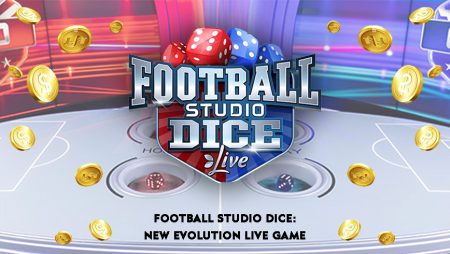 Evolution comes with another top new live game — Football Studio Dice. The game is a fresh take on Evolution's game Football Studio. This time, the live game is more exciting because there is a Bac Bo dice element. All football and baccarat fans will definitely love this new release. If you have not tried it yet, go ahead and do it! Learn more about the game in this article and play Football Studio Dice at the best Evolution casinos in Canada:
Lots of online casinos are partnered with Evolution. The partnership allows them to be some of the first platforms to release new titles from the popular developer. So check them out now and don't forget to check the promotion's page. Casinos might have something interesting for live game enthusiasts.
You might also like casino Playtech games that have top real money live gaming experiences.
What is Football Studio Dice?
If you've ever played Football Studio, you are familiar with the game rules and atmosphere. But the new dice version includes four dice and the Bac Bo table.
Evolution has already used this kind of table in games like Dragon Tiger. The idea is that a game combines elements of Baccarat and Sic Bo. Some players see it as a baccarat played with dice.
So in Football Studio Dice, there are no cards. Instead, there are four dice. Two dice for HOME, and two for AWAY. All of them are shaken individually. And the score for HOME and AWAY is made up of two dice.
The team that scores the highest total of two dice wins. However, it's also a football game. And just like in every real football match, there are two halves. And if you lose in the first half, you have a chance to win in the second, and vice versa.
Of course, there is a tie and it pays according to the paytable.
How to play Football Studio Dice
The game rules are pretty simple. Even beginners will get a handle on how to play in a few rounds.
Once you open the live game, you will see a big round table, and a real dealer in the center of the room with a red-and-blue background that shows a current score.
The left half of the table is for HOME, while the opposite right half — for AWAY. In the table, there are four dice shakers that get activated when the game starts.
The game goes in two halves, as we said earlier. First, the game shakes the upper dice of the two teams. And then, you see results for the second half — two other dice of the teams. The totals from the two teams determine a result.
Here's a step-by-step guide:
Join an Evolution casino and deposit real money. Football Studio Dice is available only in real-time mode.
Open the game and place your bet. You can choose to bet on HOME, AWAY, or the draw. Select a chip and place it in the betting position you think will win. You can also place multiple bets on different positions.
Wait for the live dealer to do his job. And in a few seconds, you will see the result on the screen.
Grab your winnings or say goodbye to your bet. But remember that you can always take another round and win money.
How Football Studio Dice pays
The RTP of the game is 97.75%, which is pretty good, especially for a live game. Even some roulette titles from Evolution have a lower RTP percentage.
Football Studio Dice pays according to the paytable. And since there are three betting options, there are three types of payout:
Home side.
Away side.
A draw.
A bet on either Home or Away pays 1:1 if your chosen team wins. If you predict the draw, and you win, you can win up to 80x your initial bet. This betting option pays 8:1 for the draw of 2-2 and up to 11-11. Though, if the draw result is 12-12, your payout increases to 80:1.
Is there a strategy to win Football Studio Dice?
Football Studio Dice is based on a random number generator. So theoretically, you cannot influence the result of the game. However, no one tells you that you can't use a strategy.
You can try different betting strategies and figure out your favorite one that works with Football Studio Dice. Since it's an even-money game, a perfect scheme would be a Martingale strategy. However, if you don't have enough money to stick to the strategy, don't use it.
Before you make up a strategy, mind that the biggest house edge is on the draw result. There is an equal chance of winning home or away, but there is a very small chance of winning a draw. Nevertheless, the draw pays the highest. So you should always keep it in mind.
Players are not recommended to wager always home or away. The best decision will be having a small bet on the draw in addition to the home or away bet.
You can also wager on one team as long as it hits. And then bet on the opposite side until it loses.
Football Studio Dice is a perfect game for baccarat fans who get itchy feet. The football vibes will give you a different look at your favorite game.
Your best score!
Football Studio Dice is a very simple game that you will learn to play easily. Practically, what you need to do is predict the winner. Though, the hard part is to decide which team scores the highest or whether the match results in a draw. But the thrilling moment of seeing you actually win is the most exciting in Football Studio Dice.
Try the new live game and get your best score! The game is available on all Evolution casino sites in Canada. You can play it on desktop and mobile while on the go!
Don't miss out on the new casino games. Check our gambling blog every week to learn more news from the online gambling world.
Rate this post, please:
5
4
3
2
1
FAQ
There is a chat at Football Studio Dice where you can talk with the live dealer and other players. You can discuss the current game or even football matches of your favorite football leagues.
Yes, you can! Football Studio Dice is compatible with mobile devices on iOS and Android. Just make sure that your gambling platform has a smooth mobile version and play!
No, it is not. Football Studio Dice is a real-money live game that can only be played for money. There is no demo mode of the game. But don't you worry. The game is very easy, and you don't even need time to learn to play it. Practice it with real money from day 1!
More articles on gambling topic