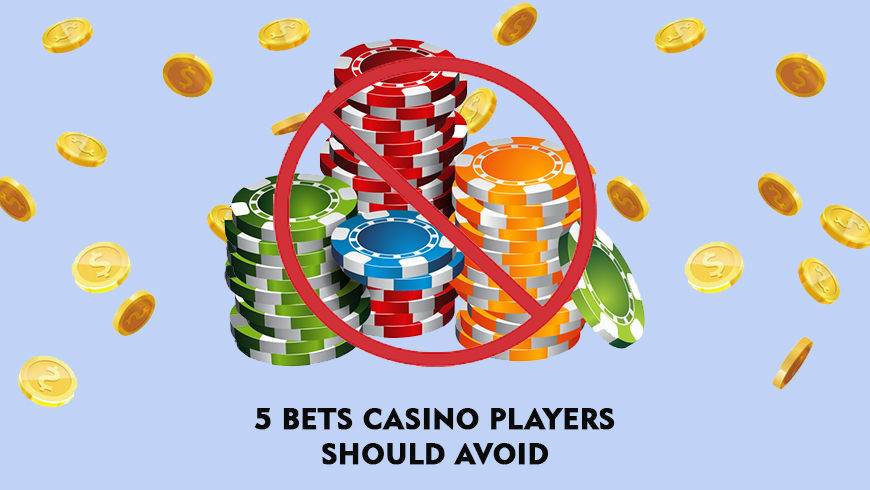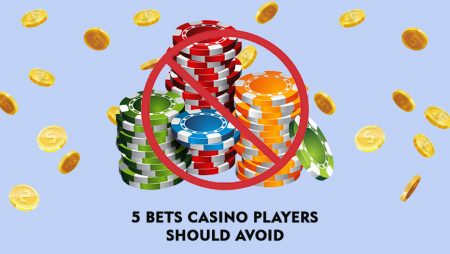 5 Bets Casino Players Should Avoid
Most players place wagers randomly without thinking about the outcome. They'd rather rely on their luck instead of calculating bets after a long working day. However, if you are at least partly interested in making a profit from casino games, you should have some basic knowledge about games and bets. Read this post till the end to find out what kind of bets are better avoided.
Canadian real money online casinos
Remember that online casinos are just platforms that offer you to play games. They accept bets and give you a payout in the end. However, games themselves are created by software developers. And they are designed in a way that a house always has an advantage. Therefore, there are certain types of bets that have the highest house edge. But on the other hand, they may be very attractive for players.
The fact is that such bets can hardly be spotted. They aren't necessarily bets with the lowest odds. Sometimes, these bets are right but they are placed under the wrong circumstances. Thus, players should determine wrong bets by themselves.
Because even those bets we'll mention below can give you a pretty high payout under the right circumstances, you should be careful when evaluating the expected outcome.
Progressive jackpot slots
Of course, progressive jackpot games are some of the most intriguing and enticing at online casinos. They offer millions of cash to that one lucky winner, who might be you. Hate to break it to you but progressive jackpot slots are among the worst bets in a casino.
Most progressive slots have a house edge of 12%-17%. Imagine losing $17 off every $100 you bet. Add how quickly spins run on slot machines, and you will burn through hundreds of dollars in a matter of minutes.
You might say "what's a couple of hundreds for millions in return?" Well, that return could never be yours. It's a random game with the odds estimated at 50,000,000:1, in most cases.
You have way more chances of winning in any other casino game. Sure, there are many cases of players winning jackpots on a single $5 bet.
As we said, this bet hits under the right circumstances. And it makes you lose everything under the wrong ones.
Tie bet in baccarat
In baccarat, there are only three possible bets: the banker bet, the player bet, and a tie bet. The banker bet always has a bit better chance of winning than the player bet. However, the tie bet is the worst bet of all.
It offers a huge payout of 8 to 1. Of course, it encourages players to make the tie bet. But no one knows that the house edge of the tie bet is 14%.
Even if you place the bet and win it, you will most likely lose it all away next time you bet on a tie. So it is recommended to stay away from the tie bet in baccarat. It's better to wager on the banker and stay on the safe side.
Blackjack insurance bet
Blackjack is one of the safest and most profitable casino games. Especially if you use a simple basic strategy, you give yourself a guaranteed 99.95% payout. Though if you find a really good table, you can reduce the house edge even more.
But most blackjack games have a so-called trick — an insurance bet. The idea is that players are allowed to make a second bet equal to the initial wager when the dealer has an ace.
When the dealer has a blackjack, you win. The insurance bet pays 2 to 1. Players tend to believe it's 50/50, regardless of the dealer's card value.
But in reality, by taking the insurance bet while the dealer has an ace, you increase the house edge by more than double.
When the dealer doesn't have blackjack, a player loses the insurance bet and may lose the initial bet too. As a result, you may have a double loss.
Therefore, the insurance bet must be taken only if you are sure that the dealer has blackjack. Unfortunately, it's not easy to spot the hole card of a dealer at an online casino, even though you're playing live blackjack.
However, if you go to a local casino and take a seat at a blackjack table, you may watch the dealer's technique and "accidentally" spot the face-down card. And if it's blackjack, you know what to do.
Online keno
Keno games have pretty high prize pools that grow up to thousands of dollars. But few people know that a house edge in keno games is a whopping 25%.
If you are looking for a game that will keep your small bankroll last all day, keno might be the one. But most gamblers would get bored after 5 minutes of such a play. They would raise their bets and lose almost everything.
Keno is not for players who want to make a profit. With as high a house edge as 25%, it's simply impossible.
American roulette
Roulette games have neither low nor high house advantage. Some bets such as even-money offer a relatively low house edge even in American roulette.
American roulette is not recommended because of its double zero. The house edge on this bet is slightly more than 5%.
So if you see that a roulette wheel has more than one zero spot, you'd better leave it and find another roulette variation. Check out some of these:
European roulette. There is only one single zero spot on the wheel that will make a clear difference in odds if you compare it with the American variation.
French roulette. This variation is similar to European roulette but the layout is slightly different. Still, it features only one single zero spot that makes it distinct from American roulette.
When playing roulette, it's also recommended to use some betting system in order to increase your chances in the long term. But even the best live roulette system won't help you if you are playing American roulette.
To conclude
Many bets that are presented as providing a benefit are actually not the best bets in a casino. So unless you are willing to try these bets and experience their effect, do not take them under almost any circumstances.
Rate this post, please:
5
4
3
2
1
FAQ
House edge is a casino's advantage. In other words, it's the percentage of money that casinos take from players' bets. The lower the house edge, the less money you give to the casino.
Card games have a reputation as high-paying games in the long term. Such games as poker and blackjack have nice odds of winning. But you should be careful with such bets as insurance as they are not profitable every time.
All casino games have a house edge percentage that is the opposite of the return to player. Thus, if a game has a 97% RTP, the house edge is 3%. However, some games such as roulette, baccarat, and blackjack have different house edges for certain bets. To learn a house advantage of a particular bet, read the game rules and paytable.
More articles on gambling topic