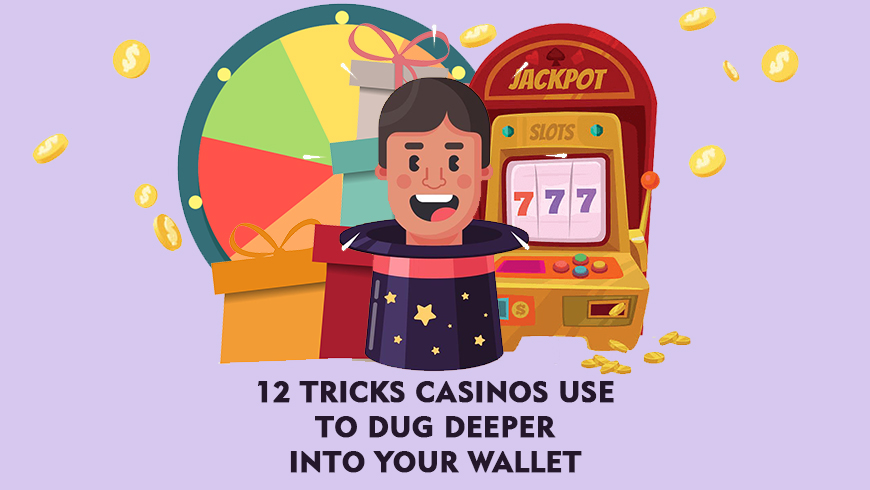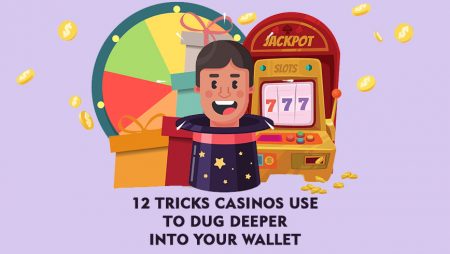 Casinos earn by taking players' money in the form of bets. Players are aware of that and they go to casinos of their own free will. Many players learn to accept it, while some players prefer turning the tables and winning over the house. However, many players still leave casino sites with empty pockets and don't know how it happened when they were so close to the win. In this post, you will find out what casino tricks you get caught by when you are gambling online and offline.
Reliable online casinos
Unfortunately, even reliable and safe online casinos use different tricks to take more of the players' money. Well, it's their job. As we said, they earn by providing games and accepting real money bets. But if you are a regular player or even a professional gambler, at least you should play at a secure and legit casino. This way, you can be confident in your gambling operator and even have a chance to grab a fair amount of money.
Casinos take your cash on the spot
When people come to gamble at land-based establishments or online casinos, they pay a deposit amount. This is the first moment when players get separated from their cash since it is exchanged for casino chips.
The thing is that we do not have any emotional connection to the chips, thus we don't take them seriously. And players are more likely to lose all of them in the very short term.
To avoid this trick, you need to understand that chips and money on your casino balance represent an actual cash value.
Creating an enticing social atmosphere
Gambling operators create vast social casino platforms. Because they operate on the internet, many gamblers get affected by play money. Therefore, they have a different view of gambling in the real world.
When people visit gambling establishments and sites, they are conditioned to buy chips again and again. Every time players go broke, they are buying more chips and depositing more money into casinos. All of this is because games and big prize pools lure them. And to continue the fun, players must pay.
High-paying low-odds bets
These bets are attractive because they offer the highest payouts in a game like a progressive jackpot slot, baccarat, blackjack, or American roulette. However, they also have the worst odds.
Of course, if this bet hits, you can recoup several losses and even make a profit. And it sounds like a smart decision. But this leads to significant losses over a short-term play.
Online casino comp points are not free
Casinos present their loyalty programs as something that gives you free perks. Whether it's bonus money or free spins that you need to convert into real money by wagering real money.
Many players are chasing comp points and statuses and they fall into the trap because, in order to earn points, they need to spend their money. This leads to tons of losses that they could probably avoid if they didn't chase loyalty rewards.
We advise you not to chase statuses. If you play regularly, they will be yours anyway.
Game statistics and results
Some games like roulette and baccarat offer players to check the history of results and statistics. But as we know, all game results are completely random. So they are not likely to appear again in recent times.
Just remember that each result is absolutely independent of any past outcome. So looking at the history board will not help you in any way.
Providing reverse figures
Online casinos always let you see what you want to see. This is clearly displayed by dollar amounts and payout percentages.
When presenting a jackpot game or a tournament, there is always a prize pool that includes thousands and even millions of dollars. When there's a new game in the lobby, casinos advertise it with payout numbers instead of the house edge percentage.
Players unconsciously get caught by the figures and start playing. However, if advertisements mentioned a house edge, for example, you would think twice before playing that game. A game with an 8% house advantage looks less attractive than a game that promises a $10,000,000 share, doesn't it?
Partial wins are minor losses
If you are a slot player, you know that sometimes win multipliers are even less than x1. They give you an illusion of winning, but you are actually losing.
Although these losses are smaller than your total bet. But it's still a negative experience. And if you have multiple minor losses, they are collected in one huge loss.
Bonuses trigger players to pull out cash
Various bonuses and free spins are an advantage in the eyes of players. So-called house money makes players' budgets grow immensely. However, most players don't see the line where bonus balance goes down and their real money comes into play.
Many players will use bonuses very quickly and go for their credit cards to continue playing. At the point when bonus money ends, players have enjoyed the game and they are ready to spend some more money.
Deposit match bonuses. Bonuses that require you to make a payment first are not really freebies.
Free spins. Even if they don't require a deposit, players still need to wager their winnings dozens of times.
Cashback. It is given on real money play losses. Besides, you'd still receive no more than 20% of your lost bets back.
Welcome offers. These bonuses are some of the biggest. But In order to receive a full bonus amount, new players have to make a significant deposit.
All of these bonuses and other offers are just losses in disguise. This is why you should use them wisely and read the bonus terms beforehand.
Casinos intend to keep you playing for as long as possible
If you don't track time while you are playing games, online or offline, you may be doing it for hours and days.
Players can lose themselves in the casino games so easily that they even forget to eat and sleep. To be on the safe side and remember your vital necessities, just look at your watch from time to time. Setting an alarm or a timer will also be very helpful.
Casinos make players get closer to a win
Another illusion is when players are almost winning a huge amount of money. Almost a win is a loss because players simply lose money. But this makes a psychological impact on players when they are coming very close to a large payout.
After being one symbol away from hitting a jackpot, players believe they are closer to winning a lot of cash. In the continuation, they will chase that huge win in the future rounds.
Free drinks
This may not be the case for online platforms but if you visit land-based casinos, we do not advise you to drink any alcoholic drinks casinos offer you. Alcohol is a big selling point to many people, especially gamblers.
It is scientifically proven (and many players have experienced it themselves) that alcohol makes us become more generous and riskier about everything. And when a gambler gets even slightly drunk, he will probably be more prone to wagering more money and losing a fair amount.
Making players believe they have an advantage
The biggest trick casino operators do is make players believe that they can control their winnings and losses. However, it's a big illusion.
Unless you are a professional card counter, you cannot outsmart a casino. The thing is that casinos make a profit using math. And no one is capable of changing the math. So just take it as it's designed and don't fall into a trap where it's mathematically impossible.
To conclude
You should understand that casinos do not want to grab all of your money unless you want to give it to them. They are just businesses that not only entertain but also make money. And if you become a little bit more attentive to details, you can leave gambling places with more money in your pocket.
Rate this post, please:
5
4
3
2
1
FAQ
Yes, they are. When you use free bonus money, you get enticed by the gameplay. After you finish the given credits, you will highly likely go to the cashier section and deposit your own money. However, you can avoid this trick by using your bonuses right.
You should look for the odds in the game rules. They mention payouts of all bets. For example, the double zero in American roulette will definitely have a higher house edge than other bets.
To avoid the implications of casino tricks, you need to be very attentive to them, first of all. If you can distinguish tricks, you can avoid them. For example, if your casino offers you a set of free spins for a jackpot game with a huge prize pool, check the house edge of the game. Most probably, that game won't be paying back a lot of money. Besides, check the terms of free spins as they certainly have some requirements. As soon as you learn the details, you can evaluate your potential profit or loss.
More articles on gambling topic