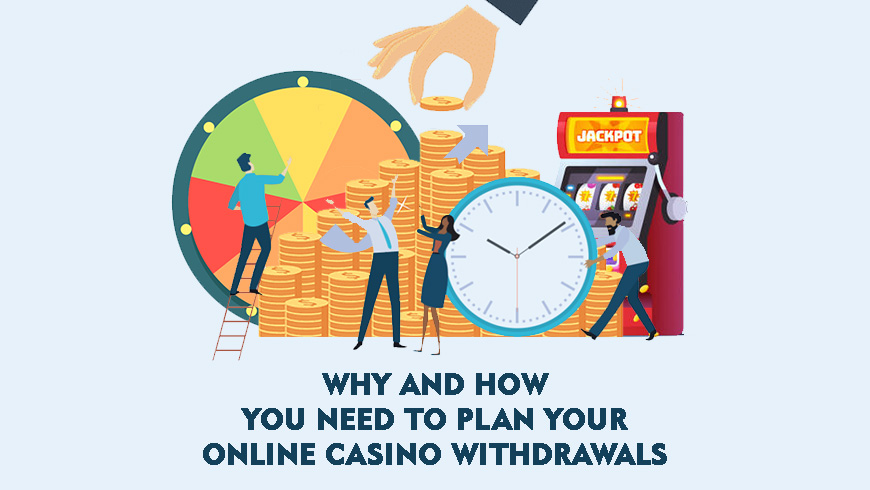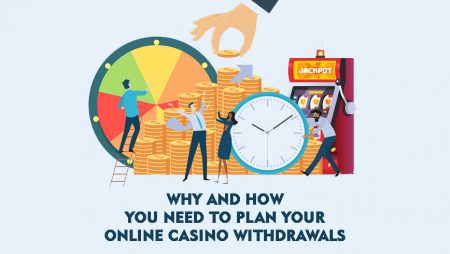 A question of whether or not to withdraw concerns casino players every once in a while. In fact, knowing the exact perfect time to cash out your winnings is not as easy as it seems. Moreover, players need to have a plan for their withdrawals as well as for their bankroll management. In this post, you will learn a little more about withdrawals and when to cash out your money. But first of all, check out the best withdrawal Canadian online casinos.
Best Withdrawal Gambling Sites
Many online casinos in Canada promise fast withdrawals. Some of them offer same-day cash-outs. But the fact is that a fast withdrawal speed depends on different factors, including the choice of payment method, your bank, and the casino's work. So we recommend you to consider all of these before you even start gambling online.
Mind That Withdrawals Take Time
Probably, you already know this, but we can't help saying that transactions take time to be processed. This is why you should always consider the time period when you are about to withdraw your funds. In contrast with deposits, withdrawals are not instant even at the best-paying online casinos.
When you just send your withdrawal request, the casino team thoroughly checks it. The security department looks if any rules were violated or not, including anti-money-laundering regulations.
These checks may take from one to five days and even longer. It all depends on the amount of your withdrawal, your selected method of payment, and your account activity.
Of course, most payments are processed quickly, in 1-3 days. If you pick an e-wallet as your payment option, then your withdrawals will take even less. So you can expect the money to arrive on your payment service account within 24 hours. But it still requires some waiting.
What we're trying to say is that if you need money now and here, you won't get it immediately. A good solution for this is to plan your withdrawal ahead.
Leave Some Money For Future Gameplay
Let's suppose you've had a nice gaming session and got a pretty good sum of money on your casino account. Now you are about to withdraw it all. But hold on for a second and ask yourself: "Am I going to be needing some money to place on games in the nearest future?"
If the answer is yes and you want to continue playing tonight, tomorrow, or in a couple of days, then do not cash out everything to the last cent. Because if you cash out all the money, soon you are going to add more to your account and make a deposit again. So it just has no reason to withdraw all money. Instead, leave some funds for your future gaming session.
Schedule Your Withdrawals in Advance
It may sound ridiculous but planning a withdrawal is something that you need to do for your better gambling experience. It correlates with responsible gambling too because it helps you develop self-discipline.
The idea is to have a withdrawal plan and stick to it no matter what. So you just set a day in the week when you will be withdrawing your winnings. Say, you decide to gamble all week and cash out money only on Sundays.
Now, the size of your withdrawal will be most probably different every time. So make sure to set a certain amount (percentage) of money that you are going to cash out or leave on your casino account.
For example, by the end of the weekly gaming session, you've won $2,400. You may divide it by 50/50 and withdraw $1,200. So the remaining funds of $1,200 will be left for future gambling. Or you can leave $400 in the casino account and $2,000 are yours. It's up to you. But consider your budget and minimum/maximum withdrawal limits.
Cash Out Your Funds When Switching Casinos
Sometimes, players decide to leave a casino and join a new and better one. If it's your case, then you'd better withdraw all your money from the previous online casino. No need to leave any money on that account if you aren't going to use it.
We suggest doing so before you make a new casino account on a different gambling platform. Once you receive your money, you can deposit it to the new account and continue playing.
Though, again, it's up to you to decide what to do with the money. You may decide to gamble it away on the previous gambling site and start a gaming career at a new casino with brand new funds.
Tips to Withdraw Money Quickly
There are some pieces of advice that can help you make a withdrawal a bit faster and easier, regardless of the type of your casino, be it a fast-paying or a regular casino:
Use the same banking option for deposits and withdrawals. Your request will be processed way faster if you use one method of payment for both-way transactions. When a casino team sees that you have deposited with a bank card and requested a withdrawal to the same card, it will have no questions for you.
Verify your account beforehand. Everyone knows that verification checks make withdrawal processes longer. So if you don't want to wait for your money longer than usual, verify your account long before you cash out.
Use e-wallets and cryptocurrency. These payment methods are the fastest. So if you have an opportunity to use them, do it.
Choose no verification gambling sites. If you don't want to waste time for account verification, pick sites that don't require it. But keep in mind that you will have to use either an e-wallet or cryptocurrency for deposits and withdrawals.
Use these tips when planning your withdrawals. Besides, consider the withdrawal fees and timeframe of your chosen payment method.
In Conclusion
Now that you know some nuances, planning withdrawals doesn't sound bad. In fact, it can help you manage your funds and remain responsible while gambling online. Especially if you have big experience in casino games, you might feel like needing to plan your withdrawals. It's always a good idea to manage bankroll, be it a deposit, wager, or a withdrawal.
Rate this post, please:
5
4
3
2
1
FAQ
It depends on your budget and gambling habits. If you are used to wagering big, then you should leave a significant amount on your casino account. But if you are on a budget, you should count your winnings and deposits. For example, if you always deposit $100 and make $300 out of it by the end of the week, you can leave $100 on your account. The rest can be withdrawn.
Check the general casino terms and conditions, the section about withdrawal policy. It says about withdrawal time limits, fees, and methods. Payout timeframe depends on your payment method. Say, you choose a Visa bank card to deposit and withdraw. The T&Cs will mention the time limits between which the money will appear on your bank account. For bank cards, it's usually between 3-5 days. Besides, you can ask customer support.
It's a question to your self-discipline, first of all. You should consider it as one of your habits. Simply don't cash out before the withdrawing day comes, and that's it. You can have a weekly or monthly cash-out day. Besides, if you know how to manage gambling bankroll, you will successfully manage a withdrawal plan too.
More articles on gambling topic