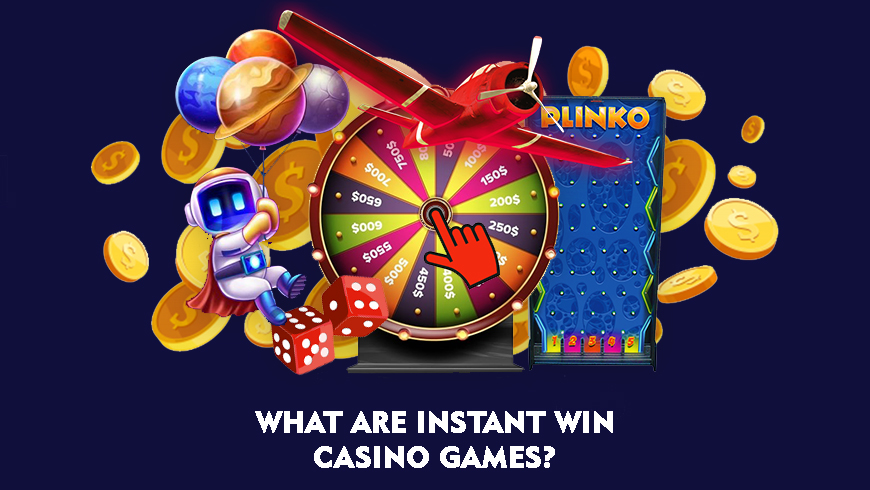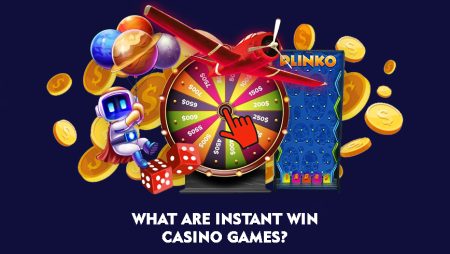 Instant win games are a pretty new type of casino entertainment. They aren't as popular as slot machines but they are also very exciting and fun. If you have never played instant win games, you should try them one day. Fortunately, more and more online casinos in Canada give the opportunity to play instant win casino games for real money. Check out the list of gambling sites that provide instant win gaming options.
Instant win are games of luck where players can instantly find out if they have won or not. The rules of instant win games are very simple. In most cases, you just click to reveal your prize or loss. There aren't any pay lines or pay tables, and it's not even possible to use strategies because they are pure games of chance.
Instant win games come from physical scratch cards that you buy in a local store. By scratching off the cards you can easily find out if you have won or not.
Nowadays, these games are available online and on mobile devices. Besides, players can play not only online scratch cards but also other various instant win games.
Types of Instant Win Games
We have already touched on one type of instant win game in this post. But let us tell you more details on each instant win game type:
Scratch cards. Everyone knows what a scratchcard game looks like. However, playing it online makes it faster and more convenient. You don't have to pull out a coin and scratch those numbers manually. You don't even have to check matching numbers because it's done automatically. All you do is click and see the result.
Action games. There are various games of action. They have different themes and rules. For example, it can be a football game where you need to choose a goalposts place to which you kick the goal. If this place reveals a win or a multiplier, you win. Otherwise, you lose the bet.
Crash games. Games with a growing multiplier have become very popular. The idea is to collect a win before this multiplier drops. We have a detailed post about crash games. Check it out in our gambling blog.
Instant win games also include Plinko options, dice games, keno, wheels of fortune, and more. The variety of instant win games is wide. The best thing about these games is that you don't have to spend a lot of time thinking of the rules, strategies, and the highest payouts. You just place a bet, click on "Play", and try your luck.
How Instant Win Casino Games Work
Instant win games are designed by well-known software providers such as Evoplay, BGaming, Realistic Games, Tom Horn, Spribe, Pragmatic Play, Fugaso, and others. So these games are certified and legit. You don't have to worry about your money. It's safe when you are playing with a reliable game developer.
All instant win games are based on random number generators. This is why it makes no sense to use a strategy. However, some players still try to have some plan when playing crash games.
Nevertheless, you never know what the result will be after you click on a spot in the game. For example, in a BGaming instant win game Minesweeper, you need to click on one of the five spots on the ground and avoid a mine. If you've selected a clear spot, you win. If you get a bomb, you lose everything. The multiplier grows as you make your way further. But you can lose it all unless you collect your winnings.

Most instant win games give you two options: continue to gamble or collect winnings and start over. If you choose the first option, the risk of losing grows. But if you choose to collect, you take the money and start a new round.
How to play instant win games
Place a bet.
Click on "Start" or "Play".
Select random spots/numbers/items.
Reveal the result.
Choose to collect or continue playing.
You may also come across games that do not ask you to collect winnings. It's just the end of the round, and you place another bet to continue. For example, Evoplay's game Crown & Anchor requires players to place three bets per round and pays out if the bets match the symbols on the dice and cards in the upper right corner. After the payout, players need to rebet or place a new bet.

How to Win Instant Games
As we said earlier, there is no certain way to win instant win games. Their work is similar to slot machines because both types are pure games of chance.
Besides, not all instant win games have identical rules, which is why betting strategies may not suit every instant win game.
Still, players may use certain patterns depending on their risk level:
Players who prefer regular wins over big risk and big wins can collect winnings more often and never progress to high payouts. It's a low-risk pattern.
Risky players can move forward and collect winnings only when they reach a certain bet multiplier (for example, 5x, 10x) or a sum of money.
These patterns are good for games with a growing multiplier such as crash games and some action games like Minesweeper.
Differences Between Instant Win and Slots
You might think that slots are also instant win games because they let you know that you have won or lost immediately. But slot machines are a different category.
The main difference between these two types is their mechanics and how the results are delivered. Both slots and instant win games are random so the outcome is generated in the same way.
But instant win games have simpler mathematics than online slots. You either win or lose. But in slots, you can use special symbols like Wilds and Scatters to improve your result. Plus, different special features, free spins, and bonus rounds in slots add up excitement.
In Conclusion
Online casinos offer a big variety of gaming options. It doesn't stop with slots, tables, and live games. Players are free to choose from scratch cards, bingo, action games, keno, crash games, and more. So if you are looking for a new gambling experience, head to the section with instant win games. A great portion of excitement is guaranteed!
Choose the best online casino to play instant win games on this page.
Rate this post, please:
5
4
3
2
1
FAQ
Yes, you can. Before you play for real money, you can practice an instant win game in demo mode. Thus, you will learn the rules and decide whether or not you like the game. To open a free game, click on the "Demo" or "Free" button.
Yes, you can. Instant win games bring as much profit as slot machines. This is why you need to rely on your luck when playing instant win games. But if you are planning to win money strategically, this type of game won't suit. Instead, you can play different card games.
Yes, they are. You can open a mobile casino that offers instant win games and play them on the go. But make sure you join a legit mobile casino. Besides, if you are planning to play mobile games regularly, it's better to download a mobile casino app.
More articles on gambling topic