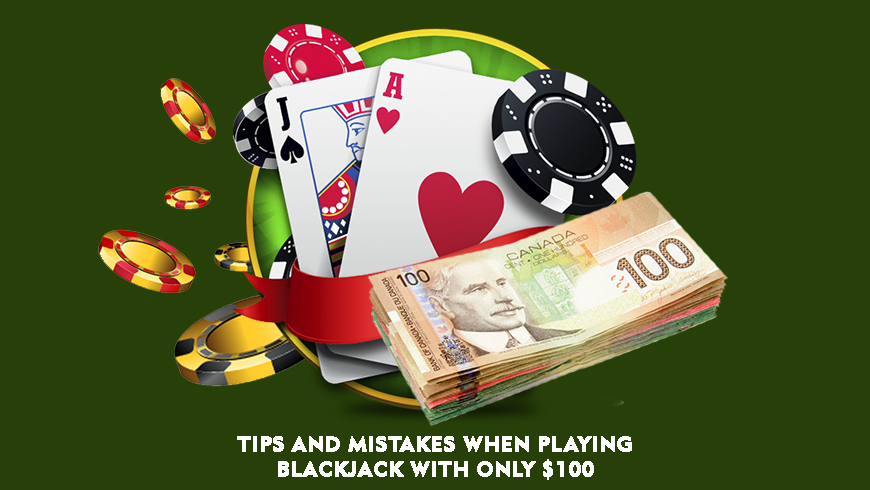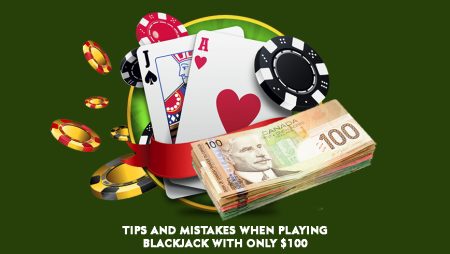 Blackjack is known as the fairest real money game out there because it offers a low house edge. This is why this card game is a choice of many seasoned gamblers. With the right strategy and proper bankroll management, you can leave a blackjack table with 10 times more money than when you came in. In this article, we will tell you how to play blackjack when you only have a $100 budget. But be careful, stick to your strategy, and don't go over your loss limit. Below you'll find the best online blackjack casinos in Canada:
Many casino sites offer several titles of online blackjack Canada and live blackjack. Choose your favorite version and play blackjack for real money. However, if you are a beginner, we advise starting with a free blackjack variant to practice the game and your strategy.
Take the $100 blackjack challenge
Obviously, it is better to have a bigger bankroll when you're playing such a game as blackjack. But we're setting a limit of $100 because this way, you can easily calculate your losses and profits in proportion to the number of hands you had. As a result, you will learn to use your bankroll more effectively, especially if you aim to earn money on casino games.
What does a limited bankroll give you:
you will stick to lower bets to keep playing for as long as possible (and the longer you play, the higher your chances to win money)
you learn to decide on your next bet thoroughly
you play blackjack for fun and don't worry about big losses since you can't lose more than $100
So take this challenge and play blackjack with $100. Caution: do it only if you can afford to lose $100.
Tips on winning blackjack with a $100 budget
We will not recommend practicing card counting (although it's pretty useful) because it doesn't work at online casinos. Instead, we will give you tips on winning blackjack with a small budget. Make sure to use them all to get the best result.
Use a basic blackjack strategy
Both online and live blackjack games can be played with a basic blackjack strategy. It comes in handy when you decide on your next step in a game. The strategy will tell you the proper option for specific blackjack scenarios. This way, you will know when to hit, double down, or increase a bet.
Of course, it's difficult to learn the basic strategy by heart, especially if you are a beginner. But there are lots of basic blackjack strategy cards and sheets on the internet and even in stores. Get one for yourself and practice the strategy with a $100 budget. In most cases, the strategy alone will advance you to the next level.
Stick to minimum bets
Since you are on a budget, it's reasonable to wager as low as $1 per hand, or even lower if a blackjack game allows it. This way, you have a low risk of losing money. And you make your gaming session longer.
Remember that your goal is to minimize losses and maximize winnings. Low bets don't only give you the opportunity to split valuable cards but also boost your odds of getting blackjack that pays 3:2 or 6:5.
Set your limits
The secret to winning blackjack is to know when to leave the table. If you keep on wagering, you will find yourself bankrupt. Even if you use the best blackjack strategy, don't forget that the house always wins.
On the other hand, if you have a limit on losses and wins, you will never go away with losses. Because you know the right time to stop in accordance with your bankroll, you have more chances to profit from playing blackjack.
We recommend setting a win limit at $150 — $200, which is already twice more than you deposited. And your loss limit must be around $50 or $25, so you have some money to wager next time.
Mistakes that lead to losing online blackjack
Blackjack can be a losing game for you when you don't know all the rules and make irrational betting decisions. Here are a few mistakes players make that get them closer to $0 on the balance:
Placing side bets (insurance; 21+3, etc). Side bets have a higher house edge, which is why players tend to lose them more often. If you have a tight budget, stay away from side bets.
Using betting systems. Such popular systems as the Martingale or Reverse Martingale are profitable only if you have an unlimited budget. In our case, when you have only $100, it's better to use the basic blackjack strategy.
Having a blurry focus. If today you aren't ready to concentrate on earning money by playing blackjack, try it some other day. With only $100 to spare, you must be focused on your strategy and gameplay. But if you are too emotional about losses and winnings, prone to chasing losses or playing more when your win has already reached your win limit, chances are high you will lose money.
On top of it, we recommend avoiding online casinos when you drink too much alcohol, especially when your budget is really small. Instead, use our tips on how to win blackjack and enjoy your wins.
To conclude
Blackjack is the perfect game to play when you are on a budget because it has a low house edge and involves players' skills. But you need to be prepared to play blackjack online with a small sum of money. Always have a clear mind and manage your bankroll. Remember to have a basic blackjack strategy card with you and stick to the minimum allowed bets. And never practice low-budget blackjack gameplay with a blurry mind, insurance bets, and ambiguous strategies.
Rate this post, please:
5
4
3
2
1
FAQ
Make sure to use a blackjack-specific bonus. This way, you will have better conditions for fulfilling wagering requirements. However, if they are too high, you might not be able to benefit from such an offer.
Yes, you can. Most blackjack games are available on mobile devices. We recommend playing One Blackjack live game by Pragmatic Play that makes you feel like you're playing one-to-one against a dealer.
Usually, the house edge of insurance bets ranges between 5.8% and 7.5%, which is pretty high. The exact percentage depends on the number of decks in play.
More articles on gambling topic