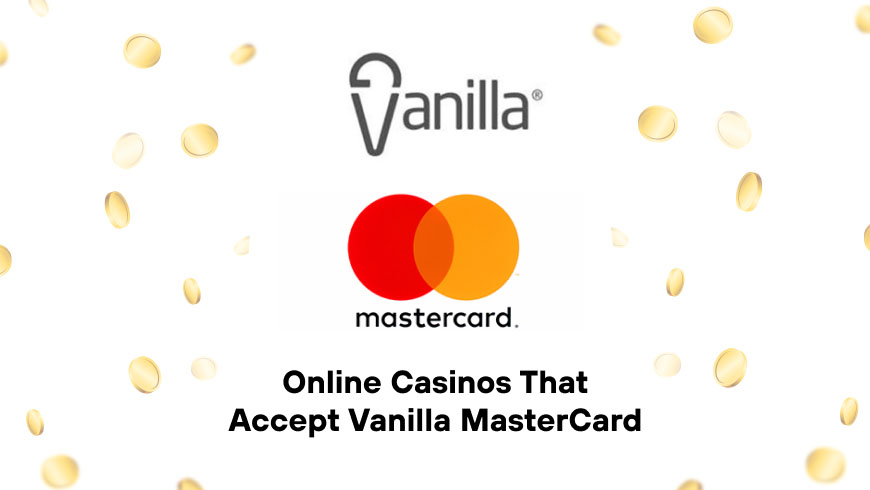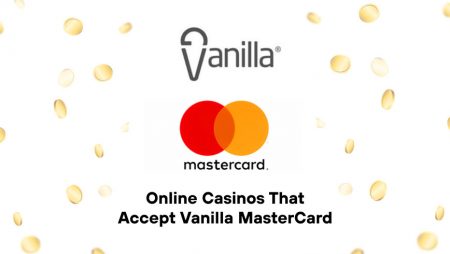 Vanilla prepaid cards are very popular. People use them as gift cards, or as a substitute for their debit cards. Vanilla cards have also come in handy for casino players as they are perfect for making deposits. There are two types of Vanilla prepaid cards based on the operator: MasterCard or Visa. In this post, we will tell you the specifics of casino payments with Vanilla MasterCard, and, of course, we'll give you the links to Canadian online casinos that accept Vanilla MasterCard prepaid cards.
Vanilla MasterCard Casinos
There are many online casino sites that are partnered with MasterCard and Visa, thus they accept their debit and credit cards, and prepaid cards as well. In fact, most of those gambling sites that we review accept all MasterCard and Visa deposits and withdrawals. So, it won't be a problem for players to find a casino that accepts Vanilla prepaid cards.
Vanilla MasterCard VS Debit or Credit Cards
Although both types of cards are provided by MasterCard, they are completely different. Unlike bank cards, Vanilla prepaid cards aren't linked to a certain bank account. People that own Vanilla MasterCard can only use the money they have loaded on the prepaid card at the moment of purchase. And Vanilla cards aren't subject to any overdraft fees and declines of transactions due to insufficient funds.
Also, you can't borrow money from the bank using the prepaid Vanilla card. No services implying overdraft or credits are offered via prepaid cards. The money you can use on Vanilla is the cash you have preliminary loaded onto the card.
How to Purchase Vanilla MasterCard
Peoples Trust Company of Vancouver is the major establishment that issues Vanilla prepaid cards in Canada. The company is licensed by Mastercard International and Visa International Service Association.
Vanilla MasterCard prepaid cards are available at various retailers such as:
Mac's
Walmart
Giant Tiger
7Eleven
Best Buy
Ultramar
Shell
London Drugs
Jean Coutu
Corner Store
Petro-Canada
Express Mart
You can also find a Vanilla prepaid card at the local gas station, drug stores, and convenience stores. Standard Vanilla MasterCard cards aren't available for purchase online. But you can buy a Vanilla gift card online if you visit the official website of Vanilla.
The official website also has information about retailers and vendors near you. So, you can check it out on the website.
Vanilla Card Denominations & Fees
Vanilla Prepaid cards come in various denominations. If you think that one prepaid card isn't enough for your gaming leisure, you can buy several Vanilla prepaid cards and use them for deposits.
Vanilla MasterCard can cost $25, $50, $100, or $200
Vanilla Visa price ranges as follows: $50, $75, $100, $150, $250
OneVanilla MasterCard costs from $20 to $500
However, the cost of the prepaid card itself isn't the only thing you need to pay. In addition, Vanilla vendors will charge a symbolic amount. For example, if you buy Vanilla MasterCard at Petro-Canada, Mac's, Best Buy, or Jean Coutu, you will need to pay a minimum fee of $3.95. The higher the denomination of the Vanilla card, the higher the fee.
This is the only fee you need to pay when using Vanilla cards. At the moment of depositing money to a casino site, you won't be charged anything. As a rule, legit online casinos do not have deposit fees for any payment method.
How to Deposit via Vanilla MasterCard
The depositing process is very easy and quick with prepaid cards. Once you've registered at our recommended Vanilla online casino, you need to visit the cashier page.
Find the deposit section and enter the following data:
Choose the operator MasterCard
Enter the number of the Vanilla card
Enter the expiry date
Type in the name of the bank (Peoples Trust)
Enter the amount of money
Some online casinos can redirect you to the Vanilla website and require you to log in with a postal code. This step depends on the casino. It isn't always required.
You can deposit any amount of money that isn't higher than the card denomination. In other words, if you have a card of $250, but you want to deposit only $100, you can do it. The remaining funds of $150 can be used later.
Make sure that your card balance is higher than the minimum deposit amount at a casino. Some casinos may have a minimum deposit requirement of $35. But if you have a card worth $25 only, you won't be able to use it on an online casino.
Vanilla Cash Out
It isn't possible to make a withdrawal of casino winnings back on the prepaid card. To cash out real money, you will need to find an alternative method. We recommend using e-wallets for casino withdrawal as they are quick and often let you withdraw without sending ID documents.
Check out the online casinos with no withdrawal requirement here.
Pros & Cons of Vanilla MasterCard
Some players like using prepaid cards for deposits as it allows them to make anonymous payments. But Vanilla MasterCard also has a few flaws.
Vanilla Pros
Cheap and easy to use
Instant deposits
Available at many online casinos
Secure payment method
Various denominations
Ability to use funds in installments
Available at the majority of local stores
No deposit fees
Vanilla Cons
Purchase fees
Low denominations hence small deposits
No cash-out option
Impossible to buy online
Conclusion
Vanilla MasterCard is a good deposit option suitable for many players. The major reason why people buy prepaid deposit cards is that they allow making anonymous deposits, secure your real banking card details, and due to the range of other advantages. So, if you are interested in Vanilla MasterCard deposits, purchase the prepaid card from a local retailer, and spend the money at the best Vanilla MasterCard online casino in Canada.
Rate this post, please:
5
4
3
2
1
FAQ
No, you don't. In fact, you don't need to do any further verifications of the prepaid card to make a casino deposit. When you purchase a Vanilla MasterCard, it is already active. So, you can use it for online casino deposits as soon as you've bought the card.
Usually, you need to pay only the purchase fee. But if you make transactions in a foreign currency, the service can also incur a fee for the foreign exchange service. It costs 2.5% of the amount of transferred money. So, it is better to select the currency at a casino that matches the currency on the Vanilla card.
If you use a standard Vanilla prepaid card, you can't reload it online. But if you purchase a Vanilla Reload, you can add funds to your prepaid card online. This saves your time on future deposits. Next time, you won't need to go to the local retailer, buy another card, and enter new numbers to make a deposit.
More articles on gambling topic