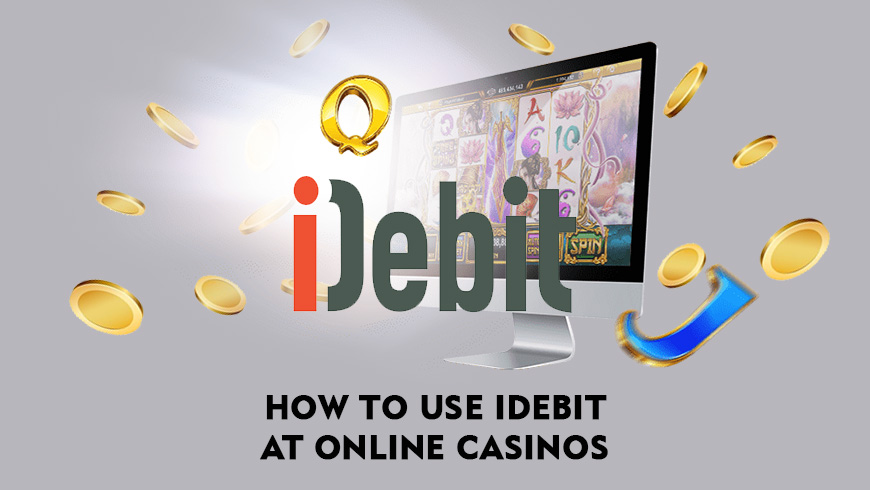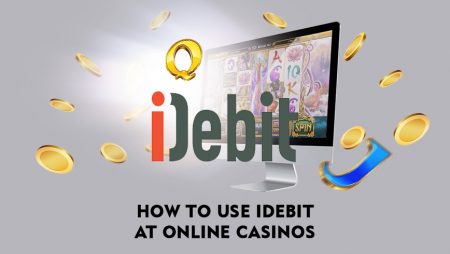 iDebit stands among the most popular banking options at Canadian online casinos. Almost every casino that accepts fiat currency will allow you to use iDebit for instant deposits. This payment method has enticed many players for its ability to transfer money quickly and directly from a user's bank account to a casino, whether it is a Canadian-based casino or an international website. However, there are a few steps you need to take before using iDebit. Check out this post to learn more.
Canadian iDebit online casinos
In fact, there are many online casinos that accept iDebit in Canada. We've just mentioned a few of them. But you can visit our casino reviews page and find more iDebit online casinos. When posting all casino reviews, we mention what banking methods they accept. So make sure to look for this information when reading the reviews.
How to make deposits with iDebit
When you are about to deposit with iDebit at an online casino, you don't need to type in your bank card numbers or use any information related to your bank account. However, to have an account with iDebit, you need to be a consumer of a Canadian bank that is partnered with iDebit.
Besides, you must have online banking with that bank account. But don't worry, all participating banks offer online banking. If you cannot figure out how to set up online banking, just contact bank support managers. So what are the banks?
TD Canada Trust
Desjardins
Royal Bank of Canada
National Bank
Bank of Montreal
Canadian Imperial Bank of Commerce
Simplii Financial
Scotiabank
Once you become an online banking consumer of any of the supporting banks, you can make payments with iDebit.
Then, you have two options to deposit money to an online casino. The first option includes registration with iDebit and account verification. And the second option does not require registration. Both of them have their own advantages and disadvantages. Let us break it down here.
Having an iDebit account
First of all, it is optional. You don't have to sign up with iDebit if you don't wish it. Though it opens many opportunities.
If you choose to sign up, you will need to pass the verification process and provide your banking information. With an iDebit account, you will be able to make bigger transactions, more frequently. Besides, you will have your own iDebit e-wallet that will open the withdrawal option. In other words, you will be able to cash out money from your casino to your iDebit account.
To make a deposit, using your iDebit account, do the following:
Go to the cashier at your online casino.
Select iDebit as your method of payment.
Enter the deposit amount.
Confirm your purchase.
As you are redirected to the iDebitPayments site, log in.
Follow the security instructions to finalize the transaction.
If you are planning to make large deposits and you also want to withdraw your winnings onto the same account, iDebit is a good choice.
Not having an account with iDebit
As we said, it is not necessary to have an e-wallet account. So if you do not want it, that's perfectly fine. To make a deposit, follow these steps:
Go to the cashier section.
Choose iDebit.
Enter the amount of deposit.
Confirm the transaction.
Again, you'll be redirected to the iDebitPayments.
Select to "Checkout as Guest".
Choose your bank from a list.
You'll be redirected to your bank's site.
Log in with your online banking credentials.
Follow the instructions to confirm the payment.
Well, it sounds complicated but it's just a five-minute activity that requires you to use the right buttons and numbers.
When you make deposits without an iDebit account, your transaction amount is limited. And you cannot cash out via iDebit because you don't have the e-wallet. But if you are not planning to make large deposits but you want to make secure payments without revealing your banking data to an online casino, iDebit is perfect for you.
Benefits of using iDebit
We've already mentioned that this banking option is secure and fast. But how exactly is it different from bank cards and bank transfers?
First of all, iDebit always works because it is partnered with a lot of banks. Even if your banking institution doesn't accept payments for online gambling purposes, you will still be able to use money from your bank account by making transactions through iDebit.
Another reason to choose iDebit is that your deposits will be faster and cheaper than bank transfers. Some banks charge from $30 to $50 for a wire transfer. With an iDebit, you will only have to pay a flat fee of $1.50 to make a deposit.
If you enable the withdrawal option, it is free to move money from your casino account to your iDebit e-wallet. However, to move it from iDebit to your bank costs $2. But it is still very cheap.
One more thing to mention is that iDebit serves as a shield between your bank and casino. In other words, you do not disclose your banking details to your online casino. Of course, nowadays, gambling operators have strict security protocols in place. But why not have an extra shield just in case?
iDebit casino withdrawals
Withdrawals are available with iDebit but only if you have an iDebitPayments account. So make sure to register and open your iDebit e-wallet. It gives you access to casino withdrawals.
When you request a cash-out, your winnings will be instantly transferred to iDebit. But mind the withdrawal processing time on the side of your gambling provider. Once you have received the money, you can use them for further iDebit payments at online casinos or other websites. Or you can move them to your bank account but it will cost a fee of $2.
Keep in mind that you cannot move your money from your bank to your iDebit e-wallet. The only money you receive into your e-wallet is the funds from casinos or other sources.
iDebit casino limits
Online casinos may impose limits on iDebit transactions. So it is better to check the limits with your gambling operator because they may differ. Most websites allow you to deposit somewhere between $5,000 and $10,000 in a single transaction.
In fact, if your online casino has a deposit limit policy that generally applies to all payment methods, you need to stick with it.
iDebit accepts Canadian dollars and many other currencies. But if your online casino's currency is EUR or USD, you may be required to pay a currency conversion fee.
In conclusion
If you are looking for a secure deposit method, you can consider iDebit. It works as a shield between your bank and gambling website allowing you to deposit money even when your bank rejects gambling payments. Moreover, you can unlock the options to send bigger amounts and cash out money by simply signing up for an iDebit account.
We recommend you read our other posts about the fastest withdrawal online casino in Canada.
Rate this post, please:
5
4
3
2
1
FAQ
There are a few drawbacks when using iDebit, especially if you do not have an account with it. First of all, it won't let you cash out from a casino. Besides, you will have limits on transactions. However, you can avoid all these by creating an account. In this case, the only drawback will be passing the verification and linking your bank account to iDebit.
Yes, they do. Many online casinos and sportsbooks in Canada accept iDebit. But it's better to check with a certain sportsbook you like. If it doesn't accept it, then you'd better look for another bookmaker or use another payment method.
Yes, there are. You can also consider Interac and InstaDebit when choosing your favorite payment method. They work similarly to iDebit making a shield between your online casino and bank. However, not all Canadian banks support Interac and InstaDebit. If you use iDebit, you will be able to make payments from most Canadian banks.
More articles on gambling topic