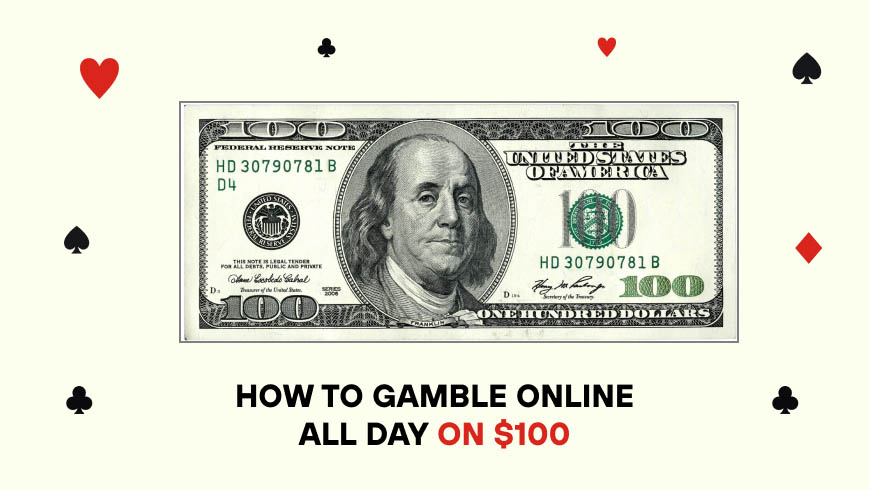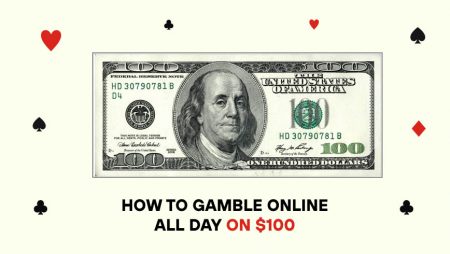 When playing games online for real money, one can easily go blind and wager more than he should have. The amount of money we plan to spend on games is often smaller than the sum we actually spend. Many players don't control their budget; others don't know how to do it, while still others fail to stick to the limited bankroll even if they know how to gamble safely. If this sounds familiar to you, we suggest you try playing online games for just $100 all day long.
Reliable online casinos
If you are tight on budget, or you just want to learn bankroll management and play safely, you should try the tips we give you below. But before you get started, you need to choose your casino wisely. If you already have a trusted casino site, then use it for the $100 method. However, if you are looking for a different online casino, we advise you to take a look at the Canadian casinos we recommend in this post. Besides, you can always visit our Casino Reviews page and find a platform to your taste.
Choose low-cost online slots
There are slots that don't require you to bet $10 as a minimum. In fact, there are plenty of online slots that allow placing less than $1 per spin. You just need to do a little research on these games. Low-cost slots are not the most popular, and they usually don't have exciting super features. But if you are looking for cheap gambling, you can pick them and play.
A big drawback of penny slots is that in order to have a decent payout, you need to place max bets. Otherwise, you can bet $0.01 per spin and try your luck with just 1 possible payline. This is why we suggest you not look for penny slots. Instead, find slot machines that have a max bet for as little as possible.
Buy lottery tickets for $100
If you like lottery tickets, why not spend $100 and buy yourself many chances to win? Draw games often have huge prize pools. The chances of winning a prize of any amount are 1 in 5, approximately. So if you buy 100 lottery tickets for $1 each, you can have at least 20 winning tickets. In most cases, the prizes can range from $1 to $1,000. As a result, you can either win good fortune or break even.
You can also buy 100 scratch-off tickets from a local retailer, come home and scratch off all of these numbers all day long to see if you win anything. It's pretty cheap and fun gambling. So if you don't know what to do this Friday, you've got the idea.
Take part in poker tournaments
Online poker tournaments are a great way to play all day for $100. Single-table poker tournaments usually run for one hour. You need to find the tournament with the lowest entry, and you can play until you win or bust. In other words, you can be playing for at least an hour in a single-table tournament.
You can enter a few single-table poker tournaments during one day and play for your entry ticket without spending any more. However, whether you win or lose depends on your skill. If you don't know how to play poker, it's better to choose another entertainment. But if poker is your passion, then why not show off your skill and spend as little as possible. Thus, aside from the winnings, you can also grab the tournament prize.
Check out the no verification live casino for the best poker experience.
Play video poker
Video poker played with a good strategy gives the lowest house edge. Find a video poker game that has the right paytable and the right game rules, make up an optimal strategy, and play the game that could give you more than 99% of payback.
It's best to search for video poker games that offer 99%+ return to player. If you happen to find a game that pays 99.75% back, you can bet $0.25 per hand, then your theoretical loss is just about $0.37. If you play slowly and think twice before making a decision, you can be playing all day long without the need to fund your balance.
Just imagine how fun it could be to hit royal flush by wagering only $0.25 per hand! You could win twice more than your initial budget of $100. Isn't it a good payout? But once again, you should play poker only if you know how to play it right. If not, you'd better practice it for free.
In conclusion
In fact, you don't need to have thousands of dollars to have fun at an online casino. Placing big bets actually leads to depression and embarrassment when you lose it all. Don't let yourself down. Instead, play games for fun by having just $100 per session. This amount will satisfy your desire to play and you won't be losing much.
If you have a spare $100, you can spend them on whatever you want, be it online casino slots, video poker, or lottery tickets. Besides, you can even visit your local bingo hall or keno casino where you can stay all day and enjoy the good old games. The thing is how you spend those $100, not where. Plan your visit to an online casino and always stick to your budget.
Rate this post, please:
5
4
3
2
1
FAQ
Yes, of course. Many online casinos allow depositing as low as $10-$20. The question is whether it will be enough for you to play all day. Anyway, if you can't afford $100 at the moment, you can always spend less on casino games. The exact sum should always depend on your financial capacities.
We suggest you open a casino slots lobby and start from the less popular titles. Open the games in a free mode, click on the paytable and rules, find out how much it pays, and how much you can bet for a decent payout. Determine the max bet and assess how it will affect your budget if you play at maximum. All these things will help you compare online slots and choose the best low-cost one.
The best way to learn to play poker is to practice it. You can open video poker games for free, learn the pay-table, and practice poker. Besides, we advise you to search for good strategy charts that help make the right decisions. Try them out and master the game.
More articles on gambling topic