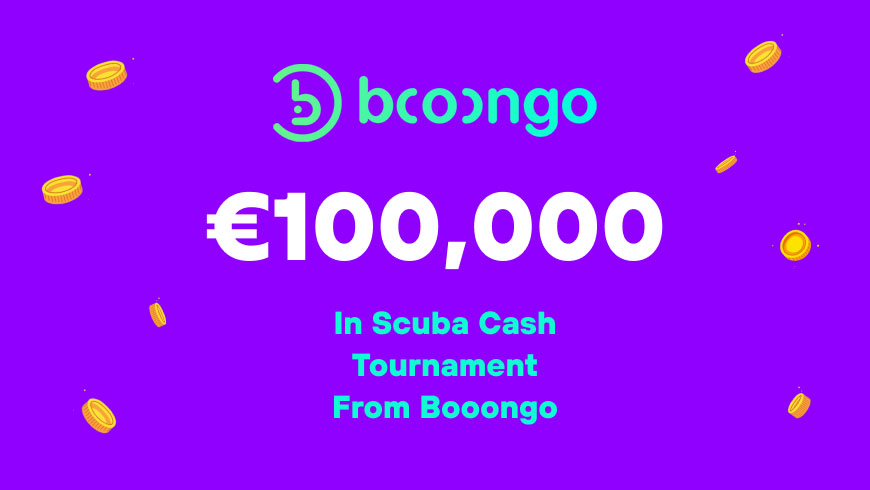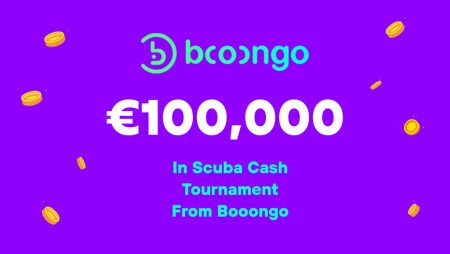 One more time Booongo decided to make all Canadian players happy with the Scuba Cash tournament featuring a prize pool of €100,000! They ain't kidding; the biggest prizes can be yours! Play daily slot tournaments and be the first at the extra Series Leaderboard to make the most out of this Booongo promotion. So, keep on reading to find out how to win cash and where you can take part in Scuba Cash.
Scuba Cash Online Casinos
These online casinos offer online games from Booongo game provider. You can play the Scuba Cash tournament and cash out your winnings right away. Make sure to join one of the recommended casinos before July 15 to get ready for the Booongo race!
About Scuba Cash
In general, Booongo regularly launches slots tournaments, and Scuba Cash is one of them. Starting on July 15 and finishing on July 24, you have 10 days to get daily prizes from the rewarding €100,000. Of course, if you are the best player. Below, we are giving you more details about the promotion, qualifying games, and prize pools.
How to Participate
Scuba Cash tournament is free to enter. In fact, it is very easy to participate. Follow these steps:
Sign up or log in to Booongo casino.
Deposit real money.
Open a qualifying Booongo game.
Make at least 100 spins at €0.50 stake each.
Earn points according to the scoring system.
Watch your leaderboard position and try to take first place by playing the games.
Once the tournament is finished, grab your prizes.
Tournament days
The tournament runs from July 15 at 0:00 UTC till 23:00 UTC on July 24. Each day has a tournament of €8,000 prize pool. Make sure to start the tournament at the right time. Here are the date and time of each Scuba Cash tournament:
July 15 from 0:00 UTC to 23:00 UTC;
July 16 from 0:00 UTC to 23:00 UTC;
July 17 from 0:00 UTC to 23:00 UTC;
July 18 from 0:00 UTC to 23:00 UTC;
July 19 from 0:00 UTC to 23:00 UTC;
July 20 from 0:00 UTC to 23:00 UTC;
July 21 from 0:00 UTC to 23:00 UTC;
July 22 from 0:00 UTC to 23:00 UTC;
July 23 from 0:00 UTC to 23:00 UTC;
July 24 from 0:00 UTC to 23:00 UTC.
Qualifying Booongo Slots
During these 10 days, you can play only participating online slots. For this tournament, Booongo selected some of the best online games the company has ever developed. The following games qualify: Sun of Egypt, Wukong, Book of Sun Multichance, Pearl Diver, Scarab Boost, Dragon Pearls, 3 Coins, Hit the Gold, Magic Apple, 15 Dragon Pearls, Aztec Pyramid, Wolf Saga, Aztec Sun, Sun of Egypt 2, Tiger Stone.
How to Win Regular Prizes at Scuba Cash
Everybody wants a share of this terrific prize pool of €100,000 in cash. But only 250 lucky players will get it. In fact, there are two ways to win Scuba Cash prizes because the tournament includes two leaderboards: major and extra. But first things first, let us give you the full information about the tournament days.
The tournaments are divided into two groups. The first group of tournaments runs on odd-numbered days, while the second group of tournaments is played on even-numbered days. Here's how to win on all these days.
Win Race Days
This is the first group of tournaments that are launched on days 1, 3, 5, 7, and 9 (July 15, 17, 19, 21, and 23 accordingly). To win these days, you need to make the biggest wins. The thing is that you receive leaderboard points for any wins.
For example, if you make a bet of €1 and win €100 with this bet, you earn 100 points for the leaderboard.
Multiplier Race Days
The second group of tournaments takes place on days 2, 4, 6, 8, and 10 (July 16, 18, 20, 22, and 24 accordingly). To win during these days, you need to make the highest multiplier wins.
For example, you bet €4 and win €360. Thus, you have 90 points for a 90x multiplier.
How to Win Extra Prizes at Scuba Cash
If you thought that the two groups of tournaments are the only thing in this promotion, you were mistaken. Booongo tournament has an extra leaderboard where you can also take places and win cash prizes. However, only 350 players will get a share of the daily €6,000 prize pool.
But the main criterion to receive the additional prize is to be active during the main tournaments.
Series Leaderboard
If you are active enough to qualify for the Series Leaderboard, then your name will be added to the list of extra prize winners. Here's a scoring system for extra points:
You receive 200 points for passing the qualification stage of each tournament. To qualify, you need to bet at least €0,50 in 100 rounds.
You earn 1 point for each €100 wagered during the regular tournament days.
A different number of points is given to you for reaching the top 250 leaderboard places on each day of regular tournaments:
For reaching 1st place, you have 1,000 points.
For making it to 2nd place, you get 500 points.
The 3rd place rewards you with 250 points.
If you are in 4th-5th place, you receive 200 points.
Your 6th-10th place rewards you with 150 leaderboard points.
Places ranging from 11th to 100th give you 50 extra points.
Finally, for staying in 101st-250th place, you earn 30 points.
Scuba Cash Prizes
Finally, let's get to the prize pool of €100,000. As there are two leaderboards, consequently, there are two prize pools. The first one is for regular tournaments with €80,000 spread over 10 days, while the second prize pool of €20,000 for 2 days is for the extra leaderboard. All prizes will be paid in cash after the end of the tournament. Here's how the prizes are distributed among players.
Tournament Leaderboard Prizes
1 place — €800
2 place — €700
3 place — €600
4 place — €500
5 place — €400
6 place — €200
7 place — €150
8 place — €100
9 place — €70
10 – 15 places — €55
16 – 30 places — €40
31 – 50 places — €30
51 – 90 places — €25
91 – 100 places — €20
101 – 150 places — €15
151 – 250 places — €10
Series Leaderboard Prizes
1 place — €2,000
2 place — €1,500
3 place — €1,300
4 place — €800
5 place — €700
6 place — €600
7 place — €500
8 place — 450
9 place — €300
10 – 15 place — €200
16 – 30 place — €150
31 – 50 place — €100
51 – 90 place — €50
91 – 100 place — €40
101 – 150 place — €25
151 – 300 place — €15
301 – 350 place — €10
Compete For Cash Prizes!
In conclusion, we must say that Booongo gives out real money prizes to the best casino players. If you are one of them, then prove it in the Scuba Cash tournament. Besides, don't forget to deposit enough money to win the tournament prizes each day. Be ready to qualify for the biggest prize pool of the month. Only in July, you have a chance to compete with other slots players for the awesome cash prizes!
For more casino promotions, check out the top 10 Canadian casino sites with the biggest rewards system.
Rate this post, please:
5
4
3
2
1
FAQ
Booongo is a company that develops online casino games and provides them to gambling platforms. Among their game collection, there are many video slots. So, Booongo game developer is very popular among online casinos and their players. Besides, this software provider regularly launches tournaments like Scuba Cash and other promotions.
Of course, you can. Moreover, you can get a welcome bonus from your casino site. And when the time comes and the Scuba Cash tournament starts, you can participate and win some cash to your casino account. Besides, you can withdraw these cash prizes at any moment after you receive them.
Booongo develops high-quality games. So, it can be a bit difficult to select the best of them. But first, we would recommend you to try Wukong, Sun of Egypt, and Dragon Pearls. Some of the most intriguing slots are Sun of Egypt 2, Wolf Saga, Scarab Boost, and Aztec Sun.
More articles on gambling topic