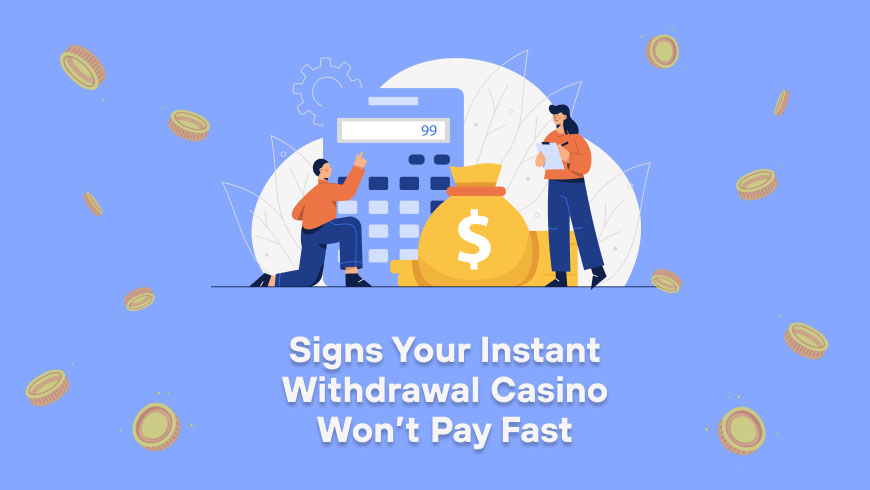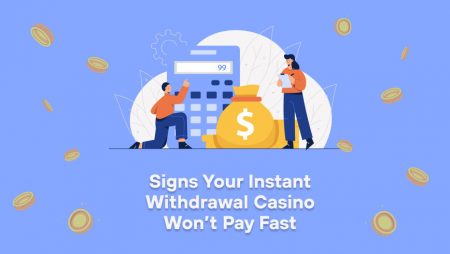 If you are playing casino games online for a while, you know about the curse of all online casino operators. Even though they promise you fast withdrawals, they fail to perform it. New casino players find themselves in a bigger frustration when they join a fast withdrawal casino, but actually, they have to wait for a few days till the cash-out is processed. If it sounds familiar, keep reading and find out what signs tell about fast-not-fast withdrawals, so you can avoid it later.
Instant Withdrawal Online Casinos
Online casinos that really pay fast are rare. And most of them pay out quickly under certain circumstances. Instant payouts depend not so much on online casinos as on players themselves. And if you always blame a casino operator for not paying out, it's better to pay attention to your own actions. Maybe it's you who makes the wrong decisions?
What is Instant Withdrawal Casino?
Let's first define what an instant withdrawal casino is like. Many people believe that these casino operators process withdrawal transactions in no time. At one moment, you send a withdrawal request, the next moment, the winnings are in your bank account. Well, it can look like this, but not in the majority of cases.
The fact is that your online casino operator must verify your identity (if it's your first withdrawal), make sure you haven't violated any terms, and then finally process the payment. So, for the first time, it won't be as fast as you think. Your future withdrawals from this casino site can be instant, it's true.
Normally, a fast payout speed is considered to be up to 48 hours. Anything above this time limit is considered slow. Thus, if you've recently joined an instant withdrawal online casino and it pays only after a day or two, don't be disappointed. It's still better than waiting for 5 days.
Signs to Pay Attention to Before Playing
Don't hurry to register at a casino, deposit, and play, even though the casino is promising you instant payouts. Before you join a casino site, pay attention to certain factors that tell you you won't get your winnings fast.
However, we should warn you. Some of these factors can actualize only when you withdraw money for the first time.
Pending Period
Many online casinos that promise you instant withdrawals set a pending period for all payouts. The pending period is where your winnings stay after you make a withdrawal request. By setting this period, online casinos give you the last chance to cancel your withdrawal and return the money to play games again. Though, in fact, casinos are playing for time. And most players return the withdrawals for real.
The result of such a decision can be different. You can win even more, or you can lose everything. Thus, you don't have your new winnings, nor previous winnings to withdraw.
By the way, the pending period can last for 48 or 72 hours, which doesn't correlate with instant withdrawals. The winnings will appear on your account instantly, but after the pending period is over. Consequently, instead of getting the money right away, you are waiting for 2 or 3 days, and only then the request is actually processed.
Solution: leave the money in the pending period. If you want to play, make another deposit. This way, you will save at least what you won the previous time.
And if you want to avoid a pending period at all, you need to search for online casinos that don't have it. Open any casino you like and learn what it says about withdrawals. What time it takes, and what withdrawal stages are.
Account Verification
If you are a new casino player, there's a high chance you will need to verify your casino account. It is necessary because online casinos need to know you are a real person before giving you money. So, you send your documents for verification that lasts for a couple of days, depending on the casino. Though, some operators can do it for 5 or 7 days, which is absolutely ridiculous.
Therefore, you get your money instantly only after your account has been verified. However, there's good news too. Online casinos ask you to verify your account only once when you make your first withdrawal. All future cash-outs will be processed quickly.
Solution: you can join a casino no verification for withdraw. Alternatively, you can verify your account after you sign up at the casino. This way, by the time you make a withdrawal request, your account will have been verified.
Payment Methods
This factor mainly depends on casino players as they choose which payment method to cash out with. The fact is that even though your casino processes payments instantly, your banking operator might not do so.
Different payment options transfer money at their own speed. E-wallets and cryptocurrency are instant methods, while banking cards and online banking services take more time to process transactions.
Solution: choose instant banking options. Before you join a casino, search for information about withdrawal methods and how quickly they process payments.
At the Bottomline
No matter how proudly your casino may sound when it says you'll get your winnings in less than 24 hours, always rely on facts. Search for the withdrawal information on the site and its FAQ section. If you can't find some info, contact customer support via live chat and ask. You have all the right to know how the withdrawal process is going. Or at least, you can use our recommendations and solutions for these problems.
Rate this post, please:
5
4
3
2
1
FAQ
If your casino offers you a selection of e-wallets and cryptocurrency methods, choose one of them that you prefer. If necessary, you can create an e-wallet account. It will be a better decision than cashing out money on your banking card. These payment methods are not only instant but also safe and easy to use.
It can be anything that identifies you as a person. For example, your passport or driving license. Besides, some online casinos require players to send banking checks and utility bills. So, it's better to prepare the document copies or photos in advance.
Not at all. Even legit and licensed online casinos can resist withdrawals or take a longer time to process them. If you don't know why it's so slow, you should contact customer support. Though, when you don't see any signs of a legit casino, then your site can be a scam. Still, it's better to contact the support team.
More articles on gambling topic