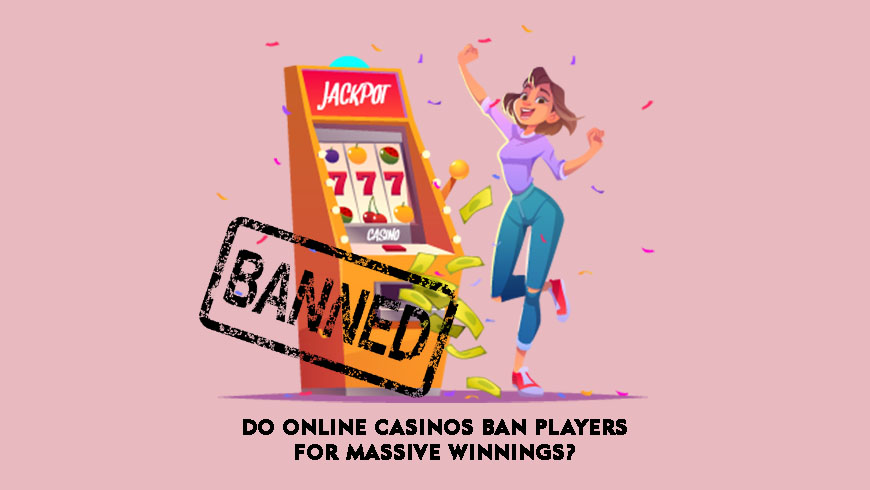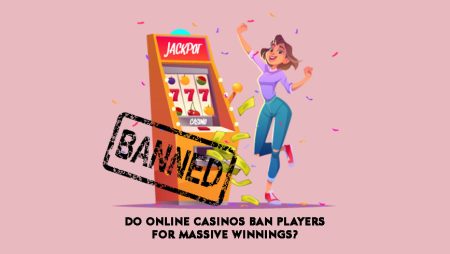 It sounds absurd to be kicked out of a casino because you've won too much, doesn't it? However, some players are concerned about this, and it stops them from playing big. In this post, you will find out what the scenario follows a massive win, and if online casinos can really ban you for winning too much money. After all, online casinos run private businesses and they can do anything to keep it bringing big money.
This is why players are recommended to play at licensed online casinos only. In such a case, you can rely on the help of authorities because reputation weighs a lot more for casino operators.
Regardless of how much you win, even legit online casinos can ban you for violating their rules. Therefore, players must know how to behave on a casino website. To learn all the details, make sure to read the terms and conditions of your chosen casino website.
The many ways to win big and cash it out
To lead in this article, we'll ask you one question: "How can you win big on casino games?" Most of our readers will tell that hitting a progressive jackpot can guarantee a huge payout. Well, yes. After all, what else do progressive jackpots exist for?
And, online casinos offer two options to cash out a jackpot win: in full or in monthly installments. Most casinos will pay out jackpots in installments of about $15,000 – $30,000 a month just because they can't afford to pay it in a single transaction.
Another method to win big is to get lucky on any slot, table, or live game. Of course, usually big wins require big wagers. But sometimes, even $1 bet players can make a hundred times more from a single spin.
In all these cases when you win big, a casino operator cannot refuse to pay you unless the game had a dysfunction. But this must be proved first.
And there's an array of reasons a casino can refuse to pay, according to the terms and conditions, which is why you'd better not violate the rules.
Do casinos benefit from banning players?
Since online casinos have the power to ban players even after paying out a significant sum of money, they can do it all the time with big winners. But what do they actually gain by this? And does it make sense to ban big winners, especially if they do it constantly?
The answer is no. And, there are many reasons not to ban winners:
First of all, they are players, customers who deposit and play every day. And even though they win big and cash out the money, they still make fair foundations for the casino and its business. Banning regular players can hurt casinos.
A bad reputation is another negative reason. A player who wins big may happen to be streaming the games live. But what can happen to a casino's reputation after banning such a player? No one watching this live stream will ever play at that casino.
After all, most players who win big are high-rollers. And, let's be honest, online casinos are focused on high-rollers and VIP players because they make the biggest deposits and wagers. They can lose thousands of dollars at a casino overnight and then win it back.
Big wins help promote games. Anyone who sees or reads about a jackpot winner who made millions on a slot machine is likely to try the same game at the same casino. And, no matter if he wins or not, he will fund a casino with another portion of the money.
Instead of banning players who consistently win big amounts, online casinos reward them even more. They congratulate players and offer them various options. For example, you can cash it out or you can leave the winnings on the balance and continue wagering to complete the level-up mission, and get rewards with bonuses.
Check out Stake VIP levels rewards to learn more about the program.
What makes a casino site ban you
Even though winning huge sums of money is not a reason (at least legal) to block your account, there are several actions that will certainly lead to this.
It isn't about card counting or using betting strategies. It's more about violating the terms and cheating.
Cheating
If you succeed to cheat at an online casino but get caught by a security system, you will be banned forever. Moreover, all sister casinos that are members of the same casino group will likely put your name on the black list.
Cheating at online casinos takes place on the internet. Hackers with advanced technologies such as betting bots and calculating programs can get an advantage over the house. With the help of their bots, they find patterns and algorithms of RNG-based games and make a bet at specific times when a casino has the lowest edge.
However, using different hacking programs is not always an option. Online casinos are smart too, which is why they use various technologies. For example, they use bots powered by Artificial Intelligence (AI) to track and spot suspicious betting patterns. Once spotted, casino accounts get banned.
Violating casino rules
Any player, a big winner or a constant loser, can get kicked out of an online casino. Everybody is at risk when breaching the terms and conditions.
Every word mentioned on the T&Cs page has the power. The strictest "punishment" in the form of banning follows all violated terms, including the most popular:
bonus abuse
multiple accounts
underage gambling
provision of false information
insulting a support team manager
performing fraudulent actions
using an account for professional purpose
Each statement in a casino's terms and conditions must be observed by players. So make sure to comply with the terms unless you want to be banned.
To conclude
The answer to the question "do online casinos ban players for massive winnings?" is no, they don't. You will not get problems if you win big and try different strategies to succeed. And you won't be refused to pay if you fairly hit a jackpot and make constat winnings. So you should be playing fairly and responsibly. But if you plan to cheat or violate the rules, get ready to be banned from casinos.
Rate this post, please:
5
4
3
2
1
FAQ
Yes, you can. Some online casinos state it in their terms and conditions. So you'd better be calm and polite when speaking or chatting with support managers. Do not insult, abuse, or offense them in any way. It won't help you anyway. Otherwise, it can make the situation even worse.
If your casino bans you after you've made a colossal win, it's time to contact the support team. They should provide legal explanations and proof of why they banned you. If their response doesn't satisfy you, you can make a complaint to its regulator or some independent testing agency. If this doesn't help too, try to reach the court. However, don't forget to provide evidence.
It depends. If it's a bonus abuse, then you will likely be banned from a casino. But if it's something little, the maximum you can get is a bonus forfeiture. For example, if you haven't wagered the bonus till its expiry date. And a casino may also exclude you from receiving any bonus offers.
More articles on gambling topic