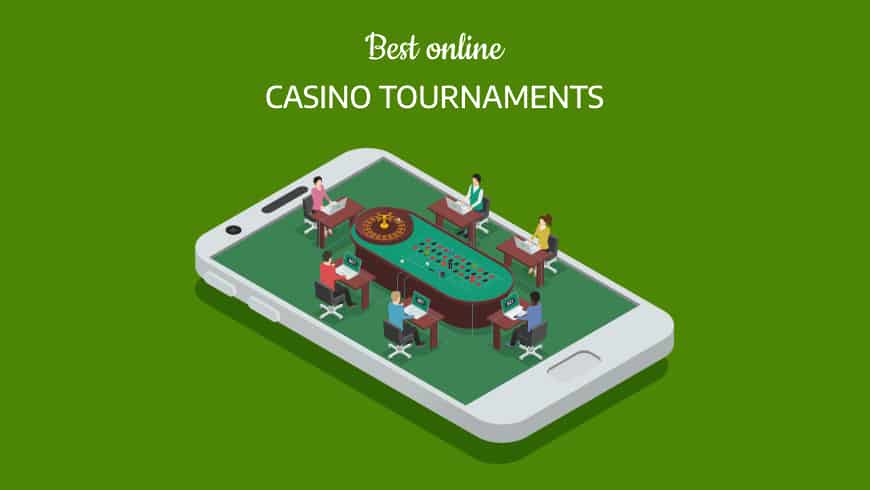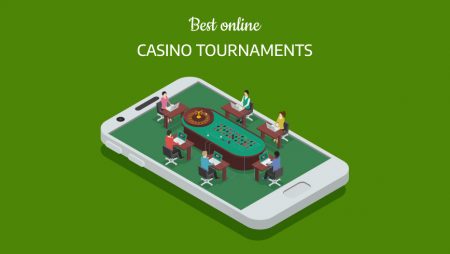 Tournaments are a new form of gambling for real money at online casinos. Regular casino playing can become boring after a long time. So, casinos have introduced a competition between players to spice things up. You can take part in tournaments and earn big money. However, some of these tournaments require a big bankroll to play, even though the entry is free. Still, tournaments are a great way to earn some cash.
Best Casinos to Play Tournaments
These online casinos are the best when it comes to tournaments. Most of them launch their own tourneys in slots and card game. Besides, some online casinos have tournaments with free entries, while others require you to pay an entry fee. Join these gambling platforms to get the best experience playing tournaments.
What Are Tournaments?
A casino tournament is a competition between players of a certain game where they need to make the highest score to receive a prize. For example, you can play a tournament in the Book of Dead slot with a prize pool of $10,000. To win this slot tournament, you need to score the highest win multiplier. The aim can be different depending on the tournament. So, check this in the terms and conditions of the promo.
Every tournament has a leaderboard with players' positions and prizes. Each participating player earns leaderboard points while playing the game for real money. The more points he has, the higher his position on the leaderboard. The leaderboard is updated every 10 seconds in real-time mode. Usually, you can watch your current position while playing the game. It is next to the game field.
Tournaments can take place in video slots which is very popular among casino players. But some tournaments are made at table or live games. Some online sportsbooks launch tournaments even between sports bettors. Pick your favorite activity and participate in the tournament to prove you are the best player of the night.
Types of Tournaments
You can find two types of tournaments presented at online casinos. They don't differ much in rules, but they have different conditions and prize pools. Let us give you more details of each type.
Casino tournaments
These tournaments are created by online casinos themselves. Usually, they launch regular tournaments, or so-called races, for a short-term period. Some casinos have weekly, daily, or hourly races. These tournaments have rather small prize pools of around $5,000. Though, the size of the prizes depends. Besides, some online casinos set wagering requirements on prizes. It means that if you've won a tournament prize of $500, you need to wager this sum a few times before you can withdraw. However, some casinos give you prizes in cash, so you can withdraw your winnings.
Tournaments from software providers
The biggest tournaments are made by software providers. First of all, they are long-lasting. Secondly, they have huge prize pools. And finally, the prizes are paid in cash. A very good example of such a tournament is Drops and Wins by Pragmatic Play that gives away more than $2,000,000. It lasts for half a year, and all prizes are wager-free. Besides, you can play many games from Pragmatic Play as most of them qualify for the weekly online slot tournaments.
Many tournaments players have already realized the benefits from competing against other players in slots. The best thing about tournaments is that they give you a competitive spirit. If you want to be the first and win the biggest, you should take part in these tourneys.
Some online casinos provide tournaments only as a loyalty privilege. In this case, you need to play regularly to become a member of the loyalty program. Tournaments are usually available in slot games, blackjack, and others. The tournaments in slot games are the easiest to play online. However, taking part in poker tournaments or playing blackjack with players from different locations could prove difficult. Keep in mind that winning at card games depends on skill, and whoever makes the highest score, wins the tournament.
Rules of Casino Tournaments
Online casino tournaments differ in duration, prize pool, and qualifying games. And before you start playing it, you are advised to read the terms and conditions of this promotion because they also differ from casino to casino. However, all tournaments have a few things in common. So, let's discuss the universal rules that you will likely find at most tournaments.
Time limit. Any competition has a time limit. It is a timeframe during which the tournament runs, and you have to reach the goal to win the prize. Your task can be playing the most times, having the highest multiplier wins, or anything of a kind.
Bet limit. You should always check the bet limit rules to qualify for the prizes. When you enter a tournament, some casinos require you to but your entry with a fee. Or if the casino doesn't have any tournament entry fees, still there are maximum and minimum limits to bet sizes. Some slot tournaments can have a fixed price per spin. So, keep it in mind, and don't change your bet no matter what.
Use the given credits. Sometimes online casinos give the tourney participants a certain number of credits to play with. So, you need to wager only the given money, not your own. If you use your real money during the tournaments, you may have been disqualified. Thus, you won't get your cherished prize.
Use all credits. During the tournaments, the given credits are like your ticket to the prizes. So, you need to use all the given chances to make the most out of your performance. If you have left a few credits, they will be just gone. They will not influence your result, neither will they be added to your account. Simply use them all during the tournament while you have them.
Tournaments Entry
When you decide to enter a casino tournament, you need to know a few things about the entrance. Here's what you need to consider:
Buy-ins. At some tournaments, you can buy a specific number of chips that will help you complete the tournament. If you spend them all away during the competition before it ends, you go bust and your game finishes. However, some tournaments allow you to join the tournament again and continue to compete. Though, it means that you have to buy the "tickets" again. These tournaments can be quite expensive, that's why players with a big bankroll are always among winners.
Loyalty tournaments. These tournaments are specifically made for high-rollers who are usually loyal members. They can buy their entry or use their loyalty points to pay for the entry fee.
Unlimited spend. According to the rules of such tournaments, participants can spend as much money as they want. That's why this type of tournament is mainly for high-rollers as well. If you aren't a high roller, you'd better pass by this promotion.
How to Enter Tournaments
Depending on the type of tournament, the entry rules can vary. So, it's better to follow the instructions of each particular tournament. But as well, there are common steps that you will have to take before joining any tournament.
Pick a casino site with the tournament you want to take part in.
Sign up with your new account and claim your first-deposit bonus, if you wish.
Find the tournament section on the menu and select the preferred competition.
Read the tournament's rules and determine what you need to do to win the top prize.
Enter the tournament following the instructions.
Place wagers and compete for the prizes.
What Tournaments to Play at Casinos
There are plenty of tournaments at online casinos. And they run only during their promotional period. That is why it isn't rational to tell you about the best tournaments to play right now. If you want to compete with other players today, you can visit the best tournament online casinos and join the thrill of tournaments. Or you can follow our gambling blog where we often tell our readers about the upcoming casino tournaments.
The following online casinos have many tournaments updated every day:
Casino X
Online Casino X is the leading online casino with tournaments. They have tournaments not only in slots but also at live games and table games such as roulette and poker. Most promotions from Casino X include free tournaments — just come and play.
Spin Da Wheel Roulette at Casino X.  This tournament is free for roulette fans. You just need to spin the roulette and compete for prizes. The competition takes place weekly on Fridays and Saturdays. To take part in the tournament, you must register and have real money credits on your account. There are no fees, just make bets, and win prizes. To win the tournament, you need to bet on each of the 25 roulette spins. At the end, who has the highest amount of winnings, wins. The top 10 winners share the tournament pot. The highest prize is 800 loyalty points.
Mysteries of Arabians at Casino X.

Inspired by Egyptian folklore and Arabian slot machines, this tournament takes place on Thursdays every week. Popular slots are available in the tournaments. For example, Mega Moolah, Pharaoh's Gems, Pharaoh Bingo, and Treasure Nile. Participation rules are similar to the

previously

described events. To win, you have to play 50 rounds on any of these four slots. The first-place winner receives 800 comp points.
Rizk Casino
Rizk is very famous for its Rizk races. In other words, these are the tournaments in slots that take place every hour. Simply put, you can participate in the race 24 times a day and win some cash prizes or free spins. As a rule, during the Rizk race, you can make only 500 spins, and if your score is the highest, you win the first-place prize.
Rizk casino also promotes various tournaments from software providers. You can easily find all the latest network tournaments like Pragmatic Play. Rizk's rewarding system is very nice meaning almost all bonuses and rewards are wager-free. Some of them are subject to wagering requirements, but they are still low. So, you can easily complete them and cash out.
7 Bit Casino
7 Bit is a casino, the financial system of which is based on bitcoins. In other words, you can gamble with your cryptocurrency, deposit and withdraw via crypto payment methods.
This gambling platform regularly launches different races and tournaments. There are four types of regular tournaments: weekly race, welcome race, lucky race, and joker race. All of them feature good rewards such as bonus money, free spins, and comp points for the loyalty progress bar. Thus, by participating in tournaments, you can not only boost your balance but also earn access to the upper level.
Conclusion
If you thought that online gambling is about money, it isn't. Gambling for real money is about fun. And casino tournaments are another proof of this statement. Most players are excited to receive casino bonuses, but the real thrill awaits you in tournaments. Try to participate in any online casino tournament at least once, and you will want to spend days trying to make the highest score. Even though tournaments can be a bit cost-based, their rewards are awesome, making players feel happy.
Rate this post, please:
5
4
3
2
1
FAQ
Not exactly. Most casino tournaments allow competing in a specific game or selection of online games. They can be from one software provider. Or they can also feature a similar theme. For example, on Christmas tournaments, casinos select the Christmas and winter-themed slot.
Yes, they are. Indeed, if you join a fair online casino with tournaments that we recommend on our site, you can win real cash prizes. Some casinos let you cash them out without even meeting the wagering requirements.
Absolutely! One of the biggest benefits of tournaments is that you can play them almost for free. You can win big if you're lucky enough, but even if you don't win anything, you still have a fantastic time. So, we recommend taking part in various casino tournaments.
More articles on gambling topic