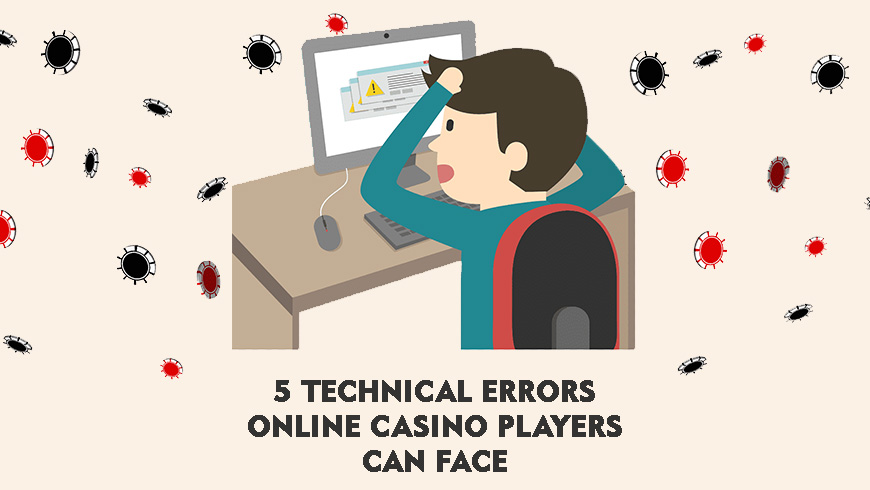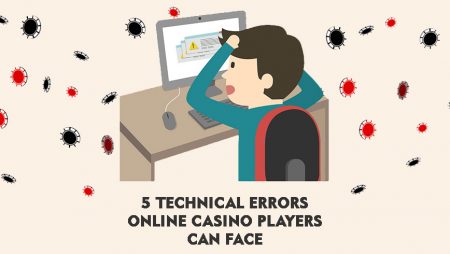 Every player knows how weird it feels seeing the reels on a slot game keep spinning and spinning and it seems they are never going to stop. This is kind of a technical error we are going to speak about in this post. In fact, there are 5 common technical errors that everyone has faced or will probably face in the near future. Unfortunately, these errors still occur in the modern days. But the good thing is that we should not panic sending angry messages to customer support in a rush. Players can quickly solve these issues themselves.
Reliable Online Casino Sites
Most online casinos in Canada are reliable and safe for players. But even legit casino sites are not perfect as they have malfunctions. These are little problems that appear on the side of a software provider or a partnering company such as a banking service. When it happens, players cannot continue their gaming process, withdrawal of funds, etc.
So whichever casino you pick to play at, you are not immune to technical malfunctions. But you can do a few things that will help you go through these errors.
Most Common Casino Software Errors
If you've been playing casino games for a while, you are most likely to have already come across several technical errors. We hope that those situations ended well for you. But anyway, we suggest you look through the list of errors below and find out how to overcome these little problems.
Inability to cash out your winnings
Have you ever noticed why most complaints about online casinos have to do with withdrawals? Or maybe it has happened to you once or twice. Players are just unable to withdraw their funds from an online casino account.
Of course, withdrawal problems can be caused by different circumstances. It can happen because you haven't properly verified your account or you have violated a bonus, and so on. But if you know that your casino account is ok and you did nothing wrong, but your winnings haven't yet appeared on your bank account within the set withdrawal timeframe, there may be something wrong on the technical side.
It can be a problem with the site's servers or with your payment institution. Therefore, you must contact both the casino support and your bank. This will help you find out who fails to do his duties and solve the problem.
Sports bet price discrepancies
Usually it happens with sports bettors that can face malfunctions affecting the bet limits. As a result of this technical error, you can see that you've placed a bet at different odds than those you had at the beginning.
Online bookmakers cannot help you in this situation as their terms and conditions clearly state that the payout comes from the actual odds no matter what error has occurred on the server.
So what you can actually do is double-check the event you are about to bet on/you've already bet on. If you are allowed, you can cancel the bet when such an error occurs. Besides, it's a good practice to use an odd calculator on online sportsbooks.
Wrong coupon/betting slip value
Again, it usually happens at bookmaking websites. If you have a coupon or a betting slip to use on a sportsbook, the system might fail to scan it right. For example, you can have fewer winnings at the end, which you certainly didn't expect.
To prevent such a situation, check the coupon value twice. Use multiple sources such as the website's terms and conditions. Besides, you can contact customer support via live chat to clarify the current value of the betting slip.
Receiving marketing emails after self-exclusion
Marketing emails from a casino seriously affect gambler's mind. Especially when these emails contain bonus codes to no deposit offers and alike. Unfortunately, a technical error of this sort can occur to a player who has terminated the casino membership and excluded himself from the online casino.
So you must be very responsible and strong-willed to contact the customer support of the website and ask them to exclude you from the list of recipients.
If it didn't help, you can raise a dispute on an Alternate Dispute Resolution platform. However, maybe for some players it will be easier to change an email login and never visit the previous email box.
Game freezing
Of course, the first casino technical error that comes to mind is when a game freezes. Like we said before, you see the reels spinning and spinning and they never stop. But it gets worse when the game is showing you a positive result, but it suddenly freezes and you can't do anything. And can you imagine this during a jackpot win?
Unfortunately, sometimes, the screen displaying a win is the error itself. However, nowadays, such an error is rather obsolete because slot game developers have changed the programming. Now, instead of the jackpot screen, it shows the "Stop" option.
Nevertheless, when game freezing occurs in any form, players just have to wait. It can occur due to the lost connection. However, if you've been waiting for too long and nothing happens, then just go and change the game.
Your current balance with all your winnings before the problem occurred should be saved on your casino account.
Ways to Contact Customer Support
No matter what the problem on the technical side is, you can always contact customer support of your online casino. There are four ways to do it:
FAQs. If you have a common question like "when will my money come?", it's best to check the FAQ section first. Usually, online casinos give answers to all frequently asked questions. If you haven't found the answer to your question, consider the following method.
Live chat. Almost all online casinos in Canada have live chat buttons on their websites and mobile apps. By contacting a manager via this small chat screen, you can get the answer to your question or quickly solve your issue.
Email. You can send an email to the casino support team. Usually, this method is a bit slower than live chat, but still, you can use it. It's especially good for solving serious issues when you want to explain the problem and attach screenshots, documents, etc.
Phone call. Not all online casinos have this function. But if your casino has a toll-free phone number, why not call it and solve your problem in real time?
To conclude
Players used to believe that casino operators rig games and all, which is why technical errors like game freezing occurs. But often, players are just making things up in their minds and then write angry emails to the customer service team.
However, it's just enough to play with a licensed and the most secure online casino and apply extra caution while placing bets. As the saying goes, don't make a mountain out of a molehill. Keep calm and solve the issue properly. Sometimes, it just requires a bit more time.
Rate this post, please:
5
4
3
2
1
FAQ
Usually, online casinos solve withdrawal problems in a matter of seconds. But if it's an error on the side of your payment operator, it may take time. Depending on the reason of the error, you can wait from a few minutes to few days.
First of all, you should consider the human factor. Managers may have a lot of work or they have been interrupted from sending a reply to you. Try to contact them again. However, if you don't get the message for a very long time, like it's been a week, a month, etc, then try different methods. You can call them on the phone, if it's possible. Or you can contact the regulatory body of your casino and make a complaint about your issue.
It depends on the casino operator. Sometimes, managers have a working time that starts at 10 o'clock in the morning and finishes at 3 o'clock at night. But most online casinos have a service that works all day and night long. To make sure you can contact the support right now, check out the working time of your casino support.
More articles on gambling topic