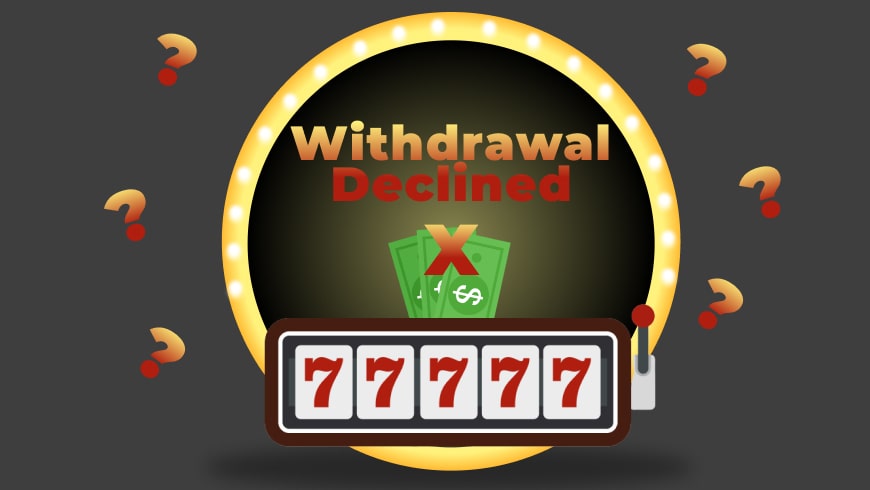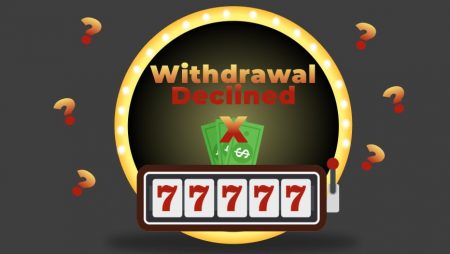 A declined withdrawal request is a thing that happens pretty often. Many players face this problem and cannot get the winnings. Although sending the request might seem a simple task, casino operators have to refuse it because of certain reasons. Even if the Canadian gambling site you use is a 100% fair casino and you trust it unconditionally, you can get the unwelcome message of declined withdrawal. So, read on to find out the three common reasons casinos don't pay out.
3 Reasons Online Casinos Refuse to Withdraw
There are specific reasons why online casinos don't pay out your winnings. Unless it's a fraudulent site, you should be informed about the reason on the casino page. But in case you don't get the notification from the casino, you can check out the following points and clarify what can obstruct money on your account.
Terms and Conditions Do Matter
If you remember your first gambling day, you probably know how to register an account. You need to fill in the sign-up blank. As you complete providing your personal details, the last step is to agree with the terms and conditions.
Obviously, most players just tick it without even having a look at the general regulations. It's clear that most of us can't wait to get started, but it will take only 5 minutes to read the T&Cs through. This little step will prevent the further payout problems.
We have reviewed many Canadian online casinos and we say for sure that some sites post really confusing terms. They confuse by the complexity and sophistication. On the one hand, this is good because the terms are not ambiguous, they are detailed. On the other hand, large texts written in a monotonous, formal language are difficult to comprehend. So, the eager to play users skip reading the terms by ticking the "I agree".
By doing so, many players fall into a trap. There are many reasons online casinos would refuse your withdrawal request if you break the terms and conditions. Here we share the most common circumstances for refusing to pay.
Violation of Bonus T&Cs
Promotions are the most attractive part in online casinos, but they have a big drawback — T&Cs. Every casino bonus has general bonus terms applied. Even if the bonus doesn't have wagering requirements, it still has terms. They regulate everything, including qualifying games for the bonus, payment options you can use while claiming the bonus, minimum bet allowed, limit on withdrawal amount, and even country restrictions.
Let's say that the bonus says: deposit $50 and get 100 free spins on Gonzo's Quest. You deposit and go play the game with a stake $5 per spin. But the terms say you can only bet $0.1 per spin. No matter how much you won, you cannot withdraw as you violated the bonus T&Cs.
Age Restrictions
If you were able to sign up at an online casino being underaged and could play games, anyway, you need to provide identity proof in order to withdraw winnings. So, forging all documents won't work. The casino team won't buy into the trick as they check all the information thoroughly.
Remember that the legal age in Canada is 19. Only three Canadian provinces allow gambling at the age of 18: Manitoba, Quebec, and Alberta.
Self-Exclusion
Gamblers who cannot stop playing at the right time can exclude themselves from gambling on their casinos site. According to the self-exclusion rules, the player cannot play on that site and on sister-casinos of that site. But if somehow a casino makes a failure of keeping watch on you, later it will realize you are self-excluded, and won't pay you.
Banking Issues
The most common reasons are situations regarding payment. Here are a few popular payment issues that you might have faced.
You Haven't Met Withdrawal Limits
Every online casino sets limits on withdrawals. It means that you cannot withdraw more than a set amount of money per day/week. If you are trying to do it, you will get a refusal.
Let's see an example: a casino withdrawal limit is $10,000 per week. It means that during a week you can withdraw a sum totaled up to $10,000. Next week, you can withdraw another $10,000.
We recommend reading the T&Cs regarding this aspect because some Canadian casinos set limits per day, week, month, and sometimes per account. But for more detailed and definite information, you'd better contact the customer support. If you have won a sizable amount of money, they will assist you on how to withdraw it.
You Used a Wrong Card For Deposit
It's a general rule of online casinos that you must only deposit with your personal credit card and withdraw the money to the same card. This is a measure of security. By doing so, online casinos prevent money laundering and fraudulent activity.
You Haven't Met The Wagering Requirements
Wagering requirements are made for security purposes, again. Online casinos avoid money laundering by placing the requirements on bonuses. Otherwise, it would be very easy to take the casino's bonus money and never come back to play games.
So, it's essential that you can't request for withdrawal if you haven't met the wagering requirements. However, there are Canadian casinos that place little-to-no requirements. But it can take some time to find them.
Casinos Delay Money Transactions
Online casinos are crafty, in fact. They can swear they pay out within 24 hours, but later make an excuse of payment delays. Sometimes, banking systems really lag out, but more often, casinos delay the transactions on purpose. They do it to make you cancel the request and continue playing. Consequently, you lose the money you wanted to withdraw.
What's Wrong With Your Account?
When you register a casino account, you can also have some problems with withdrawals. Here are the most common things you should remember in the beginning of your gambling journey.
Verify Your Casino Account
Once you open an account, you are asked to provide documents and verify your account. But as you came to the casino to play, you don't have time to look for your identity documents, take photos of them, and upload them on the site. But when you play games and decide to withdraw the winnings, you get a declined withdrawal. Why? You haven't verified your account. It's simple: no verification — no money.
We recommend verifying the casino account as soon as possible because it takes a couple of days. Within these days, you won't get a mere cent.
Make Sure Your Account Isn't Duplicated
Terms and conditions of the casino say that you cannot register another account on the same device, IP address, e-mail, and etc. So, make sure no one from your family or flatmates is a casino player at the same gambling site as yours.
However, even under this condition, you can't be sure that someone who lived in your apartment before you didn't play your casino. You will realize it only after the casino refuses your withdrawal request.
Final Thoughts
Online casinos take money easily, but they can have trouble with giving it back. They can find million reasons to refuse to pay. But you should understand your rights that are given in terms and conditions. If you read them carefully, you will avoid most mistakes.
If you are sure that you haven't violated any rules, we recommend that you contact the customer support about your situation. In case it doesn't help, take time to make a formal complaint to the particular regulator. If the online casino has a license, send the complaint to this regulator. It will be a strong boost for the casino to pay, provided your complaint is reasonable. And as usual, choose trustworthy casinos to minimize your payout problems.
Rate this post, please:
5
4
3
2
1
FAQ
NetEnt was not available for Canadians due to the regulatory issues. Though today some online casinos start adding it back. For NetEnt games, visit LeoVegas, Genesis, SpinIt, Rizk, 888, Betway, Wildz and others.
Every online casino in the world includes slots. It is a favourite type of casino game categories for a most players, because it's the easiest category of games to play. But also they have many different features, bonuses, and sometimes jackpot pools! Each slot is designed in a similar way. They all have reels, winning lines, and so on. The major differences are the themes and bonus games.
Now let's speak about the interface and its functions. In order to make a bet, you need to choose the amount of credits you want to play. One spin — one bet. Many slots have the autoplay option and the speed options.
How much you won or could win? Simply, just check the pay-table with percentages and multiply them by your bet number. The combinations can be different. Each slot has its own pay-table. You can check it out by clicking on the pay-table menu on the main screen.
The best online casino sites are licensed operators that provide safe and fair gaming. Players have fair play and security of information. You can see the names of the best Canadian gambling sites in our related post. Join them without any fear.
More articles on gambling topic