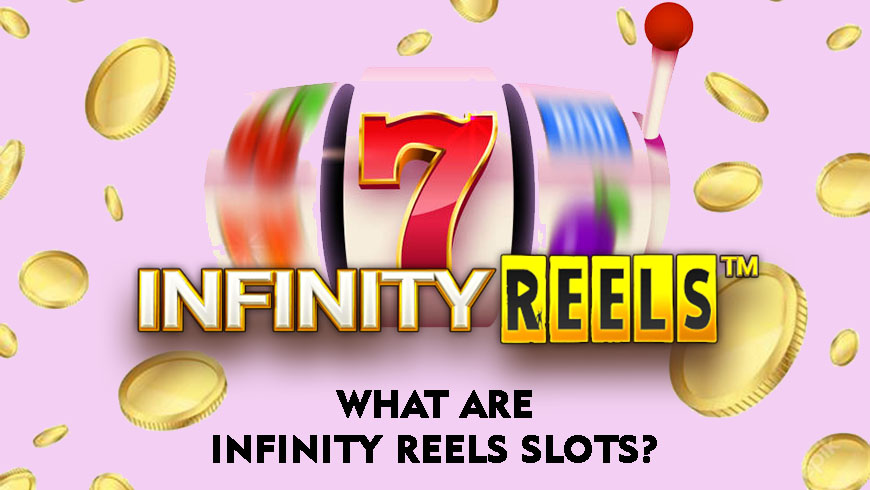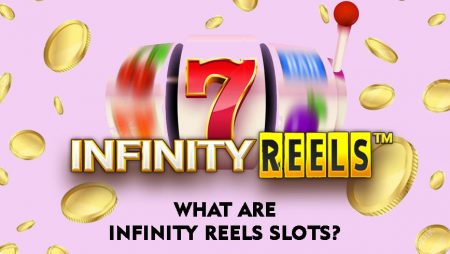 If you are a slots fan, you've definitely seen a lot of game titles that feature Infinity Reels. These slots have a unique engine that expends the reels and unlocks new winning combinations. So if you haven't yet tried Infinity Reels slots, do it right now at the best online casinos in Canada. But before you enjoy these awesome games, let us tell you about the special feature, how to play Infinity Reels slots, and how to unlock their winning potential!
Where to Play Infinity Reels Slots?
Most casinos that offer a range of online slots include Infinity Reels slots in their collection. So you will have zero trouble in finding a good platform to play Infinity Reels games. If you doubt that any recommended casino suits you, you can first read its review by clicking on the name of the casino. But if you are ready to start off with the games, click on the "Play Now" button next to the preferred casino site.
How Infinity Reels Slots Work
Infinity Reels is a slot mechanic introduced by ReelPlay software provider in 2020. One of the most innovative game developers released the El Dorado slot Infinity Reels, which is the first game with the new reels logic.
The infinity feature is based on the mathematical algorithms that continuously add new reels on the side of the game grid. As a rule, there is no limit to the number of added reels, which is why it is called Infinity Reels.
However, to trigger the feature, a player should form a winning combination. When a reel is added, It can land symbols that will make another winning combination. The process continues until there are no more winnings. And when a player loses a bet, the added reels disappear leaving the original grid size.
The more reels are added, the higher winnings a player can have. But it's pretty difficult to build a long layout. Infinity Reels slots are volatile, which is why most of the time, you will not reach more than 8 added reels per spin. However, it's already good that these games have potential.
What Are InfiniReels?
After Infinity Reels were introduced on the market, NetEnt created a similar but a bit different mechanic called InfiniRees. Having this mechanic as a basis of slots, they released highly volatile games with Wild symbols, Re-Spins, Free Spins, Multi-Slams, etc.
But basically, games of both types work in the same way. So no matter which infinity reels slot you will try first, the gaming experience will be quite the same.
How to Play Slots With Infinity Reels Feature
Just like any other online slot, an Infinity Reels slot is easy to navigate and play. Here's what to do to get started:
Choose a casino with Infinity Reels slots. In other words, pick platforms that are partnered with ReelPlay, NetEnt, and other major gaming providers.
Sign up and make a deposit to play Infinity Reels for real money.
Use a bonus if you want to have extra funds to play online slots.
Open a free version of Infinity Reels slots if you feel like trying out the games without risking your money.
If you liked the game, switch to the real money mode, place bets, and gain your winnings!
Anyone can easily play the game. Players just need to place bets, and the game will progress automatically.
Must-Play Infinity Reels Slots
Nowadays, there are multiple slots with Infinity Reels feature. So you have a whole array of games to choose from. In this post, we will share a few of our favorite games with the popular feature that we recommend you to try.
El Dorado Infinity Reels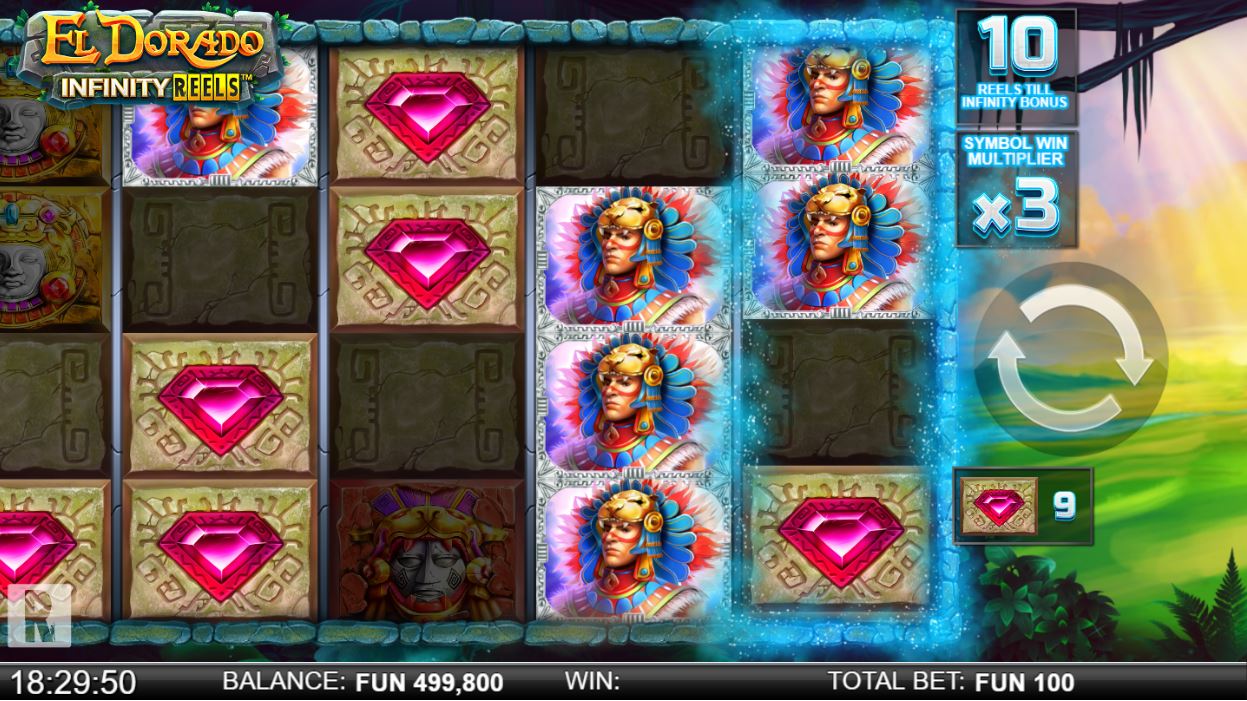 El Dorado Infinity Reels is the first-ever slot from the Infinity Reels series. It has a pretty popular theme related to lost treasures. The original grid contains 3 rows and four reels. Extra reels are added on the right side. When the Infinity Reels are on, they also have a multiplier. With each new reel, it grows by 1 unit.
Giza Infinity Reels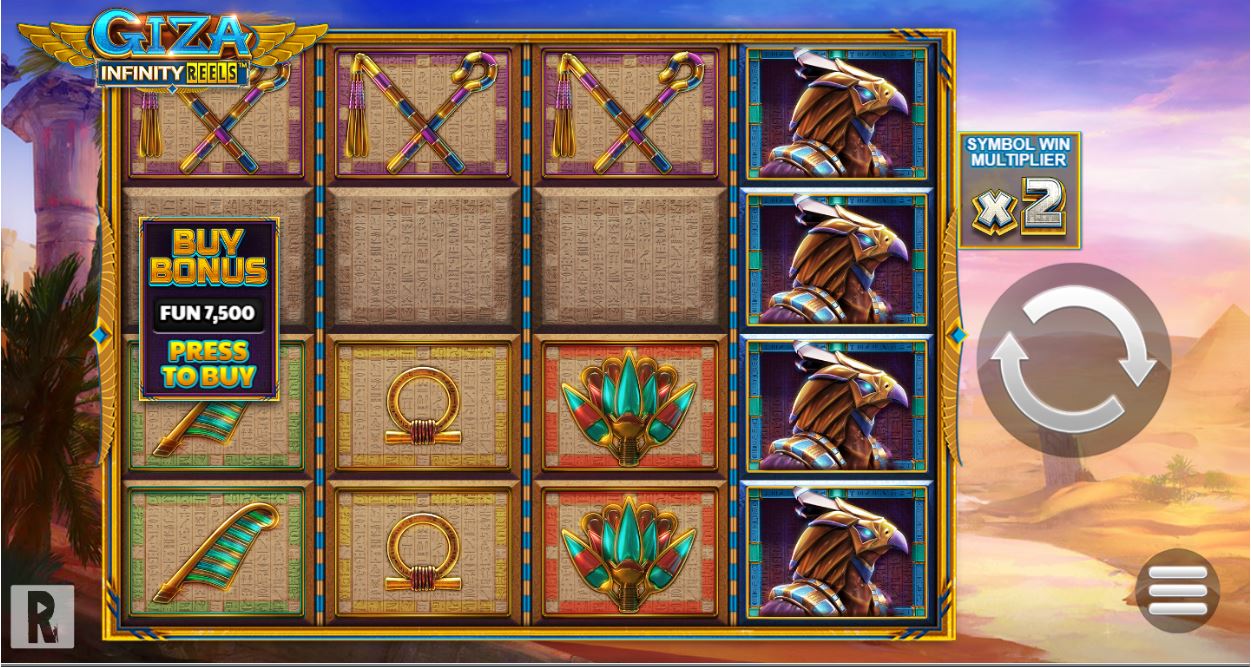 Giza Infinity Reels slot reminds us of Ancient Egypt. So if you are a fan of Egypt-themed slots, Giza is a must-try. This game also has a 3×4 grid, but as we already know, the Infinity Reels mechanic can expand the number of active reels. If you achieve 12 or more consecutive wins, you will trigger a jackpot prize that will multiply your bet by x888. Playing this slot, you can also trigger or buy a bonus round.
Odin Infinity Reels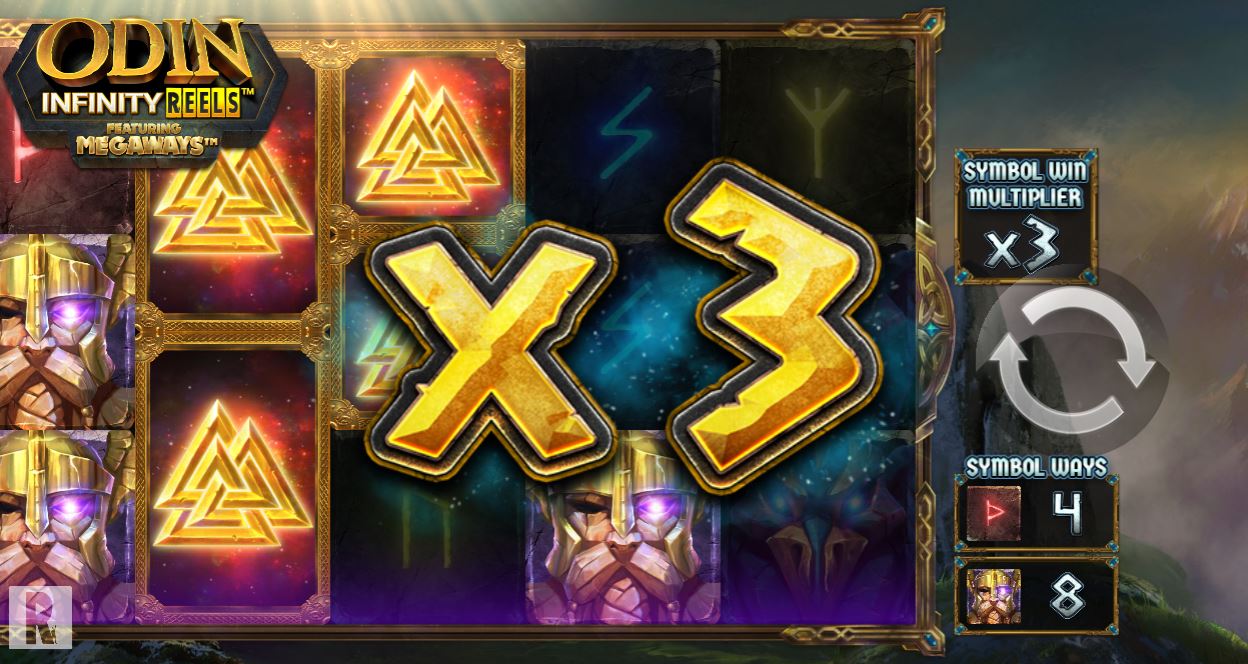 Another slot that we highly recommend is Odin Infinity Reels. The game is about the old Norse god who watches you using the exclusive feature. However, it's not only Infinity Reels but also Megaways feature that makes the Odin-themed slot so fantastic. The combination of the two major developments in the slots industry allows players to have a decent payout. Aside from these already fascinating features, Odin Infinity Reels also has free spins game with Sticky Multipliers.
Just like in the Giza slot, you can trigger an 888x your stake prize if you collect more than 12 reels on the layout.
Dragon's Fire: InfiniReels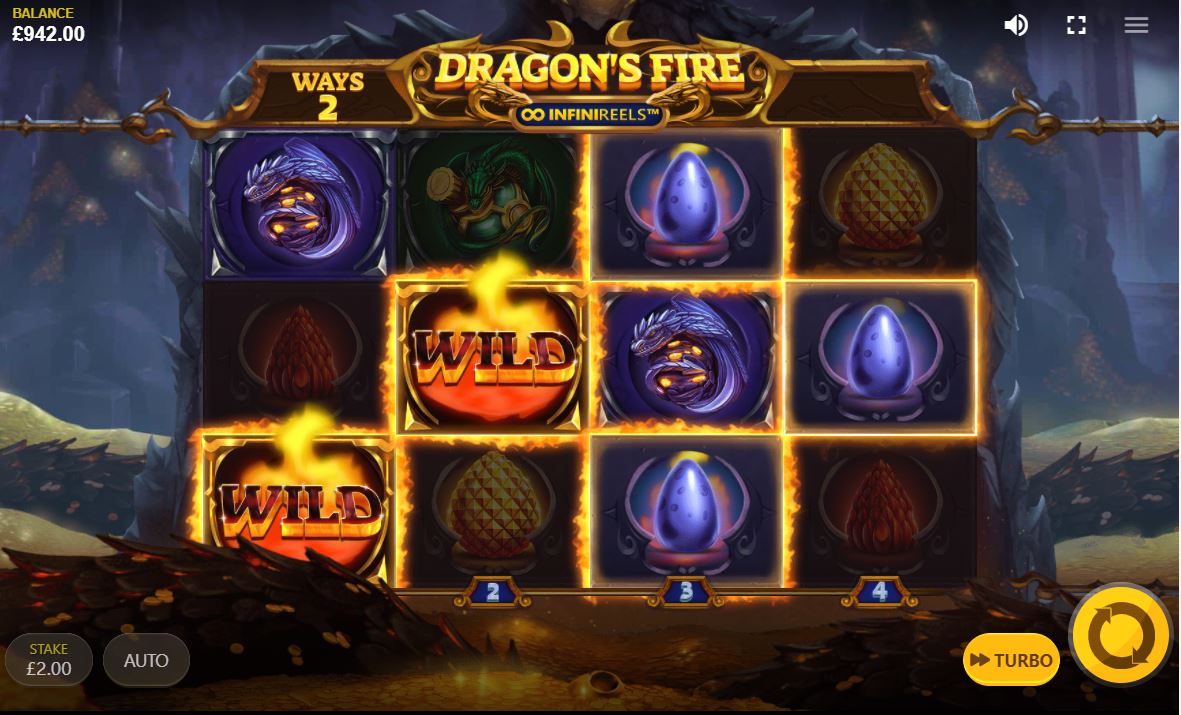 This slot is a collaboration of NetEnt and Red Tiger. Dragon's fire is a fantasy-themed slot with dragons and much fire. The slot begins with a 3×3 layout and 27 ways to win. But as soon as a reel is added to the grid, the number of possible winning combinations increases.
Dragon's Fire: InfiniReels features scatter symbols that sometimes reveal multipliers and active the Fire Egg feature. Three Dragon Spins Scatter symbols trigger 8 Dragon spins.
Advantages of Infinity Reels
Infinity Reels slots are very impressive. And there are reasons to play them for a long time. Here are the key positive points about these slots:
Unique format. Of course, a growing grid is not new to online gaming. Such mechanics as cluster pays and Megaways have already been introduced. But Infinity Reels use a different way to expand the grid. They continuously add extra reels by forming new combinations. When the feature is activated, it pushes the screen to the right until there are no more winnings.
An unlimited number of reels. It's very likely that you will not have too many consecutive wins, but the possibility still exists. Neither ReelPlay nor NetEnt cap the number of available reels. Instead, they give a theoretical chance to add an infinite number of reels. Players that can add more than 10 reels within a single round are very lucky.
Win multipliers. When you play Infinity Reels, they are not the only thing to rely on in hope of big wins. You can also increase your winning potential with multipliers and other bonus features. For example, the El Dorado slot has a win multiplier that doesn't reset during free spins. Thus, you can increase your outcome by multiple times.
Big win potential. Considering that you are making big bets such as $10, you can get pretty good payouts. For example, at El Dorado, you can win up to 6,250x your bet. Some other Infinity Reels slots or InfiniReels games offer prizes multiplied by 25,000x. Although the odds of winning a nice payout are not high, you can still have it as the games are based on luck.
Disadvantages of Infinity Reels
Infinity Reels slots are innovative and good, but there are some things that you could not like about them:
A small number of initial reels. Every Infinity Reels round begins with a pretty small grid. Just 3 or 4 reels are active, but as soon as the feature is triggered, you can increase their amount. Most of the time, you will be playing on this initial 3×3 or 3×4 grid.
High volatility. Infinity Reels slots usually have high volatility. Simply put, it's when you hit less frequently but huge cash prizes. For some players, it's an advantage. But on the negative side, these games keep you waiting for your next big win. Losing spin after spin can be frustrating. So although Infinity Reels slots can bring you large wins, they also can make you suffer from plenty of losses.
Trigger point. To activate Infinity Reels, you need to match clusters or paylines. But also, you need to match at least one symbol in the rightmost reel to extend the reels. However, the mechanic should not bother you much since it all happens automatically. At the end of the day, you should just have fun and win money!
No matter how many pluses or minuses we and players can find on Infinity Reels slots, they are still great to play.
At the Bottomline
Infinity Reels is a great thing produced by ReelPlay. It's almost as ground-breaking as Megaways mechanic. With the big impact on players, their winnings, and the industry in general, this engine will become more and more popular in recent years. Especially if software providers add up exciting bonuses like multipliers, free spins, and jackpot prizes to the game features, Infinity Reels slots will be the hottest slots to play at online casinos.
Rate this post, please:
5
4
3
2
1
FAQ
Unfortunately, there aren't. However, some Infinity Reels slots feature fixed jackpots with multipliers. For example, if you manage to collect 12 or more consecutive wins (and reels), you can multiply your bet by 12 times.
Of course! Many software developers that create Infinity Reels slots include other special features to the game. It can be a free spins round, re-spins, multipliers, wilds, scatters, and even jackpot features.
The payback percentage of Infinity Reels slots does not differ much from that of regular slots. On average, these slots return about 96.4% to players. But if you need to know the exact RTP of a slot before playing it, you should look for it in the game rules of the casino game.
More articles on gambling topic