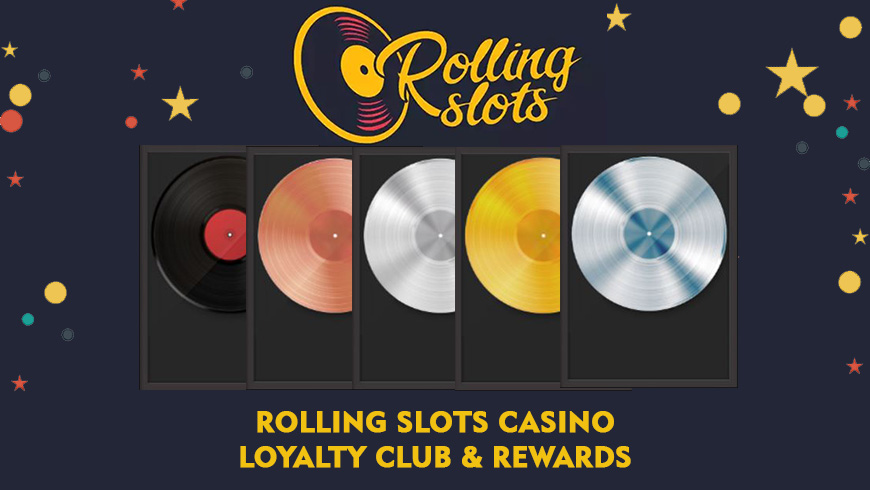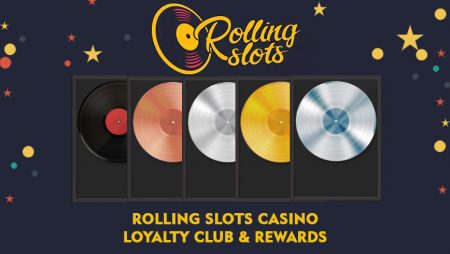 We continue telling you about top online casino loyalty programs so that you can choose the best one for you. In this post, you will learn more about the advantages of joining the loyalty club at Rolling Slots casino. We also recommend you to read the full Rolling Slots casino review on our website, if you haven't done it yet.
How Loyalty Club Works
Like any reputable online casino, Rolling Slots wants to give thanks to its players and reward them with special bonuses, free spins, and many other perks. In other words, the longer you stay with the casino, the better it treats you.
The loyalty club includes 5 levels: vinyl, bronze, silver, gold, and platinum. On all of these levels, you can receive prizes and better conditions such as having your personal manager and receiveing VIP offers.
As soon as you sign up at Rolling Slots, you get enrolled into the loyalty club. And to move through the levels, you need to earn comp points (or loyalty coins). Well, it's a typical story for online casinos, and we are sure that you know how to earn points.
However, at Rolling Slots you can only collect points by playing slot machines for real money. All other types of games do not count. Neither do bonus money. So you can already say whether or not this loyalty club suits you because it is made for slots fans mostly.
Make sure to stay active when you progress through levels. If your account is inactive for more than 3 months, all accumulated points will be forfeited.
How to Collect Loyalty Coins
To earn one loyalty coin, you need to bet a total of CA$1,500 on slot machines. It may seem a pretty high amount but it doesn't mean you have to deposit that much. As you are playing you will certainly have huge winnings from time to time that can contribute to the loyalty score.
Besides, the rate of earning loyalty points varies depending on the VIP level of players:
On Level 1, you need to wager CA$1,500 to receive 1 coin.
The rate remains the same on Level 2.
Once you get to Level 3, every CA$1,400 wagered will give you a coin.
For playing slots on Level 4, you get 1 coin for wagering CA$1,300.
And while you are on Level 5, you get 1 loyalty point for each CA$1,200 wagered.
Once you collect the required amount of coins, you unlock a new level and receive a level-up reward, which is a set of free spins. In addition, you will be receiveing exclusive gifts from Rolling Slots as you progress with your loyalty coins.
Other Ways to Collect Points & Get Rewarded
Rolling Slots casino gives players different ways to get rewarded and collect points. The casino has created a shop (that can be found in the menu section) with a lot of interesting items for casino enthusiasts. These include free spins, bonuses, and even unusual skins, as Rolling Slots calls them.
The idea is that once players accumulate a certain number of loyalty coins, they can redeem them for different items in the shop.
To make it possible, Rolling Slots casino offers players to use different ways to earn coins:
place real money bets in slot games as we mentioned previously
earn achievements (which is another section on the casino menu)
win in tournaments
So you are able to not only play games but also compete in tournaments and make casino achievements in order to progress at the casino. In other words, the more active you are, the better.
Rolling Slots Loyalty Rewards
There are five types of benefits Rolling Slots casino will give you on your way to the top. Let us break them all down:
A level-up gift
This reward is available on all levels except for the first Vinyl level because this is where players start off.
For reaching the second level, you get 10 free spins. Once you level up to the third, you can use 30 free spins. The fourth level-up reward is 50 free spins. And the gift for reaching the final level is 100 free spins.
All free spins bonuses are issued in accordance with general bonus terms and conditions. When you receive them, make sure to activate free spins within 24 hours in your account.
Exclusive offers and tournaments
This type of reward is activated at the moment you reach Level 3. Thus, it is also possible to receive special promotions and invitations to tournaments on Levels 3, 4, and 5.
Rolling Slots may offer you to participate in different tournaments such as slots tourneys, blackjack, poker tournaments, etc. The prize pools of these tournaments are pretty big, so make sure to be the top leaderboard winner.
You may also be offered various promotions. These include not only deposit match bonuses but also cashback, free spins, and more.
Special birthday offer
Again, this offer is activated when you move up to the 3rd level. And all subsequent levels also include it. Of course, the higher your level, the better the birthday gift.
When signing up at Rolling Slots, you give the date of your birth. The casino carefully marks it and gives you a nice present when the day comes. It can be a set of free spins, bonus money, or anything else a casino wants to make you happy with.
VIP club membership
As soon as you step to the 3rd level, you join the VIP club from now forward. The club membership gives you access to exclusive gifts and tournaments. You will also receive luxurious surprises from your casino operator.
But the most important benefit of being a VIP club member is that you have your own VIP manager. He or she will gladly welcome you to the club and assist you on the website. With the help of your VIP agent, you will be able to ask for special conditions, request faster payouts, and more.
Loyalty points exchange rate
The fifth type of benefit of the loyalty club at Rolling Slots casino is the exchange rate for accumulated loyalty coins. Each new (and higher) level will allow you to exchange your coins for bonus money. The further you progress, the lower the exchange rate.
Thus, on Levels 1 and 2, you can exchange 1000 points for 1 credit in bonus money. As you move up to the 3rd level, you can receive 1 bonus credit for exchanging 950 points. On the 4th level, you can exchange 900 loyalty coins for 1 credit. And on the fifth Platinum level, you will be able to get 1 bonus credit for accumulated 850 points.
Show Your Best Results!
Rolling Slots has a very good loyalty program that later becomes your number 1 VIP club. If you want to experience the best casino service, you must show them your best play while you are moving through the levels.
Rate this post, please:
5
4
3
2
1
FAQ
No, you can't. Rolling Slots casino will only give you points for real money bets placed in slot games. Bonus money does not count for points accumulation.
As soon as you receive bonus money or free spins from Rolling Slots casino, you need to activate them within 24 hours. Otherwise, you will lose them. To learn more about bonuses from the loyalty club at Rolling Slots casino, read the general bonus terms ad conditions.
Yes, for sure. Rolling Slots is a Canadian casino that appeared on the market in 2021. It holds a license from Curacao eGaming and ensures safety on the website by using high-end security technologies. To learn more details about Rolling Slots, visit our casino review page.
More articles on gambling topic