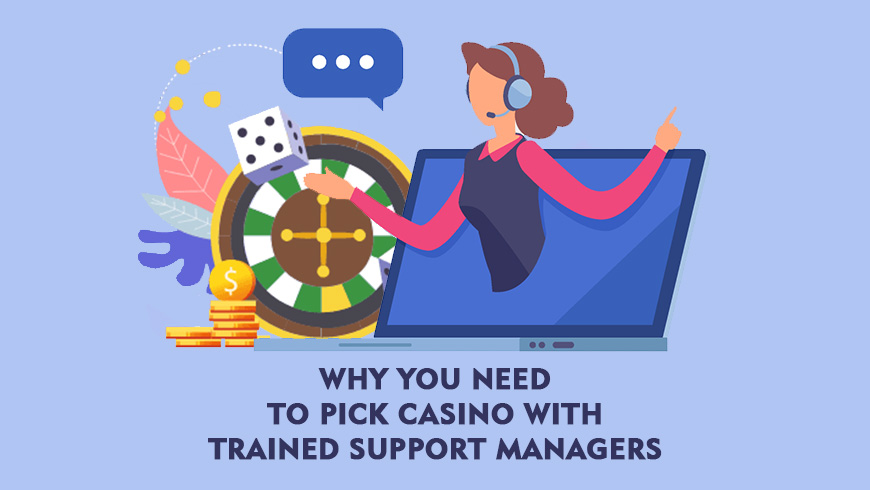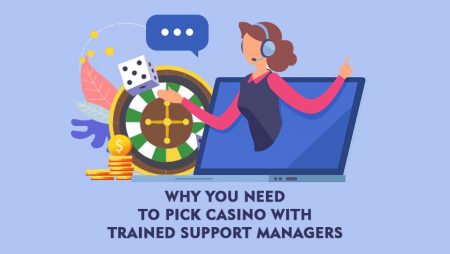 Players tend to forget about customer support service when they are choosing an online casino. They are distracted by the bright design of websites, exciting bonuses, and never-ending offer of games. However, what really matters at a casino is its customer service. The way managers behave and strive to help you speaks about the value of customers for the online casino. This is why you need to be sure that your new casino site has excellent support. Otherwise, who would help you in case of trouble?
Professional Casino Support Service
Most gambling websites that you visit promise a very good support service. As a rule, they are ready to answer your questions and help you 24 hours 7 days a week without breaks. However, sometimes, players have to wait for hours and days till they actually get a reasonable answer. To avoid long and empty conversations with support agents, just choose an online casino that has friendly and knowledgeable support.
Why Casino Support Service Matters
In fact, every business must have an efficient support service for clients, especially when it comes to online gambling. Since this activity has to do with real money bets, the availability of customer support becomes critical for players.
Casino clients expect that support managers will provide reliable and efficient assistance whenever they have a problem. The most frequent cases, in which players reach out to managers, are a failed withdrawal request or a technical issue with a website.
Here are some examples of situations, in which you might need a casino's support, even when you aren't a registered player at that casino:
Learning general information. Whether you are a visitor or a registered client, you will certainly have some questions regarding the casino's work. It includes bonus terms, accepted payment methods and currency, withdrawal speed, and simple navigation on the website. You can ask support agents anything about their casino via live chat. And once you have a clear understanding of the things that matter to you, and you are okay with them, you can choose this casino and sign up.
Assistance when you are choosing a site. Of course, players want to feel safe when placing real money bets on a casino site. Knowing that a support manager is there to help 24/7 might tell you that the casino really cares about players and their needs.
Directing players to different sources of information. Surely, managers will deal with any trouble of players. But if customers ask for additional information of reliability proof, for example, or the RTP rate of all casino games on the platform, support agents can direct them to outside sources. For example, to the official regulator's website to check the license number.
What Makes Excellent Support Service
All gambling operators try to provide the best service but not all of them succeed. This is why you need to consider several factors when choosing a casino site with trained support managers. All of them together will tell you about an efficient service for players.
Working hours
Casino websites work non-stop around the globe as they provide gambling services to every eligible player in the world. Hence, they must offer round-the-clock access to support agents.
The more countries are accepted, the bigger the need for continuous support service. So if your chosen casino helps players 24/7, this may indicate how valuable players are to the casino.
All in all, you need to pick casinos with 24/7 support service and stick to them. This way, you will be sure that you receive help whenever you need it.
Contact channels
If your casino has only one channel through which you can get in touch with the team, it's no good. Players are different and they have individual habits. Some would prefer chatting in real-time, while others would find it more useful to dial a number and talk on the phone.
If you think it is not that important, you are mistaken. Online casinos that care about players and their satisfaction will do their best to offer support via as many channels as possible.
The most common ways you can contact a manager are:
Live chat
Email/contact form
Phone
Messengers such as WhatsApp, Viber, Facebook Messenger, etc.
Fax
Mail
The first three channels, live chat, email, and phone are the most popular among players. Phone and messengers are usually used for conversations between VIP players and the dedicated VIP team. As for the two last channels, fax and postal, they can be used for serious issues that require a formal approach. Although almost no one uses these services, it's good to know they are at your disposal.
Available languages
Since casinos are catering to a large number of people who speak different languages, they need to provide service in most languages. Of course, English is prior on most websites but some players either can't speak it or prefer using their mother tongue.
For native Canadians, it will be enough to receive support in English and/or French. But if players in Canada are immigrants and they can't speak either official Canadian language at the moment, it will be difficult to build a comprehensive dialogue with a support team.
But even speaking generally, it is way better when a casino can communicate with all players, regardless of the language they speak. This is why online casinos that hire representatives that speak different languages are able to keep players happy and satisfied.
Trained managers
Let's be honest, sometimes support agents are useless as they cannot give a proper answer to any question. And they cannot solve your problem easily in no time. This is because they are incompetent. They haven't been trained well. And sometimes it feels like it's their first day of work.
Unfortunately, no one can tell if the casino support team has been really trained hard. You can only understand it when dealing with some trouble and reaching out for help. Or if you are a visitor to the website, you can ask support a difficult question and see what they answer. If the answer is broad and satisfying, managers are professional. But if it is vague, you may go look for another casino.
Which Problems Can Be Solved With Casino Support Agents
A highly qualitative support team can sort out many issues regarding payments, bonuses, and technical problems. The most common problems why players might turn to support services are:
Payment issues. Whether it's a failed deposit or withdrawal, you need to contact the support team when something goes wrong. Whether you cannot make a transaction, get a refund, receive a tournament prize, or cash out money from a locked account, you need to ask for help.
Bonus issues and questions. Many players fail to receive a bonus for different reasons. If it's your case, reach out for support.
Technical issues. These include failure to activate a bonus, load a game, opt-in for a promotion, log out, sign up, and so on.
Any problems with a casino can be resolved. And the speed of resolution depends on the competency and reliability of the casino team.
In Conclusion
Hopefully, now you understand the importance of customer care and you will be a little more careful when choosing the best online casinos in Canada. Remember that you can use our casino reviews to make a general impression of a casino, its reliability, and its support service.
Rate this post, please:
5
4
3
2
1
FAQ
There are cases when the support team of a casino is incapable to help. Then, you can try to take the dispute to an Alternative Dispute Resolution (ADR). This service is free. To find your casino's partnering ADR, look for it on the casino's website
In most cases, yes. VIP players will have better support in terms of availability. Usually, casinos have dedicated VIP agents for highly-valued customers. They can contact support 24/7 via different channels, including phone, SMS, and messengers. Besides, VIP agents respond to players in a matter of seconds giving full information about the case. So if getting fast and professional support service is important for you, consider joining a VIP club.
Most of them. But some online casinos set working hours for their support service. For example, you may find a site with support working from 10:00 am to 12:00 am CET. Sometimes, these working hours apply to phone and email only. So you can still use live chat anytime.
More articles on gambling topic