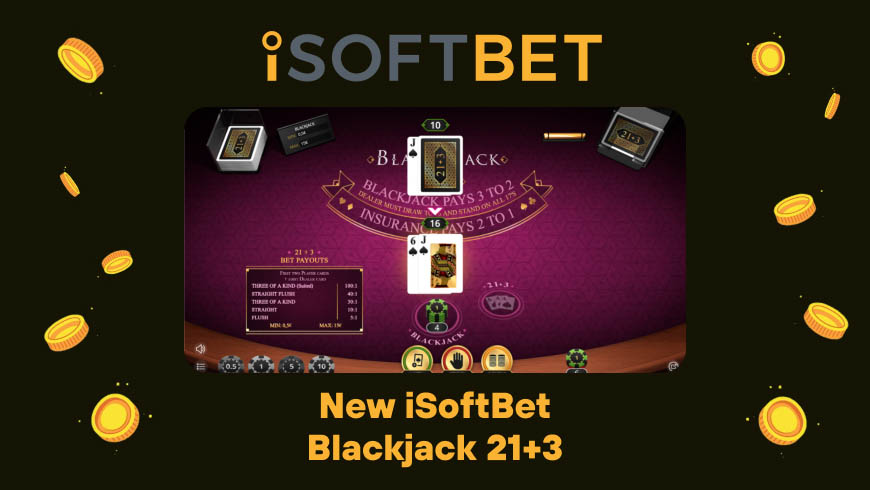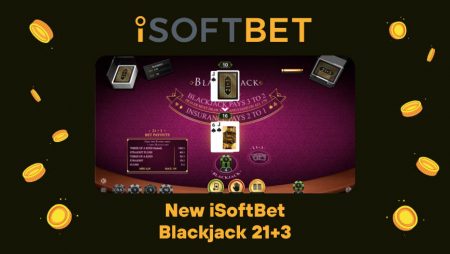 A highly respected gaming developer, iSoftBet, delivers a new classic Blackjack experience. Its latest release, Blackjack 21+3 will impress you with exciting features and lucrative prizes. In this post, we will make a quick review of the game and tell you a few tips on how you can win blackjack with side bets. 21+3 is exactly about the side bets that can multiply your outcome if you know how to do it wisely. But before we tell you the secrets, check out the best iSoftBet casinos in Canada where you can play Blackjack 21+3.
iSoftBet Online Casinos
Many online casinos in Canada offer iSoftBet slots and table games. So it's not a problem to find a good casino that partners with iSoftBet. Pick any site from the list and click on the "Play Now" button. However, if you want to check more online casinos, you can open the Casino Reviews page on our website and look for your best casino.
Check out casino no ID page to find more casinos that offer Blackjack 21+3 game.
About Blackjack 21+3
Thanks to the generous side wager option, the old game has a new twist. Players can have an advantage over the house. The side bet enables laying a single bet on players' first two cards and the dealer's face-up card. As a result, players may get a three-card winning poker hand. This is way better than the dealer.
In Blackjack 21+3, there are 5 potential winning hands, up to 100x your stake payout, and multiple combinations that can activate the bonus win. The RTP for the regular blackjack mode is 99.43%. However, it significantly drops to 95.38% for the 21+3 side bet.

Basic Rules
The basic rules are general. Cards from 2 to 9 are worth their face value. Kings, Queens, Jacks, and 10s are worth 10 points, while Aces can count either as 1 or as 11.
When playing Blackjack 21+3, you can two different types of wager: regular and side bets. In the beginning, players make their wagers by using the chips interface. You receive two face-up cards, and you can see one of the two dealer's cards face up.
You can make a side bet in case if your cards don't guarantee you the blackjack and the dealer's face-up card is an Ace. The side bet will cost half of your initial wager. It pays 2:1 if the dealer wins.
You will immediately bust if the total of your cards exceeds 21. If it doesn't, you will wait to see the dealer's down card. And you win if the dealer loses with 22 or higher.
At the end of each round, the two hands will be compared. If it's a tie, you get your bet back.
Betting Options
Players have several betting options at Blackjack 21+3. Here's a whole list:
Stand – If you choose to stand, you can't claim cards anymore.
Hit – It allows you to take the additional card.
Double – It doubles the value of your bet. Or it adds another card to the existing hand and requires doubling the bet size.
Split – Splitting creates two new hands, adding an extra wager for the second hand.
If the player has blackjack and the dealer's card is ace, there is the even-money bet option. It allows players to win 1 to 1, no matter what's the face-down card of the dealer.
Other Important Rules
There are a couple of more rules to keep in mind when you are playing Blackjack 21+3:
The game is a 52-card deck blackjack. The deck is shuffled after each hand.
Making 21 after a split doesn't mean blackjack.
Players can double with any two cards.
When you split aces, you can only get one card for each new hand.
You can split only once per hand.
These blackjack rules are not usual. Make sure to understand them and read the rules of the game once again before playing it.
The 21+3 Side Bet
Really handsome payouts can be made with the side bet. Here's how it works: the first two cards of the player and the dealer's opened card form a 3-card poker hand. Its value determines your prize if you win. The paytable for the side bet is:
Suited Three of a Kind – It means that all 3 cards have the same suit and value. Then, it pays 100x your wager.
Straight Flush – It pays 40x your wager if the cards are consecutive and have the same suit.
Three of a Kind – When all three cards are of the same value, they pay 30x your bet.
Straight – The three consecutive cards of the same suit pay 10x bet.
Flush – All three cards are of the same suit. The side bet pays 5x the bet.
If your first two cards and the dealer's face-up card provide any of these five hands, then you win your side bet and get the money. If not, you lose the side bet.
Tips to Win Blackjack 21+3
How much you win with the side bet depends on the three-card hand you get. Each hand pays different odds.
Use a strategy. There are many strategy and blackjack cheat sheets on the internet. Try them and find your favorite strategy.
Pick the stand option when you have a hand that could bust against a dealer's card
If the dealer's card is 4, 5, or 6, and you have a weak hand, it's best to finish your turn.
Always double your bet when your first two cards are worth 11.
Always split pairs of Aces and 8's.
If you are a seasoned blackjack player, probably you have some of your own tips. But take a look at what we recommend doing and try it out.
In Conclusion
Blackjack 21+3 is an exciting table game that will make your day. You can win a really good amount by placing the side bets. Practice it for free at any recommended online casino or get ready for the real money play mode. You will absolutely love the new blackjack game from iSoftBet.
Rate this post, please:
5
4
3
2
1
FAQ
Yes, it is. You can practice blackjack 21+3 for free without risking your money. As you practice it, you can launch the game in real money mode to get real winnings.
Yes, the game is available on mobile casinos. ISoftBet created Blackjack 21+3 with HTML5 that allows players to enjoy the game while on the go. So download the mobile app or open the mobile browser to launch the casino game on your smartphone or tablet.
Yes, of course. The game's payout percentage exceeds 99%. However, when you play with the side bet, the house edge is higher. Nevertheless, you can make generous payouts up to 100x your bet.
More articles on gambling topic