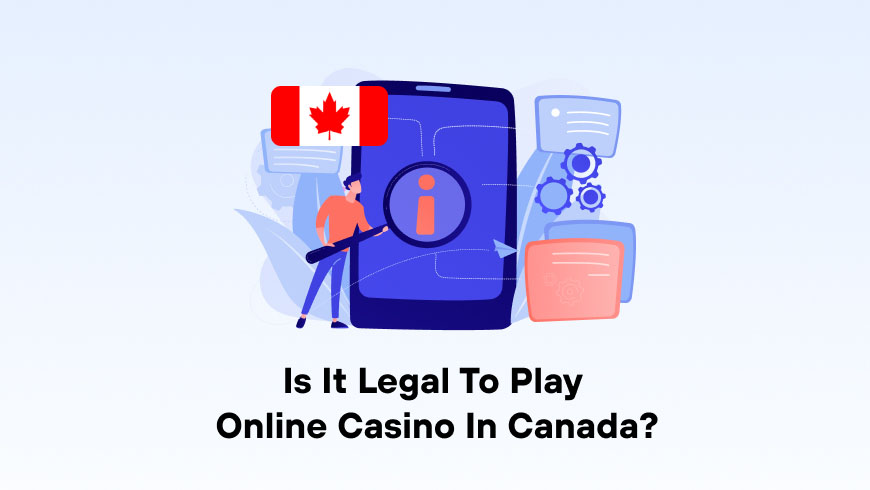 Although it seems clear that Canadians can play casino games, but newcomers are still doubting this question. So, let's clarify it once and for all. Online gambling is absolutely legal in Canada. However, it is illegal to open and operate online casinos and betting sites in Canada. So, if you aren't going to own a casino site, you can live in Canada and play at existing online casinos. By the way, here are some links to the most legit gambling websites.
Legal Canadian Online Casinos
It's legal to play online casino games on any website in Canada. However, we urge you to play at licensed casinos because they are safer for players. If you want to see more licensed casino sites, then visit our casino reviews page where we mention the details of each Canadian casino, including the licensing information, security, choice of games, bonuses, and other important things.
5 Things to Know About Gambling in Canada
There are a few facts that will put you at ease if you doubt playing games on Canadian gambling websites:
Canadian players are not at any legal risk by visiting and playing online casino games, regardless of how they play: for fun or to earn money.
No one in Canada has ever been prosecuted for gambling at online betting sites.
It is illegal to own a casino site within Canada unless it is officially licensed.
Any online casino winnings are not taxable in Canada unless gambling is your full-time job.
The Criminal Code of Canada that codifies criminal acts doesn't criminalize online gambling.
Now you can rest assured that no one will ever prosecute you for playing online casino games in Canada. Moreover, the Criminal Code doesn't specifically point to gambling on offshore sites. So, it is even safer to play at international casinos.
How Online Gambling in Canada is Regulated
Since 1970 when the Criminal Code opened up gambling, Canadian provinces and territories have been regulating gambling activities on their own. Consequently, a number of land-based casinos and lottery businesses were opened by the provincial gaming authorities.
In each province and territory, there is a special authority that regulates all forms of gambling:
Ontario – Ontario Lottery and Gaming Corporation
Saskatchewan – Saskatchewan Liquor and Gaming Authority
Nova Scotia – Alcohol, Gaming, Fuel and Tobacco Division Service of Nova Scotia
Alberta – Alberta Gaming and Liquor Commission
Manitoba – Liquor and Gaming Commission of Manitoba
Quebec – Loto Quebec
New Brunswick – New Brunswick Gaming Control
British Columbia – BCLC
New Foundland – Service NL
Prince Edward Island – Prince Edward Island Lotteries Commission
Besides their regulatory work, many of them run their own betting websites that include casino games, online lotteries, and sports betting. Although they are legalized in Canada, players don't really enjoy the selection of games and promotions that they offer.
Kahnawake Gambling Commission
In 1996, online gambling in the Mohawk territory of Kahnawake grew in popularity. Therefore, it was resolved to set up the Kahnawake Gambling Commission (KGC) that year. Since the Mohawk territory is an Indian reservation and a sovereign legal entity, the KGC is not bound by Canadian legislation and has a legal right to regulate and license online gambling sites that are located overseas.
In the beginning, the KGC was a very popular gaming authority. Moreover, it licensed many Microgaming brands. And you can still find many older online casinos with the license from the KGC. Over recent years, the popularity of the Kahnawake Commission has decreased because gambling operators and companies prefer to be licensed by the Malta Gaming Authority, the UK Gambling Commission, the Government of Gibraltar, and others.
The Kahnawake Commission issues licenses to casino operators provided they have met specific requirements:
Provided all the requested information about the gaming company, owners, and shareholders
Have a registered office within the Kahnawake region and provided the relevant documentation
Provided the detailed regulations for having games and payoffs
Obtained a high-quality software
Passed the independent audit tests
Guarantee large payoffs
Prohibit underaged gambling and limit access to gamble-addicts
Guarantee safety of private data of players
Provided information on banking systems and technical support
Consequently, if any of these requirements are not met by an operator, the Kahnawake Commission can deny licensing. So, if you join a casino website licensed by the KGC, you can be sure to be protected.
Future of Online Gambling in Canada
Indeed, the situation is stable, and no one really knows how online gambling in Canada will develop. The Canadian government doesn't tighten the law in regard to offshore gambling. Besides, it has recently legalized single-event sports betting. Thus, it makes us think that online gaming and betting in Canada are developing quickly and that there won't be any boundaries for online gaming.
As far as offshore casino sites are concerned, Canadian law cannot regulate them. Thus, it cannot stop Canadians from playing online games. Besides, as we said, the Criminal Code doesn't see gambling as a criminal activity. So, you can surely gamble online in the nearest future.
In Conclusion
To conclude, hopefully, now the question of legality is closed.  All in all, online gambling is absolutely legal in Canada. You can play at offshore online casinos as well as at licensed online casinos based in Canada. However, we recommend playing at offshore sites because they have better offerings for players including games selection, bonuses and VIP programs, mobile compatibility, support, and etc. If you want to gamble at the legal and most secure online casino, then you can choose one from the recommended casino list above.
Rate this post, please:
5
4
3
2
1
FAQ
It depends on the province you stay in. Most Canadian provinces allow gambling from the age of 18. But there are regions where you can gamble after you turn 19. You can read the article we dedicated to the legal gambling age in Canada to find out the regulations in each province and territory of Canada.
Absolutely, yes. The Kahnawake Gambling Commission is not bad at all. It has just decreased in popularity due to the limited country choice. Online casinos licensed by KGC can offer service to Canadians, whereas MGA and UK licensed casinos can also cater to European countries. But Canadians can play at casinos licensed in Kahnawake, Malta, the UK, and other jurisdictions.
Yes. They are legal because Canadian law doesn't prohibit gambling in any form. So, theoretically, all online casinos that cater to the Canadian market are legal. However, if they hold a license, it is another question. Not all casinos that offer games to Canadians have a gaming license. It doesn't mean they are scams. But we recommend playing at licensed casinos as they are safer for players.
More articles on gambling topic