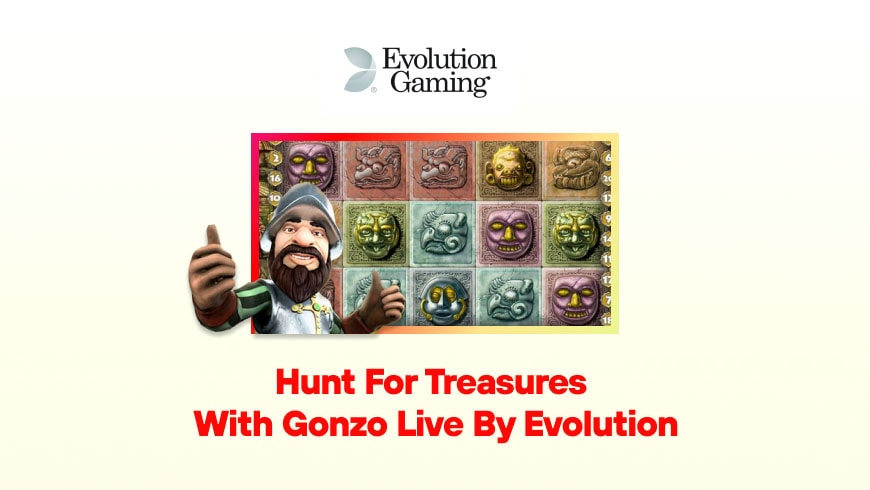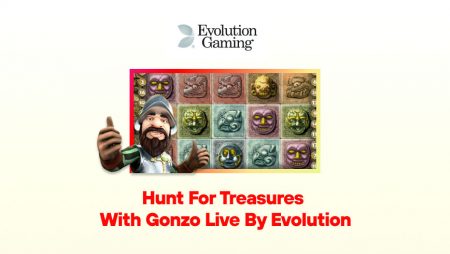 If you hear the name Gonzo and immediately think about the character from your favorite video slot, then you'll be happy to find out that you can literally walk and explore the treasures together with Gonzo. How?
It isn't just an online slot anymore. The Spanish explorer comes to live thanks to the efforts of the leading live software provider, Evolution Gaming. The team of professionals have developed the live version of the online slot that has become a favorite one for many Canadian players.
Where to Play Gonzo Live
Some Canadian online casinos have already used this mega opportunity in their favor. They offer not only to play Gonzo's Treasure Hunt, but also to win extra money in the special prize draw among all players.
Join Mr Green casino to win a share of $40,000 while playing Gonzo's Treasure Hunt Live.
Play Gonzo's Treasure Hunt at BitStarz casino to get a share of $5,000 in a live tournament.
An exceptional game show with Gonzo and its treasures is already available at the best Evolution online casinos. Try it now and tell your friends about your impressions from the slot machine going live. Open the following online casinos to hunt for treasures together with the lovely hunter.
About Gonzo's Treasure Hunt
This slot game was so widely accepted by players, so Evolution Gaming decided to give it a new life. The same HD-graphics and smooth animations uncovering the exciting features and prizes are now live in even better quality.
And although it's already a novelty to combine a slot and a live game, Evolution went further. Gonzo's Treasure Hunt is also available in Virtual Reality (VR) mode. Simply use the equipment and play your live slot show for real, virtually.
Evolution has made a double breakthrough creating this brand new type of slots (or is it a type of live games?) with the VR option to play.
For sure, we all now realize that it's a slot show with a live dealer. But how does it all work and what to expect from the game?
As you open the game, you meet Gonzo and a game host that will accompany you on your way for treasures. In the background, you see a giant wall with 70 stones themed in an ancient Incan world. This wall will uncover your prizes. All you do is select the stones, and as you do so, the Prize Drop feature surprises you with multiple winnings, sometimes even up to 20,000 per stone.
Features of Gonzo's Treasure Hunt
Gonzo's Treasure Hunt is a slot, and all slots, especially as innovative as this, have special features. However, this live slot game show is a bit different from what you've seen before. That's why we will be explaining all the specials from Gonzo separately.
Stones Selection & Picks Purchase
Only you decide what treasures you will be looking for. To get started with the hunt, simply place bets on the stones of your choice. Each stone has one of the six colors and an individual payout value. You can choose a stone worth 1x your bet or a stone worth 20x or even 65x.
Though, remember that when you choose the high-value stones, the volatility becomes also high. This means you will be hunting them with less frequency.
If you've chosen the stones, well done, now it's time to buy the Picks. On your own, you decide how many of them you will buy. But mind that the max number of Picks available for each game round is 20. Buying the Picks, you activate the stones selection later in the game. One Pick — one stone.
Obviously, the more Picks you've bought, the higher chances for a good hunt you have.
Treasure Hunt
As soon as the preparations are done, the live dealer launches the round. All stones are shuffled, and you cannot see the value of the stones. The treasure hunt begins: you select the stones depending on the number of available Picks.
The game is live thus it implies involvement of many players from all over the world. However, each player has its own result depending on the picks and stones he's selected individually.
Prize Drop
A bonus round with the Prize Drop adds excitement to the gameplay. During this feature, Gonzo comes into play by turning the big golden key.
You can see these bonus prizes at the top of the wall. They drop down if there is an opening in the row. As they are falling, they can stop at a random stone adding value to the hidden stone.
The following rewards can appear during the Prize Drop feature.
Multipliers ranging from 2x to 10x.
Bonus Prizes add to the value of the hidden stone between 3 and 100.
Re-Drop of the bonus prize drops
Revealed Treasure Stones
When the game ends, the giant wall reveals the rest of the stones to let you see if the hunt was successful. If you chose one of the stones with the initial bet, you win. And if you won a stone with a bonus value, it is added to the payout value
Virtual Reality
This is the first live casino game that is available in virtual reality. To play the game, you need a certain VRT equipment, a headset with a controller. In VR mode, you pass the same stages of gameplay. However, now you can see the game at 360 degrees. The user interface is fully adapted for the VR video content. So, if you have this chance, you just need to try the first VR casino game!
Treasures Are Waiting!
The treasures of the ancient world are just around the corner. And if you really enjoy the Gonzo's Quest slot, you must try the new version live. Open any Evolution online casino and search for the Gonzo's Treasure Hunt game show. It's a totally new format of playing games. But if you want to get even more excited, get your VR headset ready and enjoy the full 360 degree performance from Evolution.
Follow our gambling blog to learn more about the news in the casino world. We also recommend you to try out the LeoVegas blast mode for NetEnt games including Gonzo's Quest! This mode allows you to play only bonus rounds!
Rate this post, please:
5
4
3
2
1
FAQ
Evolution is a leading software provider of live casino games. They have a full portfolio of high-quality live card games, live game shows. And now they have a live slot with a dealer and an option of VR gameplay. The provider holds licences and various certificates, so it's absolutely fair to play their live casino games.
Due to the nature of the slots and live game shows, the results of spins are completely random. This live game is nothing like a card live game where the result also depends on your decisions. Gonzo's Treasure Hunt is a game powered by a random number generator. That is why you can stay sure that the game results are fair.
Yes, of course. However, these casino bonuses are temporary. So hurry up to join the tournaments and prize drops at the casinos offering Gonzo's Treasure Hunt. Online casinos such as Mr Green and Bitstarz offer players to win a share of a lump sum while playing the revolutionizing live game.
More articles on gambling topic