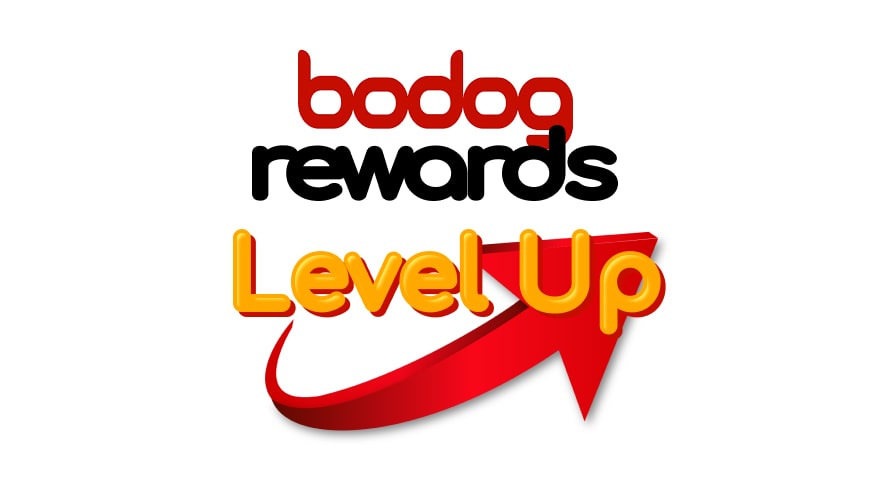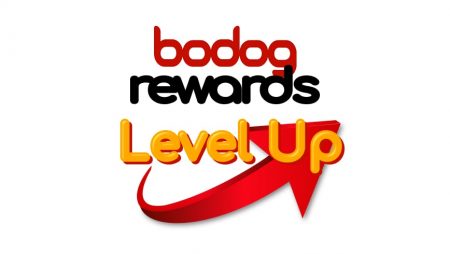 Loyalty programs are a great opportunity to get pleasure from online casinos. Most Canadian sites offer players to join the loyalty programs, or so-called rewards programs, to get more bonuses and other privileges. These rewarding programs vary in terms of benefits, stages, terms and conditions, and ways of accessibility.
The easiest rewards program in Canadian gambling market is introduced by Bodog casino. On our site, we have a review of Bodog with all its pros and cons. The online casino features many options and promos for sports bettors. However, Bodog also offers to bet on horse racing, play slots and live dealer's games. Besides, the casino has a poker room for those who are into poker. Bodog is a bitcoin-friendly casino, so if you prefer cryptocurrency, there's no better casino site for you.
What is Bodog Rewards?
The idea of Bodog Rewards Program is to let Canadian players reward themselves whenever they want it. When you join the casino, you are automatically enrolled into Bodog Rewards. In the beginning, you have a Bronze level.
For every real money bet you place on sports or races, and for every game you play in the casino and live dealer's categories for real money, you earn points. Here's what exact gambling categories qualify:
Sportsbetting:
Single bets
Parlays
Round Robins
Racebook:
Straight wagers
Exotics
Casino:
Slots
Video Poker
Table Games
Specialty Games
Poker play:
Tournaments
Cash Games
Jackpot Sit & Gos
With the Rewards points, you can reach loyalty levels. The more points you have, the higher the level. On each level, you get special offers and prizes that are not available in a regular promotions section on the site. However, the biggest advantage of the rewards program is that you can exchange your points for credits and use them at any time you want.
How to Earn Reward Points and Level Up
The general information on how to earn the points is posted on the relevant page of the casino. But just for your comfort, we post the table here: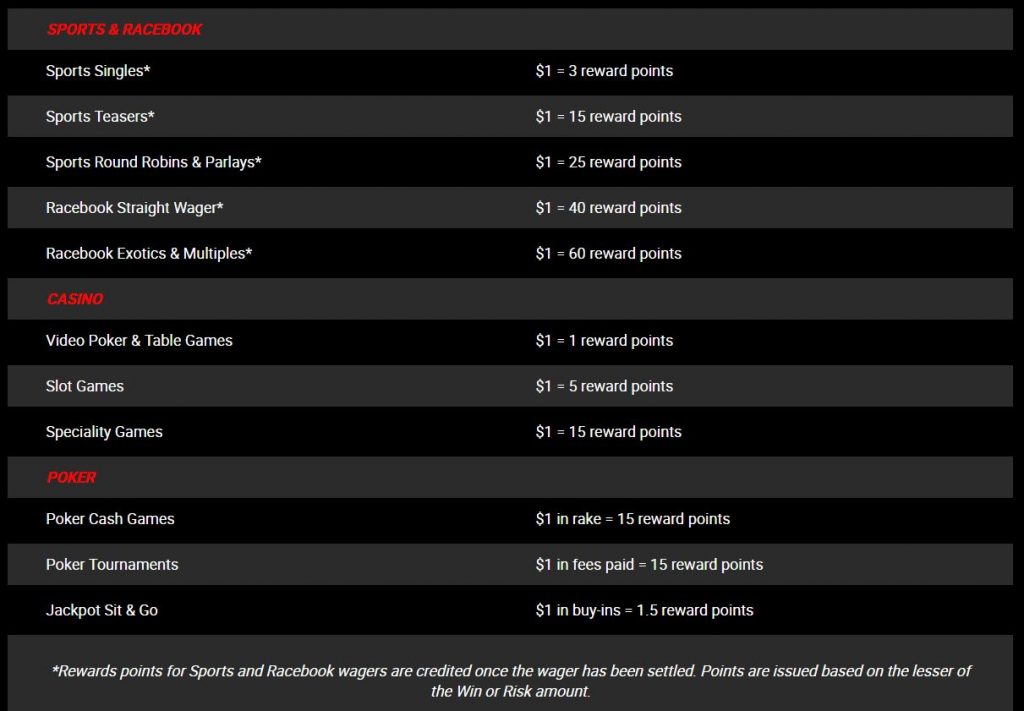 By analyzing the table, you can see that the highest points are given for betting on sports and races. You can get up to 60 reward points for only $1. That's why we recommend Bodog for sports bettors mainly.
How points are issued
However, you will hardly deposit just $1 and go bet it. You will deposit a much bigger sum of money. So, then how will the points be issued? Let's see an example.
Say, you deposit $120 in total. So you can place $55 on NHL Parlay and get 1,375 points. Then you play $50 on slots, so you get 250 Reward Points. After slots, you decide to take part in a Poker tournament and spend $15, as a result you earn 225 points. In total, you have 1,850 Rewards Points. And in order to raise your Rewards Level to Bodog Silver, you need 650 points more, which you can easily earn in the sports category.
10 Rewards Program facts you must remember
Like any other promo of any online casino, Bodog Rewards program has a few terms and conditions. We recommend that you clarify and remember these rules. Otherwise, you might get upset with the program and have a totally negative experience, which we don't wish for you.
You can redeem any amount of your Reward Points. We just remind you that you can cash in your points or just a portion of them.
You can redeem your points to play further at Bodog. Reward points are convertible into cash bonuses. It means that you can use the extra cash for sports betting, races, casino games, and poker tournaments.
You can't earn Reward points by playing Poker. Although Bodog doesn't reward you with the Reward points, it gives you Poker Points for games in the Poker category. It's a different program. You neither can use the Rewards points in the Bodog Poker Room.
Reward Points for sports betting are credited in a specific way. While betting on sports, you can earn the points provided that you confirmed the bet. The amount of credited points is based on the win amount or the bet amount. It depends on which of them is smaller.
You need to use your points throughout a year. If you have Reward Points on your balance on the expiration date, Bodog can remove them 12 months after you earned them.
You can't buy Rewards Points. Only by playing games and betting, you can earn the points.
You will never lose your status. Unlike losing Reward points, you can't ever lose your status level. So, if you have a tough period in life, you can stop playing, and then come back anytime, and you'll still be on your level.
Wagering requirements on the cash bonuses are pretty low. 10x wagering for Casino category games, and 2x for Sports and Racebook.
You don't earn points if you've claimed a bonus. All offers available on the promo page are already nice bonuses, so you won't get the Rewards points for playing with a bonus.
You can redeem as many points as the redemption rate allows. Each Rewards level has a redemption rate, at which a player can get a cash bonus. We'll describe the rates in detail below.
Bodog Rewards Levels
In total, there are 6 Rewards levels at Bodog Casino. We'll give you a brief description of each level. As soon as you level up, you get more tier points, bonuses, and lower redemption rate.
Bodog Bronze
You start with the Bronze level. On this level, your balance begins with 0 points, and as you play and bet real money, you can earn up to 2,500 Reward points. You can redeem the points into cash at a rate 2,500/$1.
It means that once you have 2,500 points, you can credit them as a cash bonus. However, it's better to continue earning the points to get to the next level.
Remember that on the Bronze level you can claim Welcome offers, but you can't earn the Rewards points for bets using bonuses.
Bodog Silver
The next Silver level has 3 stages. You start this level and the first stage from 2,500 points, and finish the stage at 4,999 points. The following stage starts at 5,000 and finishes at 9,999 points. The last stage starts from 10,000 points, and you can finish it by having 24,999 points. On Silver level, you can redeem your points at the same rate — 2,500/$1.
Bodog Gold
Almost the same on the Gold level. There are 3 stages. You start the first one with 25,000 Reward points, and finish it with 39,999 points. Then you proceed to the next level with 40,000 and complete it with 59,999 points. And finally, the third stage requires you to earn up to 149,999 points to level up. The redemption rate on the Gold Level is lower — 1,666/$1.
Bodog Platinum
On Platinum level, the redemption rate is even lower, it's 1,250/$1. The same 3 stages are obligatory to complete if you want to level up. The first stage requires you to earn from 150,000 to 249,999 points. The second stage — from 250,000 to 499,999 points. And the final stage places up to 999,999 points requirement.
Bodog Diamond
This level is hard to reach, But you can do it by placing bets on sports and races most of the time. So, the 3 stages are divided by points in the following way: 1st — 1,000,000 – 1,499,999 points; 2nd — 1,500,000 – 2,499,999 points; and the 3rd — 2,500,000 – 4,999,999 points. At each stage you can redeem bonuses at a rate 1,000/$1.
Bodog Black
The final level called Black is reached when a player has 5,000,000 and more Reward points. If you reach this level, you must be either a high-roller, or playing at Bodog for ages. You can redeem points at the same redemption rate — 1,000/$1. After reaching Black level, you can be invited to the exclusive 94 Club of Bodog casino.
Play at Bodog and Earn Points!
Bodog Rewards system is unique, and indeed one of the simplest. You just need to play the qualifying categories of games, or bet on sports and horse races, and that's it. Your Rewards points will be credited to your account. One thing that you must remember is to redeem them within a year after earning. So, play at Bodog casino, and level up!
Rate this post, please:
5
4
3
2
1
FAQ
Yes, they are. Software developers that create slot machines make them compatible with mobile devices. So you can grab your phone or tablet and start your gaming session. But make sure that your casino site is mobile-friendly.
Actually, online casinos make it easy to win money. Each winning round increases your balance by some amount. The thing is, you never know if you win or lose with your next step. Casino games result in a random, specifically generated way. You cannot determine a particular strategy to win money or deceive a casino, but hopefully you can use some tips that will raise your total budget, or at least save the initial one.
6 Winning Tips for Online Casino Players
Trust but verify. The casino you are playing at should be safe and reliable. Check the casino for every tricky issue. Only after this, register.
Play games which you are good at. If your destination is to be an excellent poker player, play and practice it, and master it. If you prefer slots, be a master at a single slot. You have to know all the ins and outs of a certain game in order to win money.
Do not pass by Jackpots. You can become a master of Jackpots as well, but it is way too hard. Still, you can spend some dollars for a lucky spin. Someday it will certainly hit the Jackpot.
Play for free. It may seem contradictory, however, before becoming a winning master you should practice it in a free mode.
Make use of promotions. Casino offers are beneficial for you too, so, play them out to get your win. Remember to read the bonus terms concerning wagering requirements.
Stop the game on time. Games are addictive, so keep an eye on your balance all the time if you do not want to lose everything you have deposited.
These simple tips can be really helpful. Mind them every time you are at a casino. And try to understand that a casino game is a total randomness. If you are lucky, you will win money, if not — sorry, but not more than your initial budget.
Canadians can have PayPal accounts and transfer money from one PayPal account to another. But when it comes to online gambling, most Canadians will face the problem of making a direct deposit or withdrawal via PayPal. This is due to the certain restrictions on online gambling within the policy of PayPal. Still, some online casinos allow payments via PayPal.
More articles on gambling topic