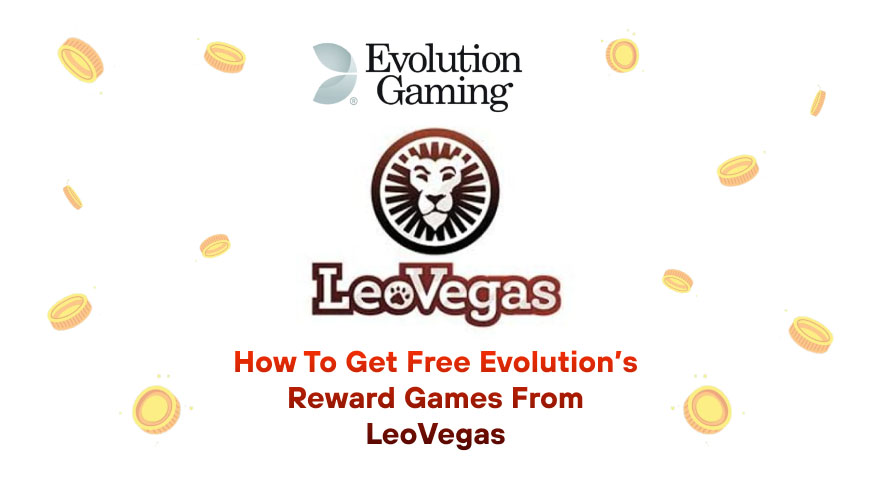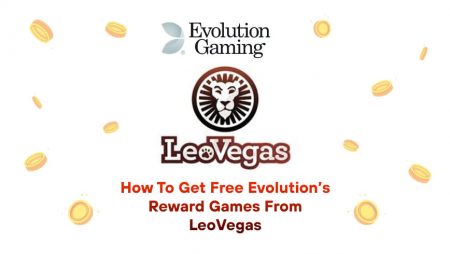 LeoVegas online casino is always on the move providing its players with more and better gaming opportunities. Many players have recently discovered the online casino LeoVegas jackpot, but now it's time to get another reward from LeoVegas! If you love playing live games from the Evolution lobby, wait for Reward Games to play more for free. In fact, Reward Games work like free spins for slots, but with a slight difference — they are completely free of wagering requirements.
What are Reward Games from Evolution?
Simply put, Evolution's Reward Games is a tool for rewarding players supplied by Evolution. Not all online casinos can offer you this kind of promotion, but LeoVegas is different. Receiving Reward Games from LeoVegas, you can have a few free game rounds on a variety of live casino titles from Evolution.
For example, you can play at the live roulette tables, blackjack and baccarat tables, and even live game shows with a money-wheel. As soon as you receive the Reward Game, it allows you to play a few rounds with additional funds. It isn't like extra money, you can't cash it out. But neither you have to complete any wagering requirements. See it as a reward during your live gameplay. If you win anything with these Reward Games, you collect it to your real money balance, which means the winnings can be withdrawn.
How to Get and Use Evolution's Reward Games
First of all, you have to be a LeoVegas player if you want to receive free live games. If you haven't yet joined LeoVegas, do it now by clicking on the "Play Now" button below.
Besides, make sure to opt in to the communications from LeoVegas in the 'Privacy Settings' under 'Profile' in your casino account. This way, you won't miss out on the notifications about Evolution's Reward Games.
So, when you play at LeoVegas, you can get a notification from the casino team that you are gifted with a Reward Game. It can look like this: "$15 in Reward Games to enjoy on Dream Catcher".
Then, you need to open the game mentioned in the message. And you will receive another pop-up message like this: "You are entering Dream Catcher with $15 worth of Reward Games". You are also given two options: whether to play the Reward Game or to go back to the lobby. Besides, the message states the maximum amount of winnings you can get with the given Reward Game.
If you decide to stay and play the free round, click on "Play Now" to continue. At this point, you need to understand the wagering. You can place the whole rewarded amount on the game or split it into several rounds. For example, you can make a single $15 bet on Dream Catcher, or you can make 15 bets per $1. The choice is up to you.
At the bottom of the game screen, you will see the remaining balance of your Reward Game. This is very convenient for players. But Evolution seems to be prepared for everything. So, if you, all of a sudden, decide to take a break, you can exit the game and come back later to continue. Your Reward Game balance will remain the same. Simply open the same game and make another reward wager.
How to Win Money with Reward Games
There is nothing easier than placing wagers and winning money. So, basically, all you need to do to win real money during the free games is wagering the rewarded cash.
When you have played the entire rewarding amount, you will receive another message with congratulations on your completed Reward Game. The amount you won will also be displayed. Then, you will see these winnings added to your cashable balance. Once again, no wagering requirements!
Later, you can check out your LeoVegas Account History and see the Reward Game and its winnings in the statistics.
Pros and Cons of Reward Games
You'd think this promotion is flawless. But we can always find some good and bad points in everything. So, here are the pros and cons of Evolution's Reward Games.
Pros of Reward Games
Wager-free. Absolutely free of wagering requirements. Reward Games act like in-game free spins in slots. You play, win, and cash out.
Various values. Surely, the value of Reward Game isn't big, but it still can boost your balance. You can receive a game with a random denomination. It can be $5, $10, $15, and etc.
Evolution games. Although the reward is given to play Evolution games only, this is the best live game developer ever known.
Convenient betting. You can wager the whole rewarded amount or separate it. You can even exit the game in the middle, and return later to play the Reward Game till the end.
Cons of Reward Games
Restricted for some Canadian provinces. Unfortunately, players from Manitoba, Quebec, and British Columbia cannot play games from Evolution. Consequently, they can't receive Reward Games.
Only at LeoVegas. Of course, having such an opportunity is already awesome, but it would be better to receive Random Games at all Evolution online casinos.
Randomly issued rewards. You cannot trigger or claim the Reward Games. On the one hand, it's nice, but on the other — how long should you wait for the game?
Get Your Reward Game!
Reward Games are another opportunity to have fun and boost your budget at LeoVegas casino. To receive some Reward Games, you don't need to make a deposit or earn this bonus somehow. The gift is absolutely random and гuncondtional. If the casino team sees that you like playing live games from Evolution, simply continue playing them; and at one beautiful moment, you will get the Reward Game.
Rate this post, please:
5
4
3
2
1
FAQ
First of all, LeoVegas casino is one of the most reputable casinos in Canada. If you doubt it, you can read the detailed casino review on our website. The casino holds the license from the MGA and has many rewards for being the best gambling operator. Besides, live games provided by LeoVegas are fair and unique. Aside from Evolution's lobby, LeoVegas has its own live casino lobby, in which you can also enjoy premium live dealer games.
Of course, it is possible. These two promotions are independent. You can play games with your welcome bonus from LeoVegas and suddenly find the notification about Reward Games. It's just a matter of time. You can play Evolution's free games as soon as you receive them or after you finish playing with the bonus.
As often as possible. In fact, as we said in the article, the casino team watches you play live games and rewards you with the free Evolution games. You can receive them pretty often, or you can get them once. It depends on your gaming activity as a LeoVegas player.
More articles on gambling topic