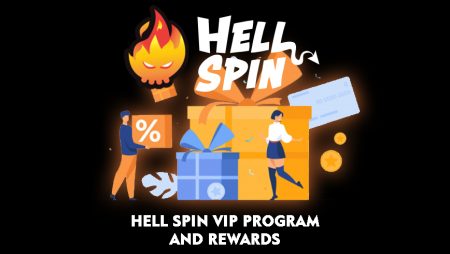 A brand new online casino, Hell Spin, offers players to join the VIP experience and get scorching hot rewards. No deposit free spins, cash bonuses, and more rewards are waiting for you at Hell Spin. Make sure to stay a loyal player to earn up to CA$15,000 every two weeks!
How to become a loyal player
Fortunately, you don't have to deposit a lot of money or wait for the invitation letter to become loyal and claim rewards. All you need to do is register with Hell Spin Casino and make the first deposit. Click the "Play Now" link to open the official and secure casino web page:
As soon as you sign up, head to the deposit section and fund your account with some real money. You can also claim the first deposit bonus of up to CA$300 and 100 free spins. Right after that, your participation in the VIP program will begin automatically, and so will the countdown to the next 15 days cycle.
How Hell Spin's VIP program works
You should always keep in mind that the VIP program is cyclic. A cycle lasts for 15 days and then it resets.
Besides, there are two types of loyalty points at Hell Spin. The first is comp points (CP), and the second type is hell points (HP). Comp points are credited for wagering real money on any games, while hell points are credited according to the amount of CPs.
Comp points are used for reaching new levels and unlocking new rewards, while hell points are used for bonus money exchange.
And once a cycle is over, you can exchange the hell points for bonus cash. The minimum amount of HPs for exchange is 250. This will give you CA$1.25 in bonus money.
On top of this, you can receive level-up rewards upon reaching new levels.
How to level up and unlock rewards at Hell Spin
To level up, you need to play games for real money. There are no restrictions on the types of games you can play to collect CPs.
Each CA$1.25 in real money bets gives you 1 comp point. To move through the levels, you have to earn a certain amount of CPs. For example, the first level is reached when you get 100 points. Thus, you need to wager CA$125 on games to get a 10 free spins reward. Here are the levels, rewards, and the required amount of comp points:
100 CPs unlock the Level 1 reward — 10 free spins for Platinum Lightning.
500 CPs give you the chance to play 20 free spins in Lucky Lady's Clover.
1,000 CPs on your balance unlock 30 free spins in Spin and Spell.
Earn 2,500 CPs to unlock the level 4 rewards — CA$10 and 50 free spins in Aztec Magic Deluxe.
Upon reaching Level 5 with 5,000 CPs, you receive CA$15 and 100 free spins in Aztec Magic Deluxe.
10,000 CPs will give you Level 6 rewards, including CA$25 and 1,000 CPs.
Level 7 and 17,500 CPs on the balance will unlock a CA$30 bonus and extra 5,000 comp points.
Earn 40,000 CPs and receive Level 8 rewards — CA$75 and 15,000 CPs.
100,000 CPs unlock the Level 9 rewards — CA$125 and 25,000 CPs.
Once you have 200,000 CPs on your account, claim your Level 10 rewards — CA$200 and 50,000 CPs.
Level 11 can be reached with 450,000 CPs on the balance. And your rewards will include CA$300 and 100,000 CPs.
Unlock Level 12 with 800,000 CPs and get CA$750 + 200,000 CPs.
Rules of using the rewards
Since all VIP rewards are bonuses, they have certain terms and conditions. First of all, you should understand that the bonus money that you get as the result of HP exchange and Level-Up rewards are different bonuses. Therefore, they have different terms.
Funds that you get after exchanging the hell points must be wagered 1 time. In other words, they are credited to your bonus balance, and you can wager them on games only one time to clear this bonus money and cash it out.
Bonus money and free spins resulting from VIP rewards come with an x3 wagering requirement. Thus, to clear them, you must wager their amount three times. However, you can do it only on slot machines. Other games won't count towards clearing the VIP bonuses.
You will receive your level-up rewards within 24 hours after you reach a new level. Mind that you must activate no deposit free spins within 3 days after receiving them. And you must wager them within 7 days after activation. Otherwise, Hell Spin will cancel them.
Does it make sense to chase CP and HP?
Hell Spin Casino offers a nice program for regular players. They can get rewarded with the same prizes every 15 days after the cycle ends. However, it feels difficult to earn comp points and make it through the levels because players are given only 15 days to level up and unlock rewards.
In theory, a player has to deposit significant amounts of money to play and progress to the new and higher levels. Of course, players can rely on their winnings in games. For example, if you win $10,000 and then wager it all on games, you can earn 8,000 CPs and progress to level 5 or even 6. On top of that, you will receive CA$40+ thanks to the HP conversion.
If this happens by the end of the 15 days cycle, you can earn a total of CA$55+ and 100 free spins (in addition to the rewards from previous levels). And then, the cycle resets, and you will have to achieve success again.
Now, to answer the question of whether or not it makes sense to chase comp points, you need to give it a thought. If you like the spirit of competition and races, you can happily give in to this promotional tool. But make sure that you don't spend more than you can afford to lose.
On the other hand, if you don't have a lot of money to quickly progress through the levels, and you'd better stay low-risk, you can just play games, win money, and receive VIP rewards from time to time, which are a pretty nice complement for your gameplay.
Reach new levels and use your rewards!
Hell Spin Casino rewards players with nice bonuses such as no deposit free spins, cash, and extra comp points for faster CP accrual. However, this VIP program won't suit everyone. Nevertheless, you can receive extra benefits from Hell Spin regardless of your style of play. So reach new statuses and grab your rewards!
Hell Spin is one of the top Red Rake Gaming online casinos in Canada. Read the full review for more details.
Rate this post, please:
5
4
3
2
1
FAQ
No, you can't. Unfortunately, participation in the VIP program is automatic. So you cannot exclude yourself. However, if you don't want to receive VIP rewards from Hell Spin, you can just skip them when you reach new levels. Remember that you don't have to use bonus money and no deposit free spins if you don't want to.
All games are eligible for collecting comp points at Hell Spin Casino. You can choose between different types and titles of games. However, once you have reached a VIP level and received a reward, you can only use it on slots.
No, it doesn't. You cannot use the bonus money to earn comp points or hell points at Hell Spin Casino. You can only use real money that you deposit or win on games.
More articles on gambling topic