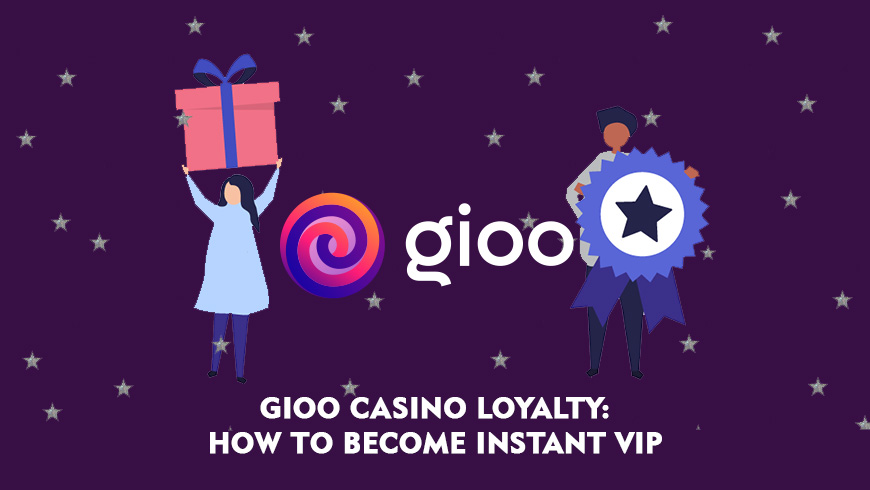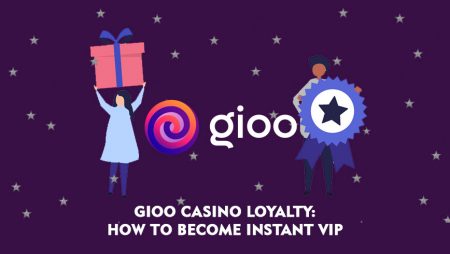 Gioo Casino is one of the newest online casinos in Canada. Because it was founded in 2021, the operator knows what a modern player needs. To motivate existing players, Gioo Casino has a loyalty program with level-up gifts. But if you don't want to spend months making your way up to the top level, you can become a VIP in a matter of seconds. Read this post till the end to find out how.
Loyalty Program
All new players get enrolled in the loyalty program from the moment they deposit for the first time. But It's not where they enter the first level. To reach it, beginners need to play. But first things first, let us start with the concept of the loyalty program at Gioo Casino.
The loyalty program has 14 levels. Each level gets unlocked when a player collects a certain amount of Gpoints. Upon reaching a new level, a player gets rewarded with free spins or bonus money.
When you reach level 5 and higher, you are able to exchange Gpoints for bonus money. The exchange rate varies depending on your current status. Thus, the higher your status, the better the exchange rate.
The number of points required to level up grows progressively. Thus, to unlock level 1, you should collect 150 Gpoints. The next level opens up with 300 Gpoints. To reach the 3rd level, you need to have 700 Gpoints, and so on until you collect more than 500,000 Gpoints and unlock the biggest rewards.
How to collect Gpoints
Log in to Gioo Casino.
Go to the lobby.
Pick any slot machine.
Place real money bets.
Once you wager the total of CA$15, you will get 1 Gpoint.
This is how easily you can collect points. However, if you are not a slots fan, then this loyalty program is not for you. Instead, you can try to become an instant VIP. Read on to learn more details about this feature.
Loyalty Rewards
Every time you reach a new level, you can grab a reward. It can be either a set of free spins or bonus money. Here's what type and value of the reward you receive upon reaching each level:
1st Level: 25 Free Spins
2nd Level: 50 Free Spins
3rd Level: 100 Free Spins
4th Level: €20
5th Level: €50
6th Level: €100
7th Level: €200
8th Level: €400
9th Level: €500
10th Level: €600
11th Level: €700
12th Level: €800
13th Level: €900
14th Level: €1,000
Of course, all bonus money is convertible to your currency equivalent. Free spins must be wagered 25 times before they can be withdrawn. And bonus money needs to be wagered 3 times. The maximum bet amount for wagering purposes is CA$3.
Again, this is how it goes: you play slots for real money and collect points. Once you have 150 Gpoints, Gioo Casino gives you a reward of 25 free spins. You can use them on qualifying slots and wager the amount of winning at least 25 times with a max bet of CA$3. As you clear the bonus, you can cash it out. And when you start wagering real money in slots again, you earn points and go for the next reward.
Instant VIP Feature
Gioo Casino offers a fantastic opportunity — to become a VIP player instantly. By using this feature, you can bypass the points accumulation and game progress. It means that you don't have to play slots for real money, collect points, and progress all the way up to the 14th level to get the best reward, exchange rate, etc.
Instant VIP is made mostly for high-rollers who can afford to make big deposits and place high bets. But anyone can become a VIP at Gioo Casino. This is how you become an instant VIP:
Sign up or log in with Gioo Casino via the "Play Now" link on our website.
Go to your profile settings and verify your phone number.
Make a single deposit of at least CA$1,500.
Within 24 hours you will be contacted by your personal VIP manager.
Only after you verify your phone and make a qualifying deposit, your VIP status will be activated.
Benefits of VIP Status at Gioo
When you become a VIP player, you open great opportunities for yourself. It's not just that you can play the way you want, it's something bigger.
Personal assistant
From the moment you become a VIP, you have your personal manager who is at your service at any time of the day. He or she will answer all your questions and solve all problems, whether it's a withdrawal issue or a technical one.
Moreover, you can get in touch with your personal assistant not only via the casino's live chat or email. You can call him on the phone, and send an SMS or a text via any messenger such as WhatsApp or Viber.
Individual services
If you have any special requests, just tell your casino manager about them, and Gioo will meet your needs. For example, you want to make faster withdrawals. Although VIP withdrawal requests are already in priority for the casino, they can be even faster.
Or maybe you want a higher withdrawal limit. In this case, Gioo Casino will increase the limits special for you. All in all, it's very individual. So don't hesitate to ask Gioo about "special conditions".
Exclusive offers
As a VIP customer, you will receive special gifts from Gioo Casino. Don't forget to check your offers page and email. You can claim a monthly cashback and get exclusive bonuses such as reload offers and free spins.
You will also be rewarded with extra gifts. For example, you can get a birthday present from Gioo Casino.
Reasons to Become VIP
There are a few "because" that can help you make a positive decision about the instant VIP feature:
You will get the most out of the gameplay with better in-game features;
You will be treated with genuine VIP service;
Your withdrawals will always be in priority;
Any special request of yours will be met by the casino.
The instant VIP feature is made for those who value personalized support and service. If you don't really need it, it's better to progress within the loyalty program.
In Conclusion
At Gioo Casino, players have two options. They can either progress in a standard loyalty program or become an instant VIP. Choose your way and get the best experience at the casino. If you are not ready to become a VIP right now, you can always try to level up through the loyalty scheme. But if it's too slow for you, then it's the right time to apply for the instant VIP status.
Read the full Gioo Casino review on our website. Gioo offers not only fast withdrawals and a great rewarding scheme but also thousands of games, including Playtech online gaming options, a good welcome package, and a nice gambling experience.
Rate this post, please:
5
4
3
2
1
FAQ
No, you can't. At Gioo's bonus terms and conditions, it says that players can only collect Gpoints by playing slots for real money. So all other games don't count. If you want to play live games and get rewarded, then you can become an instant VIP. With VIP status, you can play the way you want.
Absolutely, yes. Gioo Casino holds a license from the Malta Gaming Authority and supports responsible gambling. As for security, Gioo Casino employs SSL encryption to provide a safe environment on the website. So you can trust Gioo at 100%. For more details, read the casino review from our experts.
If you are going to gamble at Gioo Casino regularly, it is better to become an instant VIP. Thus, you will have personal assistance. Your manager will help you not only with problems but also guide you through games. However, if you like challenging yourself, then maybe a loyalty program will be your best choice.
More articles on gambling topic