The name of this game is non-casual, it is the real reel hero. Five space heroes have come to rise your winnings. I'm saying it literally, because they appear to fight unwinning paylines. Let's start with the beginning!
Games Rules
First step is to set the bet using the "+" or "-" signs or clicking the necessary number of FUNs. The Reel Hero allows you to select the bet up to your balance number. Besides, you may select Volatility of prizes: Low, Standard, or High:
Low. Payouts are more frequent but small.
Standard. Payouts are quite high but less frequent.
High. Payouts are huge but very hard to earn.
Adjust spin mode: click a little button on the right side and stop it at one speed – Normal, Fast, Ultra Fast. Next step – click the spin arrow to win.
When a winning line comes up on the reel, you have a chance to play gambling game. There appears the gamble sign. It is a card game with the pack in the middle, by the sides there are two buttons – red and black. You have to guess the right button to double your winning. If you do not want to play this game, just click the opposite gamble sign – to credit – your win goes to balance without next spin.
What are the special symbols?
Like any popular slot game, Reel Hero has special symbols: WILD, SCATTER and HERO symbols.
WILD symbol can substitute for any other except for SCATTER and HERO symbols, plus it is paid.
SCATTER symbol triggers 10 free spins if you collect 3 of them on the reels.
The HERO symbol is very powerful and requires a detailed explanation. Read it below! During the game you may collect 5 Hero symbols anywhere on the reel. It may give you up to 2 hero powers at the same time. As there are 4 characters, there are 4 corresponding features:
Rich Bonus Symbol. Look for the WILD symbols on the reel, because Rich will expand each of them on the entire reel and lock it for free respin to make you gain more.
Victoria Bonus Symbol. Her laser glasses move the reels to the right creating a new reel and winning combination.
Altiera Bonus Symbol. Using her plasma gun, Altiera shoots 4 – 6 WILD symbols providing you with another win.
Jax Bonus Symbol. Jax shoots all winning symbols and let the new ones fall down on the reels making new winning combinations.
And on top of that, Reel Hero provides good settings service. I mean there are many options you can use, for example, prize volatility, spin speed, the space key is also available for Ultra spin, full screen and big screen options, autoplay modes. Let me conclude the pros and cons for clarity below:
Pros
Play modes option
Autoplay option
Full screen option
Big screen option
Energy saving mode
Ultra spin
4 Bonus rounds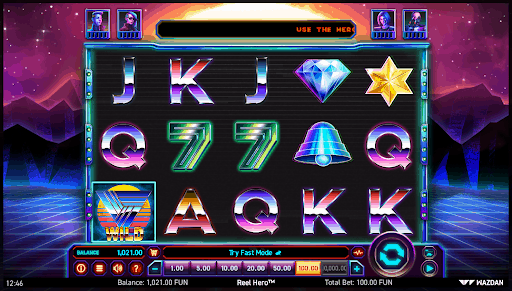 More articles on gambling topic