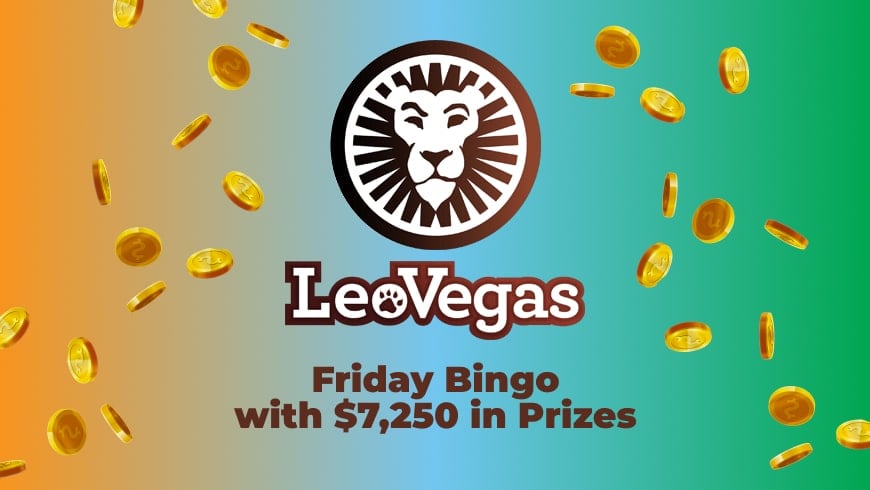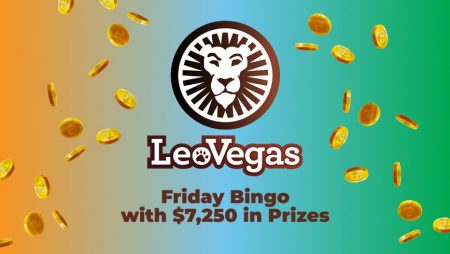 All BINGO players, and even those who don't like bingo too much, can buy their rewarding tickets and win a share of $7,250 every Friday of this month! From May 7 until May 28, open LeoVegas casino to see if you are this Friday winner.
Even one Bingo ticket which you bought last night can bring you up to $3,625 to celebrate the weekend! In this post, we will tell you more details on this promotion, and more importantly, how to buy the bingo tickets at LeoVegas.
If you still know little about LeoVegas, you should definitely change it. Go to the LeoVegas review page and observe the casino on its site. We recommend this online casino to all Canadian players. With its amazing welcome bonus of $1,000 and free spins, and other recurring promotions that are updated nearly every day, LeoVegas will be your favorite site for gambling!
Bingo Promo at LeoVegas
Once again, every Friday in May, LeoVegas arranges a bingo game in the Lion's Night bingo room. It occurs at 16:30 EDT on May 7, May 14, May 21, and May 28.
This promotion is available for all players, regular and new ones. So, if you have just registered at LeoVegas, don't worry, you can participate.
How to Buy Bingo Ticket
LeoVegas gives you a few options to buy bingo tickets. For your comfort, you can buy a ticket right before the game starts or long before it. So, here are the three ways to buy and pre-buy your winning chances:
Go to Bingo Lobby and pre-buy tickets there.
Pre-buy tickets in the Lion's Night room. (Go to Bingo lobby and open the game)
Buy tickets in Lion's Night just before the start of the game.
The best thing of all is that you can buy up to 100 tickets at a price only $0.44. This means the maximum that you can spend on one Friday Bingo game is $44! It's super cheap compared to the prize pool of $7,250 which is fully cashable. Even if you win nothing much, it's still not a big sum of money to waste. So, why not give it a chance?
Friday Bingo Prizes
The bingo game determines three big winners and a few winners of the prize from community pot. Here are the prizes:
If you have a bingo ticket with 1 winning line, you get $725.
Having a ticket with two winning lines, you receive twice more — $1,450.
Full House combination gives you $3,625.
And the Community Pot has a prize pool of $1,450 spread over all winners.
So, if you bought at least one ticket, you will win a share of Community Pot. No one can tell how much it is because it depends on the number of participants. But your chances are already not zero, which is another reason to buy a ticket.
Besides, if you bought all 100 tickets and they win only prizes from Community Pot, the prizes will be accumulated
Moreover, those bingo players that have combinations of Full House, 1 and 2 lines will also get a share of Community Pot additionally to their big prize.
And finally, the cherry on the pie is that the winnings are credited to your cash account. This means you can withdraw them easily without completing any wagering requirements. Or you can spend this money on casino games, the number of which is colossal at LeoVegas.
LeoVegas Promo Details
In order to prevent any misunderstanding and unnecessary trouble with LeoVegas, you need to know a few more details about the promotion. Theoretically, it refers to all LeoVegas bonuses and offers. Besides, we recommend that you read the full terms of the bonus policy at LeoVegas.
The key points which you should comply with are to allow sending marketing notifications to you. You can do this in your profile settings by selecting 'Yes to Communications'.
As usual, you should not try to abuse the bonus and act against the terms and conditions of the online casino. Otherwise, you can be disqualified from the promotions, or maybe even blocked at the site.
Make sure your account is not restricted during your participation in the Bingo promotion. But we assure you that if you are gambling at LeoVegas from Canada, you may have no worries about it.
About LeoVegas
If the information placed above hasn't raised trust to LeoVegas in your mind, then we will tell you a bit more about this awesome Canadian casino. Though, the reasons mentioned earlier are good enough meaning the offer is free for everyone, cheap access, has 0 wagering requirements, and big prizes. This already tells about the reliability of LeoVegas.
Still, here are some facts about LeoVegas online casino. First of all, it is licensed by the Malta Gaming Authority and has all games certified by independent testing agencies. Speaking of games, you'll find more than 1,000 titles of online slots. Besides, LeoVegas casino has table games, video poker, and live casino with the live streaming games from software providers and its own LeoVegas studio as well.
LeoVegas is also a sportsbook with many betting options for Canadians. All new sports bettors with LeoVegas can get their first welcome bonus of up to $300 on sports wagers. Aside from the welcome one, you can participate in other sports offers and promotions from LeoVegas.
This online casino was awarded several years in a row for being the best casino operator and the best mobile casino. By the way, it's mobile version is very convenient. They have a mobile app which you can download from AppStore or Google Play and install to your smartphone. It ensures better access and smooth gameplay.
LeoVegas is also included in the list of Playtech mobile casinos.
Play Bingo with LeoVegas!
Everyone loves bingo, especially at LeoVegas because there is nothing better than having fun winning bingo prizes in pure cash! So, regardless of your attitude to bingo games, there is still a high chance to win a share of $7,250 every Friday. Provide yourself with a nice weekend with the winnings from LeoVegas!
Rate this post, please:
5
4
3
2
1
FAQ
Online bingo is even much more convenient to play than a real bingo with real tickets. You don't need to look for the numbers on the cards and waste your time while the other numbers are falling. The gameplay is automatic, so you just buy the online bingo tickets and see the results.
Yes, Friday bingo promotion has several tickets with winning lines. If the same day, two or more winners appear, the prize will be spread over them equally. In addition, the winners will get a share of Community Pot.
Absolutely yes! You can pre-buy the bingo tickets while the promotion is running. From May 7 till May 28, every day you can buy several tickets. Maximum number of tickets for one Friday bingo game is 100. So, you can buy them all right away or buy several tickets each day before Friday.
More articles on gambling topic