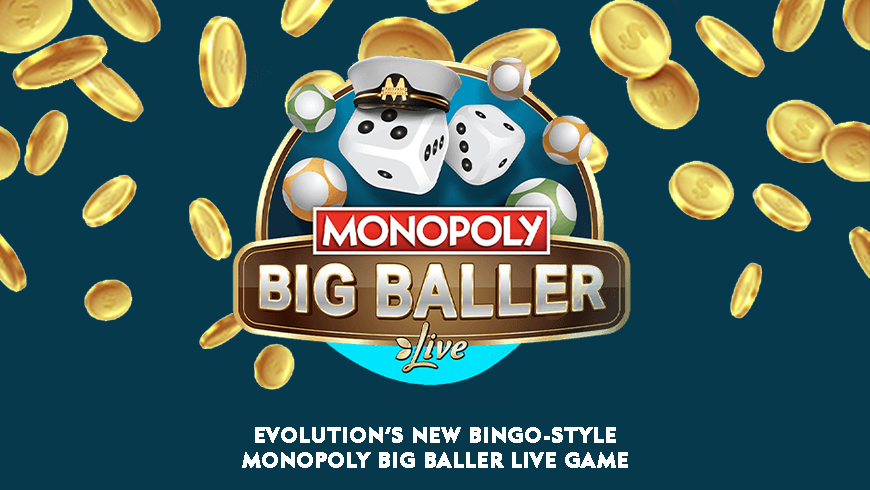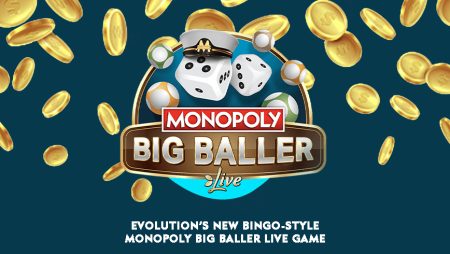 Meet a brand new live game show with a bingo element inspired by Monopoly! Evolution presents Monopoly Big Baller with a mega ball in its base game and Monopoly Live as a bonus round. This post will tell you how to play it and what you need to do to win Monopoly Big Baller. Check the best Evolution online casinos in Canada that already have the game in their lobbies. Choose your favorite and play the live game for real money!
Plenty of casinos in Canada are partnered with Evolution so it won't be a problem to find the brand new game and play it for real money. To get started, join an online casino, deposit some real money, and head to the lobby to find Evolution's game Monopoly Big Baller. Run it in real money mode to place a bet. Keep reading to learn how to play the bingo-style Monopoly game.
The live game is also available at online casino no ID. Play Monopoly Big Baller and withdraw your winnings without verification.
How to play Monopoly Big Baller
As you open the game, a live presenter and Mr. Monopoly will welcome you to their live room. Look around to find yourself on a riverboard playing bingo and try to make it to the 3D Monopoly game where Mr. Monopoly will collect multiple prizes for you. Already excited? So take your first step!
Place bets
First and foremost, you have to place a bet to start the game. In Monopoly Big Baller, there are 4 bingo cards and 2 bonus cards at the bottom of the screen. Each card contains 25 numbers. Players can wager on one or multiple cards, and even on all cards at once.
There are two types of cards: Chance and Free Space. The Chance cards have a multiplier in the center, so every completed line that passes through the center gets an increased payout.
The Free Space card has a free space in the center that helps to complete center lines faster.
Choose how many cards you want to put into action, adjust the size of your bets (you can place different bets on each card), and wait till the game begins.
The game will start when the presenter says no more bets are allowed.
Welcome Mr. Monopoly
He comes into action before the numbers are drawn. Mr. Monopoly pulls the handle to activate some multipliers. Besides, he removes some numbers from the cards for players' comfort.
The draw starts
As soon as Mr. Monopoly completes his duty, the bingo ball machine starts drawing 20 random balls out of 60. The matching numbers on the cards are automatically stripped off. If the machine draws a number with a multiplier, it goes to any prize.
If the drawn balls match all the numbers on one of the bonus cards, the Monopoly Bonus begins. Then, all players can watch the performance in the 3D mini-game, while players who won that bonus card receive their extra prizes.
As a result of the draw, you can win either your bet, multiplied bets, or bonus prizes.
The Monopoly bonus round
There are two bonus cards, as you remember. Each card gives you 3 or 5 rolls of the dice in the Monopoly game, respectively. If you've matched all numbers on at least one of these cards, you go play the bonus game.
The mini round consists of two stages, dice rolling and multiplier collection. As soon as the game begins, Mr. Monopoly comes again and raises a few multipliers on the board.
After that, the game rolls the dice and as they stop, Mr. Monopoly moves the number of steps on the board game as shown by the dice.
At each stop of the dice, Mr. Monopoly moves around the board and collects multipliers. They are summed up and multiplied by the bet you had on the bonus card. As the bonus game comes to an end, you get your prizes credited to your casino account.
Then, players get back to the base game and continue playing.
Features of Monopoly Big Baller
The key to the attractiveness of Monopoly Big Baller is the video performance that you can't take your eyes off. Its bonus round is played on the animated Monopoly board with properties, multipliers, and more.
If you've ever played Monopoly Live, you know the rules and all pluses and minuses of the gameplay. In Monopoly Big Baller, all the rules of the classic game are applied. So you will have to avoid some squares such as Go to Jail in the bonus round.
The base game where you start off is also looking great. It takes place on a riverboat that makes you feel like you are on a voyage in the 1920s.
Mr. Monopoly represented by Evolution is the piece of computer art himself. He is the main star of the game who adds multipliers and collects prizes in the bonus round. On top of that, he appears in an elegant suit and wears his famous hat.
Monopoly Big Baller payouts
The payouts are pretty straightforward in the game. You get paid for the winning lines covered on the cards you chose. If you receive a multiplier on a card, your payout is increased by either 2x or 3x.
If you get a line multiplier, the win gets multiplied by 20x or 50x. Also, if a number with a multiplier comes as a part of a winning line, your bet is multiplied by 10x or 20x.
The payout rates depending on the card type:
Chance cards have the maximum payout of 199:1.
Free Space cards have a maximum payout of 39:1.
If you win a bonus card, you can expect up to $500,000 in payouts.
Play Monopoly Big Baller right now!
Monopoly Big Baller is already available in the live casino section on most gambling websites. If you are a Monopoly fan or just wish to try a new bingo-style game, you've got to play it. So do not wait for a second more, go ahead, and build your Monopoly!
Rate this post, please:
5
4
3
2
1
FAQ
Yes, of course. Monopoly Big Baller is designed with mobile users in mind. Join any mobile online casino partenered with Evolution and find the game. The user interface is convenient for mobile players.
No, you can't. Monopoly Big Baller is a live game show so you can't play its demo version. If you want to get to know the game before playing for real money, you can just watch other players place their bets and win money. Or you can place the lowest bet possible and try the game with minimum losses.
The return to player percentage is 96.10%. It doesn't differ much from the RTP rate of the highest-paying slot machines. Monopoly Big Baller has a random number generator for the ball drawing and dice rolling. So you can't use some strategy to increase your payout.
More articles on gambling topic