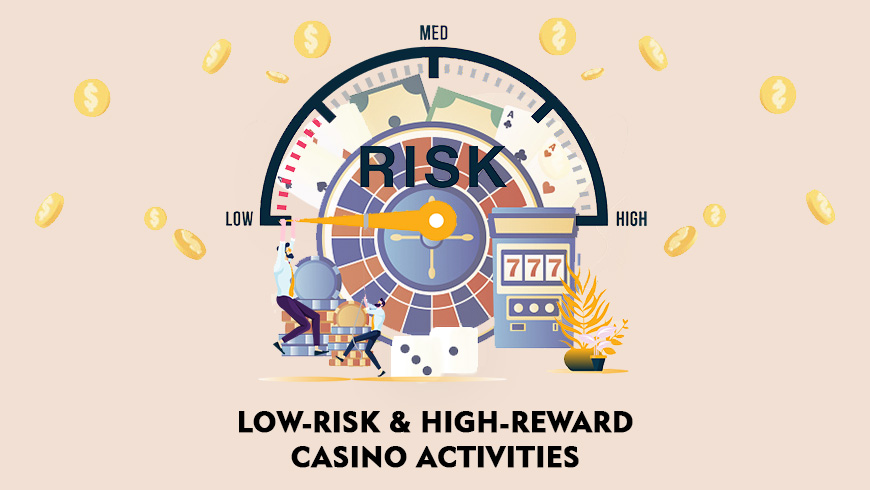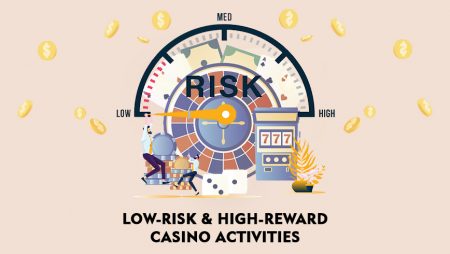 Every player would prefer to play a game with minimum risk and the highest reward. But not every casino game gives this opportunity. However, if you learn games carefully before choosing them, you can certainly get a maximum win when playing low-risk games. In this post, we've tried to cover the topic of matching low risk with high rewards. Read it till the end, and you might find out something you've never considered before.
Best payout online casinos
If you want to grab big money from online casinos, the first thing you should bear in mind is where you'll get them. Only place real money wagers at safe online casinos that guarantee secure and fast payouts. We suggest you consider gambling websites on the list. Or you can go to the casino reviews page on our website to check out all safe gambling platforms with the best online casino payouts.
Low risk is money management
Many casino players never weigh the risks against the rewards when playing a game. They choose high-paying games without thinking of the risks. Soon, they simply lose all of their money in an effort to win big. And as a result, players do not have continuous exciting sessions.
But as we know, gambling is made for long-term enjoyment. To enjoy a game for a long time, players need to have a stable bankroll that never goes down.
Unfortunately, most beginners do not have any bankroll and money management skills, so they just cannot gamble for extended sessions. Especially when you are focused on the most paying games only, you can reduce not only your budget but also the odds of winning.
It's obvious that players tend to choose games with the highest winning potential. But you will spend all your money away before the huge payouts come if you do not understand how the house edge works on those games and bets.
You could also stay on the safe side and play low-risk and low-reward games but you could easily become bored. Besides, players tend to make huge mistakes by placing big bets in the hope of bigger wins and excitement, when playing safe games.
This is why the best way to gain a tremendous payout is to pair the maximum win potential and minimum risk. And the only way to reduce risk is to manage your gambling funds. So make bankroll management your prior consideration. And don't forget to feel enjoyment when playing games.
Sports betting — a way of reaching max results with min risk
Betting on sports allows participants to earn a huge reward for minimum risk. They can make a single wager on a massive venture and have a significant return.
There are many stories of bettors who placed big wagers on an underdog and got millions back. Making big wagers is always a risk but if you feel it in your gut and you are sure about your winnings, you will certainly get a huge payback. In this sense, sports betting is way more advantageous than other forms of online gambling.
However, this isn't the only way bettors can win max without risking high. Another low-risk approach is to use favorable lines in the long term.
So, sports betting opens players an opportunity to grab life-changing wins with a minimum investment.
Blackjack — a game with the lowest house edge
If you've been reading our blog for a while, you already know that blackjack games have the lowest casino house edge possible. When players stick to their strategy on every hand, they may have a theoretical return of 99.5% of the money. And this already reduces risk to the minimum.
However, there's also a minimum chance to get massive profits if the chosen blackjack game returns 3 to 2. This is why players need to be very careful when choosing a game. Besides, when playing blackjack with a strategy, players need to have a substantial bankroll to be able to stick with the strategy in the long term. Sometimes, the cards may go the other direction.
Some blackjack players do the trick with card counting. This way, they eliminate the house edge and bet more when the cards go in their favor. In other words, they are having the maximum reward with zero risk.
But card counting is risky in terms of a player's reputation. If they get caught by the casino, they may never be able to come back to that place. Besides, this trick can only be done at land-based casino blackjack tables as online software tracks and prevents card counting.
Lottery — a dollar ticket to the lifetime dream
Almost every person has bought at least one lottery ticket in his life. Many Canadians try their luck in lotteries at least once a week or a month. Most of them do not win much if anything at all. So why do they play lotteries even without taking them seriously?
Simply because lottery tickets are very cheap. At that small price, they promise a grand payout that can completely change the life of the winner. It's a low-risk and maximum reward gaming activity.
Everyone knows that the odds of winning a lottery jackpot are approximately 300,000,000 to 1. But the price is also low. Participants spend a dollar or two to buy one ticket.
Progressive jackpot slots give massive returns
Just like with lotteries, when playing progressive slot machines players have a chance to win a massive payout with little risk, although the odds of winning are not very high.
Still, casino players love progressive jackpots because they make low per bet investments and have high winning potential.
However, one should be careful even with low bets because slot machines are played at a fast pace. And these low bets may easily turn into huge losses in a few minutes if you get into a losing track.
Why low-risk maximum reward games are the key to huge payouts
There are three types of casino games depending on their risk vs reward potential:
Low-risk low reward games. These games require a long-term monotonous play if you want to make a profit. The danger of these games is that players get bored and start placing riskier bets in order to change something.
High-risk high reward games. These games require well-developed skills and the use of strategies. Otherwise, players may lose their entire bankroll in a matter of minutes.
Low-risk high reward games. They also require some knowledge and skills, especially when it comes to blackjack and sports betting. However, some players can make big wins in progressive slots and lotteries without using any strategy.
Obviously, there is no high-risk low reward game type because it would make no sense to play these games. Out of the three types of games, only low-risk high reward games answer the purpose of winning money at minimum cost.
The two other options are also available but they suit certain types of players. Low-risk low reward games are good for players on a budget, while high-risk high reward games are best for people who can afford to lose a lot of money.
To conclude
All in all, the best decision for gamblers will be to focus on games with the lowest house edge or games that require low investments. So if you are looking for enormous returns, consider the gaming options that we mentioned in this post, and you will definitely find them.
Rate this post, please:
5
4
3
2
1
FAQ
All high-paying games, be it slots or poker, have pretty good payouts. But your real return does not depend on some percentages that much. It depends on how you can manage your funds and how smart you bet. Besides, remember to choose low-risk gaming options to get the best payout.
Yes, you can. But not all Canadian casinos offer lotteries. So you have to search for them. Besides, those online casinos that offer to play lotteries usually have a small number of lottery titles.
There are two types of low-risk games. Those that have a very low house edge and require using some skill and strategy. And those that allow small bets and offer huge prize pools like progressive jackpots. However, they have low odds of winning as they depend on the results of a random number generator.
More articles on gambling topic