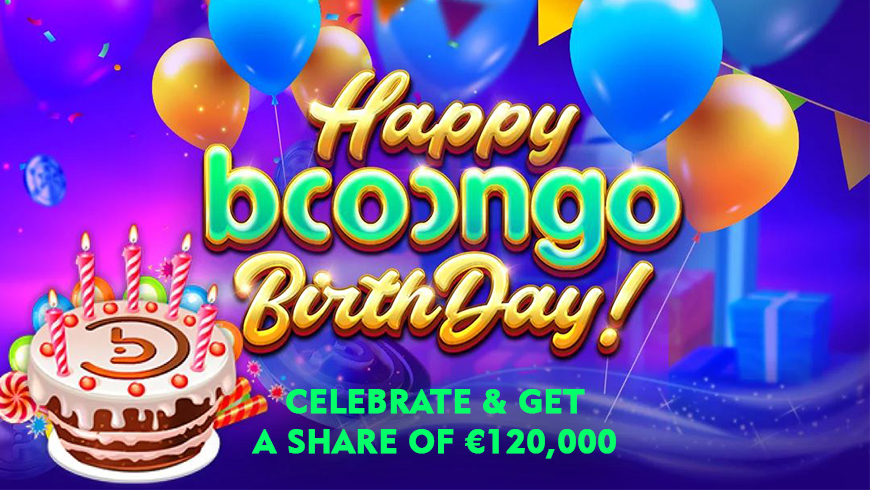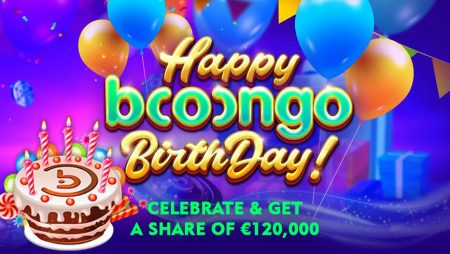 Let's celebrate the 7th birthday of Booongo! This software provider stands among the most popular developers of slots. And you certainly know Booongo for its top games such as Sun of Egypt and Dragon Pearls. The best Booongo online casinos offer you to play as many BNG games as possible between May 3 and May 22. In the end, you may grab a share of the whopping prize pool of €120,000! Check out the top gambling platforms that congratulate BNG and take part in the grand tournament!
Booongo Casinos in Canada
Open any of the best online casino sites that participate in the promotion and get started. We highly recommend reading the terms and conditions of the tournament before participating. Below, you'll find an explanation of the rules.
About BNG Birthday Promo
The promotion is divided into three series of 6 days. During each period, players are able to take part in 6 Regular Tournaments.
The first period starts on May 3 and continues till 23:00 UTC on May 8. The second runs between 0:00 UTC on the 10th of May and 23:00 UTC on May 15. And the final period goes from 0:00 UTC on May 17 till 23:00 UTC on May 22.
The prize pool of 120,000 euros is combined from several prize pools.
How to Participate and Win
To take part in tournaments, players don't need to pay any entrance fee. Neither do they have to opt-in. Here's how to get started:
Sign up or log in at a participating casino.
Make a real money deposit.
Open a qualifying game from Booongo.
Make a minimum of 100 spins at a minimum bet of 0.50 EUR.
Players can play for as long as they want and at as big a bet as they desire. But in order to qualify for any tournament prizes, players need to pass the qualification stage. It includes making a minimum of 100 spins at bets of 0.50 EUR or more.
Besides, only wagers that are equal to or higher than 0.50 EUR will qualify for points accumulation.
Depending on the tournament of the day, you need to collect points according to the rules:
Make the highest payout in a single round to collect points. 1 EUR = 1 point.
Make the highest multiplier in a single round to earn points. 1x = 1 point.
To win in each Regular Tournament, players need to get points for the highest single round payout (HSRP) or the highest single round multiplier (HSRM).
To get the highest payout, you need to place bigger wagers. But do it only if you can afford it.
And to get the highest multiplier, you can place bets as small as 0.50 EUR. The idea is to get the max multiplier.
Regular Tournaments Schedule
All regular tournaments in each of the 3 series run from 00:00 UTC to 23:00 UTC on the same day.
The conditions for winning each tournament change alternately. Thus, on May 3, you need to score the highest single round multiplier. The next day, on May 4, you need to score the highest single round payout. May 5 — HSRM. May 6 — HSRP, and so on until the end of the promotion on May 22.
Series Extra Leaderboard Points
Players can collect extra points for certain achievements. For example, for passing qualification, a participant gets 200 points on top of the general score.
For every 100 EUR wagered during all regular tournaments, players can receive 1 point. Therefore, if you bet 1,000 EUR in all tournaments, you can collect extra 100 points.
Besides, players will earn points for their leaderboard positions in Regular tournaments:
1st place — 1000 points.
2nd place — 500 points
3rd place — 250 points
4th-5th places — 200 points
6th-10th places — 150 points
11th-100th places — 50 points
100th-200th places — 30 points
During the entire promotion, players can accumulate these points and win extra prizes. At the end of the promotion, one player who accumulates the biggest score will take 1st place in the Series Extra leaderboard and get the biggest prize from the 30,000 prize pool.
Prize Pool Distribution
The total prize pool of 120,000 EUR is combined from the pools of regular tournaments and series leaderboard.
Each Regular Tournament has a prize pool of 5,000 EUR. There are 18 tournaments and 90,000 EUR in total. The cash prizes in each regular tournament are given out in the following manner:
1st place — € 500
2nd place — € 300
3rd place — € 250
4 – 5th places — € 75
6 – 10th places — € 50
11 – 20th places — € 30
21 – 100th places — € 25
101 – 150th places — € 15
151 – 200th places — € 10
The Series Leaderboard has a prize pool of 30,000 EUR that is spread among winners as follows:
1st place — € 1000
2nd place — € 800
3rd place — € 700
4 – 5th places — € 500
6 – 10th places — € 200
11 – 20th places — € 75
21 – 100th places — € 50
101 – 150th places — € 25
151 – 250th places — € 15
Rules of the BNG Birthday Promotion
If you are planning to grab some cash from Booongo tournaments, you need to comply with the rules.
First of all, you need to wager only real money on games. Bonus money won't count for points accumulation. Secondly, you must be qualified in order to claim any prize.
Once you are in, you will get the personal ID for the leaderboard. The current leaderboard status can be found in any of the participating games: Dragon Pearls, Black Wolf, 15 Dragon Pearls, 3 Coins, Tiger Jungle, Cashien Wealth, Aztec Sun, Sun of Egypt, Sun of Egypt 2, Pearl Diver 2, Sun Of Egypt 3, Gold Express, Magic Apple, Hit the Gold, Queen of the Sun.
Both tournament leaderboard and series leaderboard are seen in a participating game.
Wish Happy Birthday to Booongo!
Booongo is 7 years old now, so make it a little happier on this special day. Play the best games from Booongo and try out some new slot titles as they also participate in the promotion. Don't miss the opportunity to win on slots and grab extra cash from tournaments!
Rate this post, please:
5
4
3
2
1
FAQ
Yes, you can. Booongo games are available for free both on desktop and mobile devices. So if you want to test them before placing real money bets, do it. Just open any BNG game in demo mode and enjoy.
If you simply want to play Booongo games, you can use the bonus money on them. But if you are going to participate in the Booongo promotion such as Happy BNG Birthday, you can not use bonus money. Only real money wagers qualify for the offer.
Recently. Booongo has released 3 slot titles. These include Sun of Egypt 3, Pearl Diver 2, and Caishen Wealth. All of these games are available for free and for real money at the best BNG casinos in Canada. Try them out and grab your wins.
More articles on gambling topic