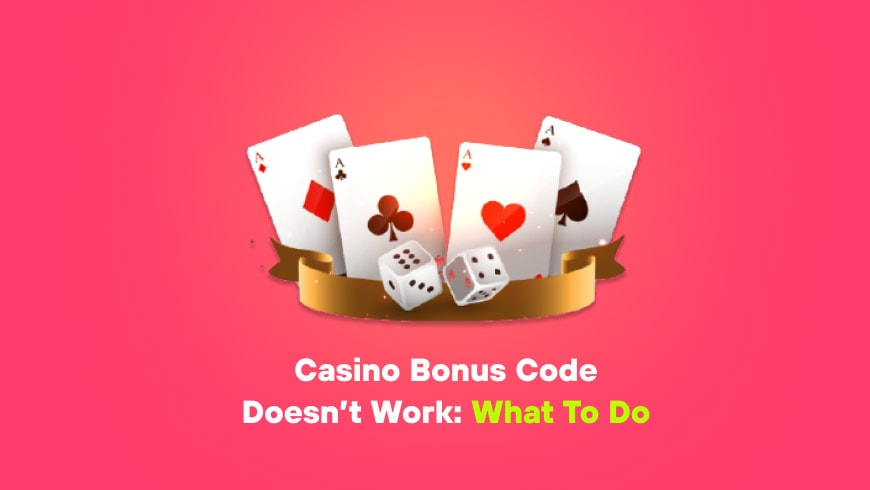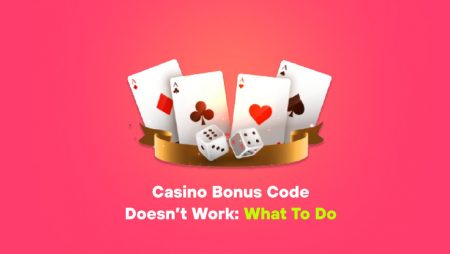 While some players are eager to find an exclusive bonus code, others don't really like casino bonus codes because they've had a negative experience. Although it's a rare case, sometimes your promo code may fail. As a result, you don't get any extra funds that you were supposed to get. There are some tips to use so that you resolve the issue in a few seconds. Read till the end to find out all possible options.
Bonus Code Online Casinos
Not all online casinos require players to enter bonus codes. But there are sites where it is obligatory in order to activate a bonus. Besides, these online casinos offer exclusive bonus codes that you receive on your email, so make sure to subscribe to their newsletter.
How to Use Casino Bonus Code
Online casinos give detailed instructions on how you should use a bonus code. So you're left to read the terms carefully and follow these instructions. Anyway, let us give you the guidelines that you can follow when claiming your bonus:
Log in to your casino.
Head to the deposit section.
Enter the required information such as the deposit amount and the payment method.
In the special promo code field, enter the bonus code. Make sure to type it right in capital letters.
Confirm the transaction.
This is all you need to do to use the bonus code. However, your bonus may still be not activated. Why so? Read below.
Things to Do When Bonus Code Doesn't Work
There are different cases, in which bonus codes might not work for your account. So we advise you to check the following.
Did you opt-in for the promotion?
Most codes are applied automatically when you enter them in the bonus code field when making a deposit. But there are cases when beyond using the code, you also need to opt-in for the casino promotion. Try to do the following:
Log in to your casino.
Head to the promotions page.
Or check out if there's a pending offer in your profile.
Click on "Opt-in" or "Claim Now" or whatever it says.
If your bonus requires opt-in, this will be enough to activate your bonus code and have fun.
Has your deposit been credited?
Sometimes, payment methods don't work as you want them to. For example, bank cards may not work simply because your bank blocks any online betting transactions. The same can be with bank transfers, e-checks, and etc. In this case, consider selecting a different option.
Fortunately, most Canadian online casinos accept multiple deposit methods such as:
E-wallets. One of the most popular deposit and withdrawal methods is e-wallets. You can try Neteller, PayPal, ecoPayz, Skrill, and others to make a deposit. However, be careful with Neteller and Skrill deposits. Some online casinos don't release bonuses to players who've used these options.
Prepaid Card. Prepaid cards or vouchers such as Neosurf or Pinpurchase. In just a few seconds you can upload your casino account balance and play games.
Boku. Boku casinos Canada allow you to deposit using your mobile billing operator. It's safe, easy, and fast.
Try to switch a payment method if yours doesn't work. Then, you have a chance to save your bonus code.
Should you try a different credit card?
In fact, we don't recommend using a credit card for your deposit at all. Because credit card deposits usually count as cash advance charges, you will probably need to pay fees. Besides, if your first credit card automatically blocks the transaction, your alternative credit card will probably be blocked too.
Casino deposits via bank cards, credit and debit, often get rejected by banks, as we already mentioned earlier.
Does your casino activate the bonus instantly?
In most cases, online casinos activate deposit bonuses instantly, that's true. But there are casinos that don't release bonuses instantly. For example, before receiveing a bonus, you need to wager your deposit a few times. Only then, the casino will credit the bonus money to your account.
We just remind you one more time that you need to read the bonus rules to understand how to use bonuses and how to activate them.
Are you placing qualifying bets?
Make sure to always place qualifying bets when using a bonus. Some online casinos get you automatically opted out of the promotion just because you wager higher or lower than is necessary.
So once again, check the rules to know how much you can wager, what games you can play with the bonus, and etc. Because of such a little mistake, you can forfeit your bonus and deactivate the code.
What Else Can You Do?
If all these tips we gave above don't help you claim your bonus, there are two more options to try.
Contact customer support
First of all, when reaching out for support, you should be polite. Your negative comments will not help you. So calm down if you are frustrated about not having your bonus and write a message to the live chat or email.
Explain the situation in detail and ask them to solve the issue and let you use the bonus on their games. This may take time depending on how the support works on your casino. If you don't want to wait till the manager replies, you can choose the alternative option that we suggest below.
Try a different casino
Yes, you can simply go for a different online casino, especially if you have such a big selection of gambling platforms in Canada. Choose a reliable casino site that we recommend on our website. Carefully read the reviews to find your best casino site.
At the Bottomline
There are so many casino offers, especially during this festive season. Some of them require using a bonus code, while others are credited to your account automatically. Use it right to avoid forfeiture of your bonus. Or you can try asking your customer support manager for help or switching to a different casino with better offers.
Rate this post, please:
5
4
3
2
1
FAQ
If you want to receive extra money and free spins, yes, you have to use a bonus code. But only if your casino requires you to use the code in order to claim the bonus. Some online casinos let players claim bonuses without a bonus code.
Depending on which methods your online casino offers, you can contact the team via different sources. Most online casinos have live chat that works 24/7, which means you won't be waiting for the answer for too long. You can also write an email to their email address. Some casinos allow players to make a phone call.
In the post, we've mentioned a few situations that can lead to the failure of the bonus code. But if these situations are not your case, then there's probably a technical issue. Try to contact support service to resolve this problem.
More articles on gambling topic