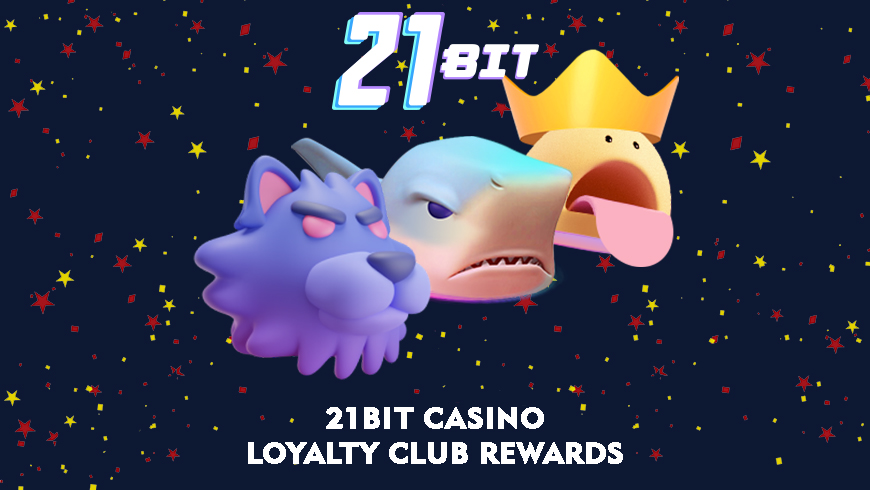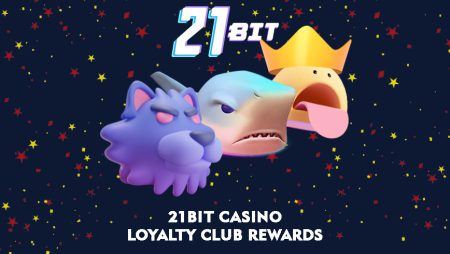 The best loyalty club for crypto players is designed by 21Bit Casino. This gambling platform accepts only crypto, which means all rewards are given in crypto as well. So if you are looking for the best casino club to join, consider 21Bit. As a loyal player, you will be receiving free spins, cashback, and more.
How 21Bit Loyalty Club Works
Before you sign up and get enrolled in the rewarding program, you should know how it works and what you need to do to progress.
21Bit casino has a loyalty club with 8 levels, through which you should move in order to get rewards. Players are required to earn comp points by wagering real money in video slots.
CA$38 in real money wagers grants you 1 loyalty point. Of course, you can bet with a cryptocurrency equivalent to CAD. It depends on which crypto you use. 21Bit Casino has cryptocurrency exchange rates in terms. So don't forget to familiarize yourself with the rates. For example, a bet of CA$38 will cost you a bit less than 0.00118 BTC.
The following number of points is necessary for ranking up:
1 Level: 0-4 Points
2 Level: 5 – 39 Points
3 Level: 40 – 399 Points
4 Level: 400 – 3999 Points
5 Level: 4000 – 7999 Points
6 Level: 8000 – 19,999 Points
7 Level: 20,000 – 39,999 Points
8 Level: 40.000+ Points
Mind that only real money slot wagers count towards earning loyalty points. Other games such as video poker, roulette, craps, blackjack, baccarat, different table games, and live casino games won't do. This is why if you aren't a slots fan, you might not have a lot of benefits from the program.
Upon reaching a certain level, a player gets a level-up reward. The higher you climb, the bigger your rewards.
21Bit Loyalty Levels & Rewards
The rewards at all 8 levels are different and depend on the rank you reach. To get started, make sure to sign up at 21Bit Casino via the official "Play Now" link:
New Investor
Beginners that accumulate from 0 to 4 points don't get any rewards because they have just started playing for real money. But the good news is that new players have to wager only CA$190 to level up.
Shareholder
As soon as you reach this rank by collecting 5 loyalty points, you will get 100 Free Spins on Dig Dig Digger.
Daytrader
Upon reaching the third level with 40+ points, your reward is 200 Free Spins on Deep Sea. Besides, you are allowed to exchange loyalty points for a cash bonus at a 100:1 rate.
Crypto Shark
When you earn 400+ loyalty points, you can receive multiple rewards. The first reward is a cash bonus of $150 and 100 free spins on Magician's Secrets.
As soon as you reach the sublevel Crypto Shark Pro with 2,000 loyalty points, you get extra 100 free spins for Elvis Frog in Vegas.
In addition, you can exchange Loyalty Points for cash at a lower rate of 90:1.
Executive Club
Once you collect more than 4,000 points, 21Bit gives you a 15% daily cashback on losses with a 3x wagering. Mind that the minimum daily loss should be $75 and the maximum cashback amount is $375.
On top of that, you receive 100 free spins on Rise of Maya, and your points exchange rate reduces to 80:1.
There are two sublevel rewards you can reach until you earn 7,999 loyalty points. The first reward of 200 free spins for Zorro Wild Heart is when you collect 5,000 points and reach the Exclusive Club Middle sublevel.
But when you collect 6,000 points, you are eligible for the Exclusive Club Pro reward of 200 free spins on Fire Lightning.
Crypto Millionaire
As soon as you earn more than 8,000 points, you become a Crypto Millionaire and are eligible for greater rewards. First of all, your cashback increases to 17%. You can use it every day provided your minimum loss per day is $150. The maximum cashback amount is $750 with a wagering requirement of x3.
Besides, you get 100 free spins on Book of Pyramids, and you are allowed to exchange points for cash at a rate of 70:1.
Again, there are two sublevels and two rewards. Once you earn 10,000 points, you get 200 free spins on Aztec Magic as a Crypto Millionaire Middle reward.
And when you collect 15,000 points, you can claim a Crypto Millionaire Pro reward which is 200 free spins for Candy Monsta.
Bit Billionaire
Your rewards are getting bigger as you achieve the status of Bit Billionaire at level 7. By collecting 20,000 loyalty points, your daily cashback increases to 19%. The minimum loss per day also increases to $300. But the maximum cashback amount is even higher — $1,500. Mind that it must be wagered 3 times.
As a Bit Billionaire, you also get 100 free spins for the Road to Riches slot, and your exchange rate reduces to 60:1.
The 7th Level has three sublevels, upon reaching which you get rewarded:
Bit Billionaire Junior. 200 free spins on Book of Cats when earning 25,000 points.
Bit Billionaire Middle. When you collect 30,000 points, you get 200 free spins on Aloha King Elvis.
Bit Billionaire Pro. 200 free spins on Deep Sea are yours once you earn 35,000 loyalty points.
Wolf of 21Bit
On the final level, you become a wolf of the online casino. To reach this level, you must acquire 40,000+ loyalty points.
This time, your cashback is 21% on daily losses. Mind that your minimum loss per day must be $1,500, while the maximum cashback amount is $2,500. It is subject to 3x wagering.
On top of that, you receive 200 free spins on Aztec Magic Deluxe, your exchange rate reduces to 50:1. Plus, you get extra personalized bonus offers.
Loyalty Club Terms
There are rules for participation in the club. Make sure to understand them all before you sign in for the program. Here, we've collected the most important points:
Bonus money resulting from loyalty points exchange is subject to a 10x wagering requirement.
The maximum bet when wagering is CA$7.5.
Bonus money bets do not count towards points accumulation.
The minimum amount of loyalty points eligible for exchange is 5,000.
If you don't play for more than 3 months, the accumulated points will be deleted from your account.
If you agree with the terms and conditions of the loyalty club, then don't wait any longer and try it!
Get The Best Rewards!
This is a perfect loyalty program for crypto depositors. 21Bit Casino rewards players for being active players with big sets of free spins, high cashback, and exclusive offers. If you are eager to use all of these loyalty bonuses, go ahead and play at 21Bit Casino!
If you are looking for online gambling no verification, you should consider 21Bit Casino. Read the detailed review of the platform on our website.
Rate this post, please:
5
4
3
2
1
FAQ
No, you can't. 21Bit Casino gives loyalty points only for playing slot machines. Besides, only real money bets count towards loyalty points accumulation. So if you love slots, you can progress very quickly. However, if you prefer live games, you shouldn't have high hopes for the loyalty club rewards.
No, they don't. You cannot use any bonus money to collect loyalty points. 21Bit casino allows only real money bets for points accumulation. So neither bonus money, unwagered cashback, nor free spins will do.
The amount of daily cashback depends on your loyalty rank. It starts from 15% on level 5 and increases to 21% on level 8. The maximum amount of cashback also grows with your status. For example, on the final level, you can get up to $2,500 as cashback.
More articles on gambling topic