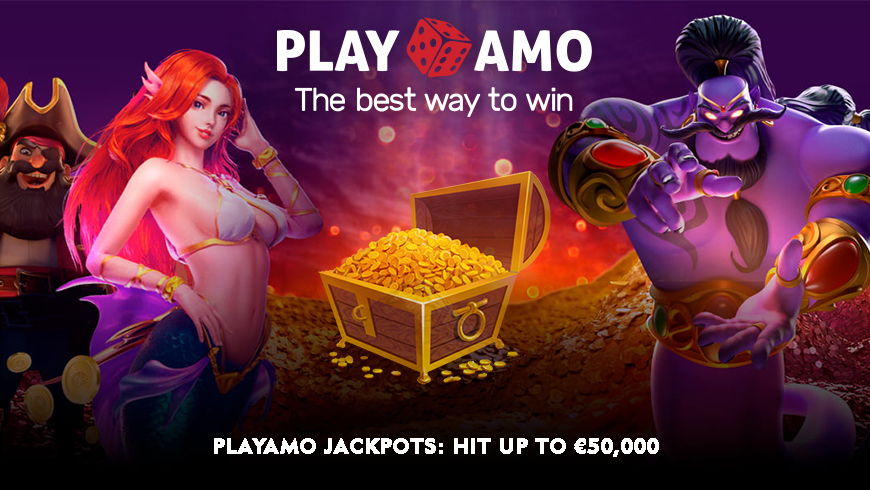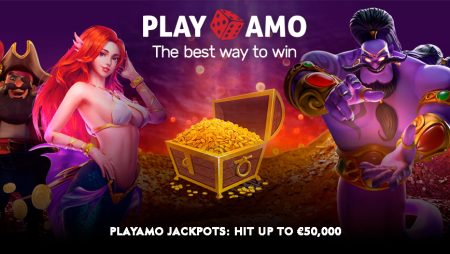 One of the most trusted casino websites, PlayAmo has launched a great promo, where players compete for a chance to hit a jackpot. The good news, there are THREE jackpots, minor, major, and grand. This means you have more chances to win pure cash. The maximum prize is €50,000, and it will certainly be hit by a lucky player. Join the PlayAmo Jackpots, play games, and win your cash!
How to participate in PlayAmo Jackpots
If you aren't yet familiar with PlayAmo Casino, go sign up now via the Play Now link. It's a reliable online casino in Canada that ensures fair and fast payouts. Check out the casino review on our website if you have doubts.
Once you provide your information and complete registration, you can get to participate in the offer:
Pick any game you like in the lobby of PlayAmo. Slots, live games, table games, everything qualifies for this promo.
Place a real money bet of 2 EUR or more.
The PlayAmo Jackpots' mechanism will randomly pick a winner!
That's it. In other words, you don't have to opt-in for the promo or take any extra steps. All you do is play games as you normally would. You win, lose, and have fun, but at this time, you have a chance to win one of the three real money jackpots on top of your regular winnings.
What is PlayAmo Jackpots?
We should have started with this, but it's way more important to find out HOW to win a jackpot instead of what the promotion is in general, isn't it? Anyway, let us tell you more about this awesome promo that all PlayAmo players have been waiting for.
PlayAmo Jackpots is a promotion with three separate jackpot levels and prize pools:
MINOR: 500 — 1,000 EUR
MAJOR: 5,000 — 10,000 EUR
GRAND: 30,000 — 50,000 EUR
Each jackpot level has a minimum and maximum limit. The casino guarantees that a jackpot, be it a minor, major, or grand, will be drawn until the maximum limit is reached. And the draw will not begin before the minimum limit is reached with the players' bets.
In other words, you can win a jackpot only when the prize pool stands between the limits. Each prize pool grows depending on the size of the participants' bets. No additional cost is charged. So you just play games as usual, and a part of your bet will be gone to the jackpot prize pool. But the RTP of the games you're playing won't be changed.
Participants will see the current jackpot levels and prize pools at the top of the screen when playing for real money. Though the display may have a delay of 15 seconds maximum.
PlayAmo Jackpots qualification
Of course, you can participate in the offer and be eligible for the jackpot win only if you qualify.
You automatically take part in the promotion if you have an account with PlayAmo casino and you are of legal gambling age according to your country's regulations. In Canada, people can start gambling at age of 18, but some provinces allow gambling from 19 years old. You must also be allowed to play, meaning you have not been excluded from the casino.
There are certain criteria for bets that qualify for this promotion. Surely, only real money placed in games will count toward a jackpot win. If you have bonus money, you're advised to spend it and then concentrate on PlayAmo Jackpots.
The minimum size of the bet depends on the prize pool you're willing to hit:
If you want to win a minor jackpot, you should wager at least 2 EUR.
If you can afford bigger wagers, then bet at least 10 EUR to qualify for the major jackpot.
And if you place at least 20 EUR per spin, you will contribute to the grand jackpot hence you have a chance to hit the biggest win.
Of course, you can wager in your fiat money equivalent. The casino accepts CAD as well as many other currencies. To make sure you qualify for the PlayAmo Jackpots, contact the team via chat and ask what minimum bets are allowed in Canadian dollars.
You can play any games you like to qualify for the win. If you love slots, go ahead and pick your favorite one. If you prefer live roulette, there are lots of options at PlayAmo. Well, you've got the idea.
PlayAmo Jackpots winners
Mind that this promotion doesn't have an expiry date. It means that as long as it's active, you can get lucky and win the jackpot. The team of PlayAmo will decide when to cancel the promo, but until then players are free to hit the prizes.
Once any of the three jackpot pools step over the minimum hit limit, every bet can grant you a win. The mechanism will pick any random winner at any random time, so you'd better be a lucky guy.
Mind that the winners will get a notification via email. Don't forget to subscribe to PlayAmo's newsletters.
The prize will be awarded to the winner automatically in the form of a bonus. The winner, in its turn, has 14 days to activate the bonus in his account. Once it's activated, it's free to cash out. It doesn't have any wagering requirements, but there are withdrawal rules.
Since PlayAmo Jackpots are not progressive jackpots, they aren't subjects of one-time withdrawal in full. In other words, you will have to cash out your prize according to the withdrawal policy:
4,000 EUR a day
16,000 EUR a week
50,000 EUR a month
Any winnings will be first verified by the casino team. If they don't suspect you of fraudulent activity, the winning will be paid out according to the rules. Check all the rules and casino terms before participating in the promotion.
Hit your jackpot!
This is a truly nice campaign from PlayAmo, casino no ID required. Players can win not only the money they get playing but also the jackpot prizes. Every second, the prize pools get closer to their minimum limits. Now it's your time to join the competition and contribute a bet that will eventually get back to you together with the entire jackpot pool.
Rate this post, please:
5
4
3
2
1
FAQ
No, they don't. If you win a PlayAmo Jackpot, it will be credited as a bonus. But you need to activate it within 14 days. Once you do that, the prize will be converted into real money. And you will be free to cash it out.
Only bets made with real money qualify for PlayAmo Jackpots. But according to bonus terms, when you have an active bonus, you first use your own money, then the bonus money. Therefore if you win a PlayAmo Jackpot, your case will be solved individually. Don't forget to contact the team and ask for more details.
No, you don't. The participation starts automatically once you sign up and play games for real money. But make sure to place qualifying bets according to the rules of the campaign.
More articles on gambling topic