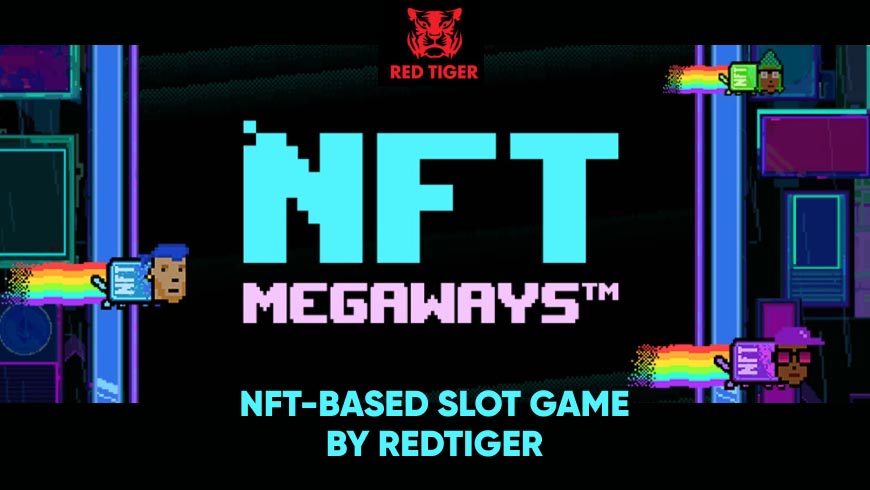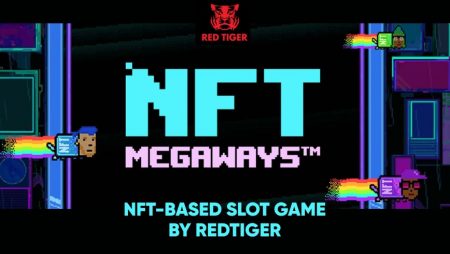 The future is already here. Even software providers integrate NFTs and the crypto world in their games. Nowadays, not only bets can be made in cryptocurrency but also the slots can be made with crypto in mind. We're telling you about the new world's first casino game featuring unique digital artworks called NFT. If you've already bought one or just planning to, you will enjoy the NFT-based slot from Red Tiger. In case if you don't know what it's all about, just try the game and take a step to the future.
RedTiger Casinos in Canada
Pick any casino and just search for the NFT Megaways slot. Red Tiger released the game this fall so that many online casinos in Canada should already have access to the game. Below, you can find the slot review.
World's First NFT Slot
Red Tiger is an award-winning software developer that is now a part of Evolution Group. In September 2021, it announced the release of the first-ever slot game to integrate non-fungible tokens (NFT).
The game features the major symbols of four CryptoPunks created by Larva Labs. To integrate the earliest examples of NFTs in the game, Evolution Group purchased the digital artworks with proof of ownership.
The slot features the Megaways mechanics in addition to the 6×7 grid, on which you can win cash by collecting the pixelated symbols in the matching line. Follow the review below to find out how to win on the NFT-based slot.
NFT Megaways Review

NFTs are just pieces of digital content that can be sold and purchased within the blockchain. If you buy it, you become its owner meaning no one else is having it but you. You can see some examples of NFTs on the reels of the slot.
NFT Megaways is an online slot that focuses on the cryptocurrency world and the memes that are somehow connected with the theme. The game welcomes you to the main area with 6 reels and up to 7 rows. There is one more horizontal reel showing 4 symbols; it's the CryptPunks Bar, and you're going to love it once you see its effect.
Although the theme of the game is more about cryptos, the slot will take many players back to the good old times of video gaming.
Payout
Regardless of which aspect of NFT Megaways you like best, the old or modern, there is one thing that all players have in common. It's the payout and the technical side of the game. NFT Megaways is a high volatility online slot with an RTP of up to 96%, depending on the casino operator.
You can play the game on any device including Android and iOS-based smartphones and tablets. The stake limits range from €0.10 to €20 per spin. According to Megaways rules, you can land a win on any of the 200,704 ways. So the chances are higher!
Symbols
There are two types of regular symbols. Ones that display cryptocurrency and ones that feature NFTs. The former symbols are low-paying: Ethereum, Bitcoin, Litecoin, and Dogecoin. The NFT-based symbols pay higher. These include Shiba Inu, Tesla's Cybertruck, Mona Lisa in Thug Life sunglasses, diamond hands, and Twitter's Larry the Bird.
The symbols can be either small or big covering two or even four positions, which is why you have all chances to make a winning combination.
NFT Megaways Special Features
Among the special features of NFT Megaways, there are wild multipliers, chain reactions, and Crypto Spins. Thanks to the chain reactions, winning symbols are removed from the grid after the payout and followed by the new symbols meaning players have more chances to win within a single spin.
Wild symbols
In total, there are four wild symbols on NFT Megaways. They are called Crypto Punks and they can only land on the horizontal bar above the reels. As a rule, the wild symbols substitute for all regular symbols. But that's not all. When wild symbols come in a winning way with the symbols from the reels, the activated Crypto Punk collects them and adds a multiplier to the payout. For example, if you land a Crypto Punk in a combination with 5 low-paying symbols, you get the x6 multiplier.
Free spins
A combination of Crypto Spins symbols triggers a bonus game. It's a scatter symbol, and as usual, you need to collect from 3 to 6 of them to win 10, 15, 20, or 25 free spins. Once you activate the bonus round, you will see 4 Crypto Punk meters on the side of the reels. These wild Crypto Punks build multipliers up to x30 and stay in the game until the free spins end. However, you can retrigger up to 20 free spins by landing more Crypto Spins.
At the Bottomline
It seems that nothing can surprise us anymore in 2021 after the cryptocurrency rise, non-fungible tokens, and other innovations. But Red Tiger released a slot that features all of these themes and made it playable with cryptocurrency bets. If you are familiar with the matter, you can just pick a cryptocurrency casino site and play NFT Megaways to win even more cryptos.
Playing NFT Megaways is exciting and rewarding, especially during the Crypto Spins session where the Cyber Punks accumulate decent multipliers until the end of the round. One can be lucky enough to hit the maximum of x10,500 his stake.
If you are looking for gambling platforms where you can gamble with cryptocurrency, check out the article about online casino no ID. Most bitcoin casinos don't require players to send verification documents, which is their key feature.
Rate this post, please:
5
4
3
2
1
FAQ
Yes, they can. Every online casino has its edge. This is why they can adjust the RTP a little bit. Some casinos will offer a 96% payback on NFT Megawaysm while others will offer only 94.5%. Therefore, we suggest that you check for the RTP before playing the slot for real money.
Yes, of course. NFT Megaways is available on all mobile online casinos that offer Red Tiger slots. Check if your casino partners with Red Tiger or Evolution Group. Or you can pick a mobile site that we recommend on our website.
Online casinos usually let you play slot games for free without registration. So before playing NFT Megaways for real money, you can practice it in a demo version. Check it out on any online casino site in Canada.
More articles on gambling topic