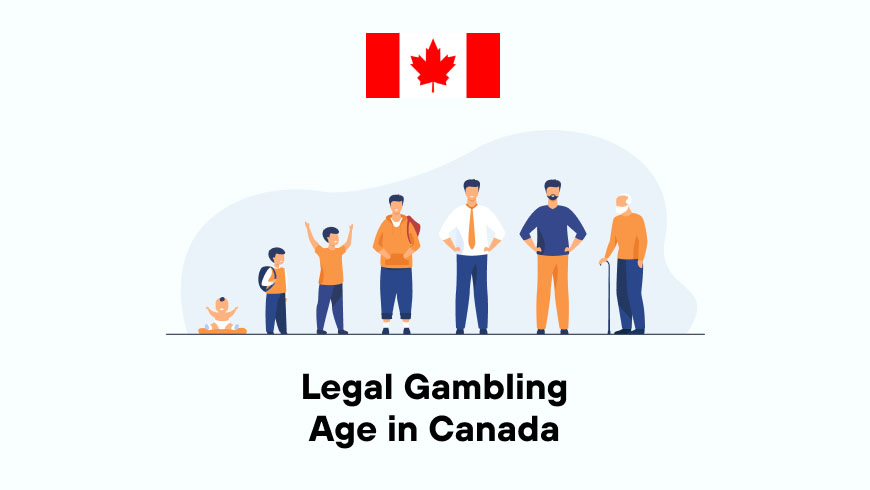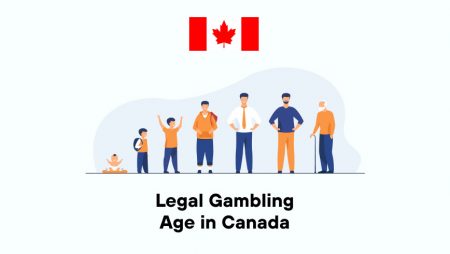 Gambling has always been treated as something half-illicit like alcohol, smoking, and drugs. Obviously, the major common thing between them all is addiction. And if you gamble while being underage, you can get into serious trouble, not only with your parents and government but also with your own mental health. So, be careful and responsible when you decide to try gambling. Read today's post, in which we cover the topic of the legal gambling age in Canada.
19+ Online Casinos in Canada
The advised top 10 online casino sites are licensed and regulated by the major gambling authorities. They are legally approved in Canada which is why they only accept players that are over 18 or over 19, depending on the regulations of your province. On our website, we review reliable online casinos that comply with the state laws of the country you are gambling from. So, if you don't like any of the top 10 casino platforms above, you can visit our "Casino Reviews" page and find a licensed casino site that suits your needs and preferences.
Legal Gambling Age in Canadian Provinces
In Canada, citizens should follow not only the regulations of the country but also those made by their provincial and territorial governments. For the most part, people who have turned 19 can gamble online and in casino establishments. A good example of it is the gambling age in Toronto where people can gamble starting from 19. But if you are from Quebec, for example, you are allowed to play casino games being over 18. That being said, the legal gambling age in Canada varies geographically.
Once you turn the legal gambling age, you can do the following things: enter casinos, gamble online, play provincial lotteries, buy scratch tickets, bet on sports, and do anything of a kind.
If you aren't sure that you can gamble online within the borders of your province, here's a full breakdown of each Canadian province and territory and their legal gambling age:
Ontario — 19
Quebec — 18
Nova Scotia — 19
Newfoundland — 19
Prince Edward Island — 19
New Brunswick — 19
Manitoba — 18
Saskatchewan — 19
Alberta — 18
Northwest Territories — 19
Yukon — 19
British Columbia — 19
Nunavut — 19
Now you can see that the legal gambling age in Ontario is different from that in Manitoba. Hopefully, you can understand what the legal gambling age is in your province or territory, you can estimate whether you can gamble right now, or you need to wait one or more years till you can legally visit gambling venues in your town.
As a rule, in all casinos in Canada, age limit restrictions must be observed. So, when you decide to gamble online or offline, make sure to have your ID on you. Many casino operators would like to check it prior to letting you play slot machines and other games.
What Casino Game to Play for the First Time
When you visit a gambling establishment or a casino website for the first time, the first thing that you see is a lot of games shining bright and calling you to play them. And you start imagining how much money you can win by simply playing these fruity titles. But this is a catchy situation because, first, you need to familiarize yourself with the gambling world.
First-time gamblers are advised to start with low-cost games in order to practice gambling and see what it really is without a big risk to their wallet. The best option to start with would be slots. If you are more into card games, you can try some low-minimum table games such as roulette and blackjack.
As you grow more in your gambling experience, you can try higher stakes at the same games. Or you can pick titles with a higher minimum stake limit. Such games as poker, for example, require you to have enough in your budget to hold out the game round till the end.
Tips for First-Time Gamblers
To smoothly let you in the gambling world, we encourage you to follow our tips. These pieces of advice will help you remain emotionally healthy, play games with ease and fun, and have a positive experience and background about gambling.
Play at the licensed casinos only. While land-based casinos can be more trusted as they are physically established, online casinos can be fair and unfair. Always check that a casino has a license and provides its services officially and legally.
Try free games first. At online casinos, you can play games for free. This allows players to familiarize themselves with the games and practice a bit before real-money gambling. Free gambling doesn't involve risks which is why it's totally safe.
Start with low-stakes. Real money gambling feels different from free gambling because this time your own money is on the table. If you lose, you are broke whereas if you win, you are richer than before. This is a double-edged sword, you never know what side your luck turns. To minimize your risks, make low wagers.
Set your gambling budget. This is a tip for all gamblers, not only those that play for the first time. All casino players are advised to set their gambling budget and stick to it. For example, you give yourself only $100 to gamble each day or each week. Therefore, you should not wager more than $100 during the fixed period of time. If you lose the entire gambling budget away on games, then do not chase your losses. Simply wait till the next budget period starts.
Conclusion
When you make your first step into the gambling world, whether it is online or on land, you need to be very cautious. One wrong move and you can easily fall into addiction, debts, and mental disorders.
Gambling is addictive, and that is why all legal casino operators appeal to responsible gambling. On each casino website, you can find a warning sign "gamble responsibly" because they want you to enjoy games, not to chase riches.
If you are aware of all risks and ready to make your first bet, make sure that you comply with the legal gambling age restrictions in your province or territory. Find the casino that suits your preferences and gamble responsibly.
Rate this post, please:
5
4
3
2
1
FAQ
Although online casinos are established overseas, they still comply with the regulations of the country you live in. That is why, if you live in Canada, you can gamble online at the age of 18+ or 19+. It depends on your province or territory. If your provincial laws do not allow you to gamble at 18, you cannot visit gambling websites and play games for real money.
Ontario's government allows gambling in the local casinos, lotteries, and online casinos if you are over 19. The same restrictions apply to drinking alcohol. If you want to gamble at 18 years old, you can travel to Alberta, Manitoba, or Quebec and try their casinos. But we recommend waiting a few months till you turn 19.
The most common penalty for underage gambling is a fine between $500 and $1,000. However, the court can make a different decision in your case. So, you should not gamble underage and cause additional problems for your parents and yourself. Besides, if you get caught gambling, you can have serious consequences within your family. For sure, it depends on what your family members think about gambling.
More articles on gambling topic