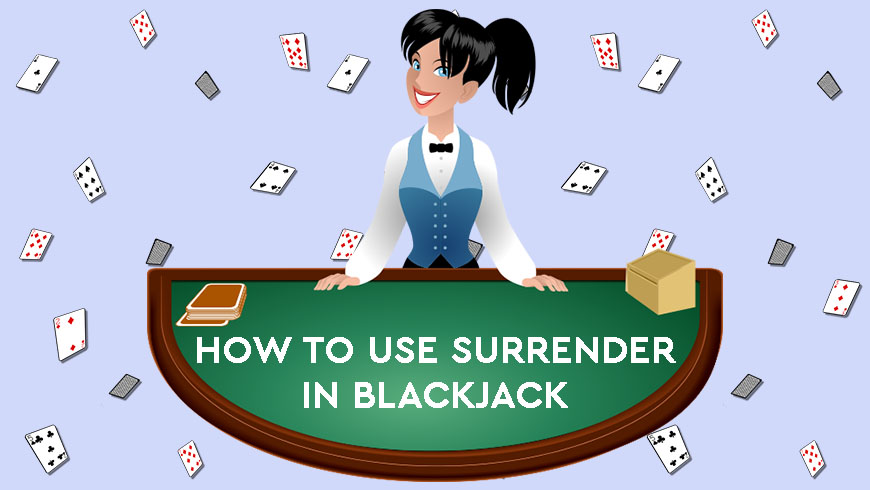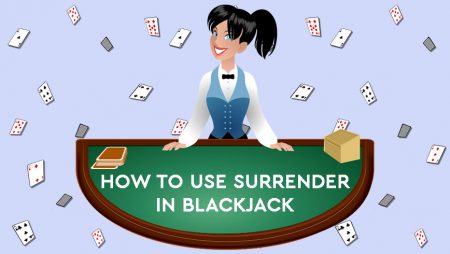 Because there are so many variations of Blackjack, players may get easily confused and lose more than they could if they knew the right moves. Whenever you play Blackjack with a surrender feature, you can use either early or late surrender to your advantage. But if you don't use it properly, you can significantly lose over the house. In other words, we recommend playing Surrender Blackjack only when you know how to use the feature right. And this post is exactly about this.
Blackjack Online Casinos
Most Canadian gambling platforms offer table games including blackjack variations aside from online slots and other games of chance. Whether you love live blackjack Canada or its RNG-based version, you can find a lot of options at the best online casinos in Canada. Just pick your favorite casino relying on our casino reviews and play blackjack.
What is Surrender Feature?
Surrender in blackjack is just an optional rule that appears after you have seen your cards and the dealer's face-up card. You can use it to give up half your bet if you feel unsure about the outcome.
For example, you can use the surrender option when your hand has less than a 50% chance of winning.
Besides, there are two types of surrender, early and late, which you can use appropriately. Below, we will explain both types, their differences, and the right usage.
Early Surrender in Blackjack
Early surrender allows players to give up half their bet before the dealer checks all his cards. This type of surrender is perfect for the house because players surrender half their bet on bad hands against a dealer's face-up card.
Early surrender appeared in the late 70s when the Casino Control Commission and early US casino operators had discussions. They came up with the decision to integrate early surrender in blackjack because of the liberal rules it offers.
This feature gives 0.6% to the house edge, but even when using a basic blackjack strategy, players can have a small advantage over the casino.
Nevertheless, you can barely find a blackjack game with the early surrender feature in land-based venues. It's difficult to find online too. But if you open such a game, you need to check all the rules carefully. It's likely that online casinos tweak the rules for early surrender blackjack in order to still have an advantage over players.
Here's when the use of early surrender is right:
When you see that the dealer's up card is 10, you can surrender 14, 15, or 16.
If the dealer's card is an ace, you can consider surrendering 5, 6, 7 and 12, 13, 14, 15, 16, and 17.
When the dealer hits soft 17, you can surrender 4.
Late Surrender in Blackjack
Late surrender differs from the early one in that players can surrender half their bet after the dealer checks the second card.
This type of surrender gives players more chances to win over the casino. The house edge drops to almost 0.20% when the late surrender option is used properly. So players can intentionally use late surrender in blackjack to decrease the house edge.
You can easily find online blackjack with late surrender. But still, make sure to understand the rules of the chosen game.
It's best to use late surrender on any hands where your chances of winning against the dealer aren't at least 50%. Here's when you can use the late surrender:
If the dealer's face-up card is 9, you should surrender 16 only. Plus, make sure that the game has 4 or more decks.
If the dealer's card is 10, then surrender 16 and 15 unless you are playing a single deck blackjack.
When the dealer has an ace, it depends on what the house hits, soft 17 or stand. If the rules say that the casino stands on all 17s, then you can surrender 16. But if the casino is supposed to hit soft 17, then you should surrender 15,16, and 17. In this case, it doesn't matter how many decks are in play.
"Dependents" in Blackjack Surrender
More seasoned players can be interested in so-called total dependent and composition dependent rules that help make the surrender decision. However, if you are just starting out, you don't need to go deep down. Anyway, here's the basic information on the rules.
The surrender rules that we mentioned above suit for a total dependent. It means that you need to know the totals of your cards to make the decision whether to use surrender or not.
But there are also rules for composition dependent surrender. For example, when you have a 9 and a 6 against an 8 and 7, they total 15, but they are composed of different numbered cards. According to composition dependent rules, you should surrender 9, 6 in a single-deck game but play out an 8 and 7.
In fact, blackjack payout has many exceptions that a player can consider when making decisions. But it can be confusing for beginners, so if you don't understand them, that's not a big deal. Just play as you want and practice.
In Conclusion
As we said, there are many blackjack variations. Even the surrender option has two types. In this post, we tried to give a basic summary of what late and early surrender is and how you can benefit from it. Make sure to use this rule right and it will definitely let you stay in the game for a longer time. Besides, you can have a pretty good payout when using the surrender option properly.
Rate this post, please:
5
4
3
2
1
FAQ
In online casinos, they usually put it in the title. So you can meet something like "Blackjack Surrender". Or you can open a blackjack game and check the rules. You will see what options are available. Besides, check the payout percentage if this option is on.
As a rule, yes. Most table games including blackjack are available on mobile devices. No matter whether it's a live blackjack or a table game, you can open it on mobile. However, make sure that your online casino is compatible with smartphones and has a mobile user interface.
Yes, but you can play only RNG-based games for free. Table games allow players to practice for free. This way, players can learn to use the surrender feature and see how it impacts the payout.
More articles on gambling topic