With this game you already have a goal from the very beginning: the task is to return the Holy Grail to Avalon while travelling through the Kingdom and discovering interesting features on the way. Avalon II offers 3×5 grid, 8 bonuses and 243 winning combinations! Bonuses' names add charming mystery to the process, let's break them down one after another.
Lake of Legend: you should roll the dice to get together the parts of the Sword Excalibur. Reforging it in 10 dice rolls brings extra x15 total bet.
Whispering Woods: select 1 of 5 shields to get a money award or a multiplier.
Misty Vale: you get awarded with 15 free spins, as much as an Extra Wild choice.
Forest Falls: you are guaranteed 20 free spins and Trailing Wilds appearing.
Morgan's Keep: you receive 20 free spins and also Rolling Reels.
Dusky Moors: Find a match for a helm and receive a prize.
Hall of Shadows: vanquish The Black Knight that protects the Grail!
Isle of Avalon: you need to activate The Wheel of Avalon and discover your final win!
Those are the bonuses that this online video game offers. Since it is a Microgaming company product, animation and sound effects are decent as always. The details of the game are well-thought-out and an overall design has no complaints. A bet range is from $0.3 to $1.5 and a total win reaches $120 000! All in all, Avalon II is great for high rollers, so if you are one of them, don't waste any time and get straight to it!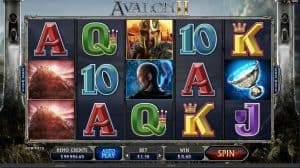 More articles on gambling topic