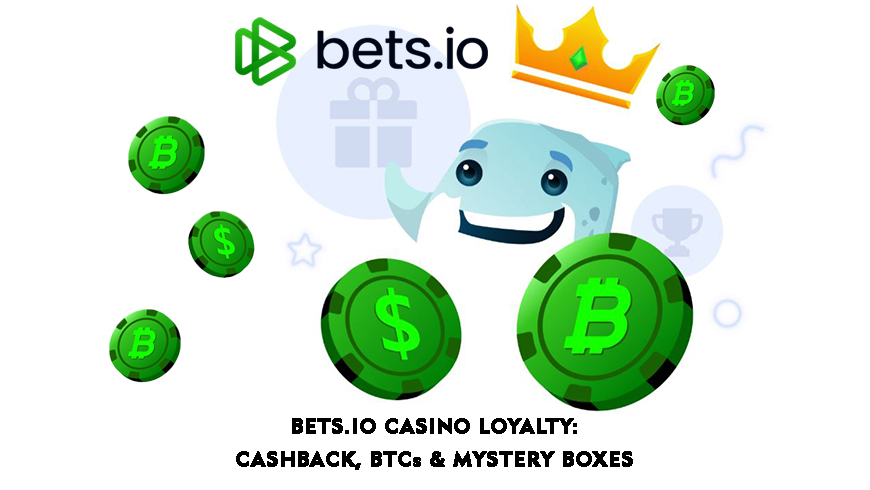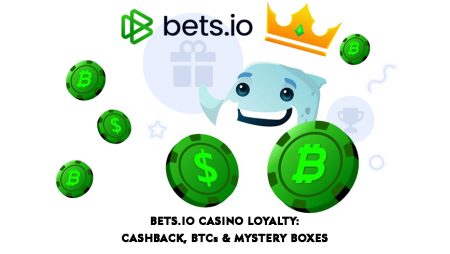 One of the best crypto casinos, Bets.io launches the first season of its loyalty club. What does it mean? It means that all Bets.io players are eligible for exciting bonuses! These include cashback, reload bonuses with BTC and free spins, and prizes from Mystery Boxes full of USDT and free spins! Keep reading to learn all the details.
What is Bets.io loyalty club?
The casino team has designed a loyalty club for players so they can see their progress and get rewards every time they level up. The scheme is pretty similar to traditional online casino loyalty programs. But the prizes for grabs may be better for some players.
Anyone can easily receive a loyalty prize:
Join Bets.io Casino via our Play Now link.
Deposit real money and play games.
Get points to unlock new levels.
Receive your level-up reward!
The loyalty scheme comes in seasons. In other words, Bets.io Casino will determine the period of the loyalty season and create new exciting rewards for each season. It means that the prizes and campaigns we give in this article may differ from loyalty rewards that will be in the next season.
But the system will remain the same. Though the points you accumulate in one season will expire automatically upon the start of the next season.
How to score points & move through the levels
Once you sign up with Bets.io, you get enrolled in the scheme. In the beginning, you are at the 1st level. In total, there are 10 levels at the Bets.io loyalty club, hence there are 10 statuses you can achieve.
Each level is reached with a certain amount of loyalty points. To accumulate the points, you need to deposit your own money/crypto coins and wager them on games. All games qualify for points accumulation.
You receive 1 point for betting a total of 50 USDT or its cryptocurrency equivalent. Here's how many points you need to collect to unlock new statuses and rewards:
1 level — upon registration
2 level — 30 loyalty points
3 level — 75 loyalty points
4 level — 1,000 loyalty points
6 level — 5,000 loyalty points
7 level — 14,000 loyalty points
8 level — 37,000 loyalty points
9 level — 68,000 loyalty points
10 level — 90,000 loyalty points
Therefore, after you sign up, you need to wager 1,500 USDT to reach the next status. We recommend you ask your casino manager about the expiry date of the loyalty club season. This can help you assess how many points you will be able to collect until the season ends, and what potential prizes you can get. Besides, this will help you manage your bankroll right so that you don't lose too much in an attempt to chase as many comps as you can.
Bets.io loyalty rewards
The sweetest thing of all casino loyalty schemes is the rewards. Every season, Bets.io will hearten players with amazing rewards, secret prizes, and more! Below, we'll give you details on what you can receive this time, during the debut:
Weekly cashback of up to 1,000 USDT!
Every weekend, from 25% to 75% match reload bonus of up to 280 mBTC and 120 free spins.
Mystery boxes with up to 500 USDT and 200 free spins.
The more you play for real money, the sooner you can reach a new status and unlock your rewards. Let us give you a closer look at the details of the rewards.
Cashback up to 5%
The percentage of cashback is calculated depending on your loyalty status. Thus, players at the 2-4 levels receive a 3% weekly cashback, players at the 5-7 levels get a 4% cashback every week, and players at the 8-10 level receive a 5% cashback on their weekly losses.
The cashback amount comes to your wallet at the beginning of every week, on Monday. To qualify for it, you need to deposit in cryptocurrencies only. It will be issued in the currency you deposited last time the previous week.
Other requirements to get cashback:
The minimum total amount of deposits must be $1,000 for 2-4 level players. The minimum you need to lose on games is $750. The maximum cashback in your case will be $500.
Players on the 5-7 levels must deposit a total of $5,000 or more and lose at least $4,000. And the maximum cashback amount will be $750.
The 8-10 level players need to deposit at least $10,000 and lose $7,500 or more to get the maximum cashback of $1,000.
The cashback bonus is valid for 5 days. During this time, you need to activate it in your account. And then, you have 7 days to use it and meet the 10x wagering requirement.
Weekend reload
The match percentage of your reload bonus will depend on your status. The maximum weekend reload you can get is a 75% match of up to 280 mBTC and 120 free spins. The money bonus differs depending on which crypto you use. Thus, using Tether, you can get up to 10,000 USDT.
To receive it, you need to deposit real money providing the bonus code LUCKYBET. Your deposit must not be less than 0.0006 BTC or a cryptocurrency equivalent. And it must be made from Friday 00:00 to Sunday 23:59.
Weekend reload is subject to 40x wagering requirements. It includes the bonus amount and winnings from free spins.
120 free spins will be given out in installments starting from the day you activate them.
Mystery boxes
If you earn enough points to access the new loyalty level, congrats, you have a chance to unlock a mystery prize. Right before your eyes, you'll get to see a box that can contain bonus cash or a bunch of free spins. The higher your level, the more intriguing gifts you receive.
Players at the 2-4 levels can get up to 50 USDT as bonus cash or up to 150 free spins. Wagering requirements for bonus is x3 and for free spins — x30.
Players at levels 5-7 can receive up to 100 USDT as a bonus or up to 150 free spins. Wagering requirements for bonus is x3 and for free spins — x25.
Players at the 8-10 levels will receive up to 500 USDT as cash or up to 200 free spins. Wagering requirements for bonus is x3 and for free spins — x20.
Grab your rewards!
Bets.io is a young online casino but has already won the hearts of many players, especially those that play with crypto. Now that the casino launches the first season of its loyalty program, players have more opportunities to grab extra money and free spins. Cashback, reload offers, and Mystery Boxes are the ways to get more money and unforgettable impressions from playing at Bets.io. Join it right now and grab your rewards!
Rate this post, please:
5
4
3
2
1
FAQ
When you join Bets.io Casino, you become a new player with the initial status. To level up and get rewards, you need to wager real money. Find your current loyalty status in your account info at Bets.io Casino.
Yes, it is. Although Bets.io Casino is a young betting site, players can trust it. It is registered under the laws of Curacao and has a license from January 27, 2022. It is a safe casino platform that uses high-end security technologies to provide the total safety of players' data.
No, you can't. Only real money wagers qualify for comp points accumulation. So you can't wager any bonus money and expect to earn loyalty points. Instead, check the terms to learn how you can collect points at Bets.io Casino.
More articles on gambling topic