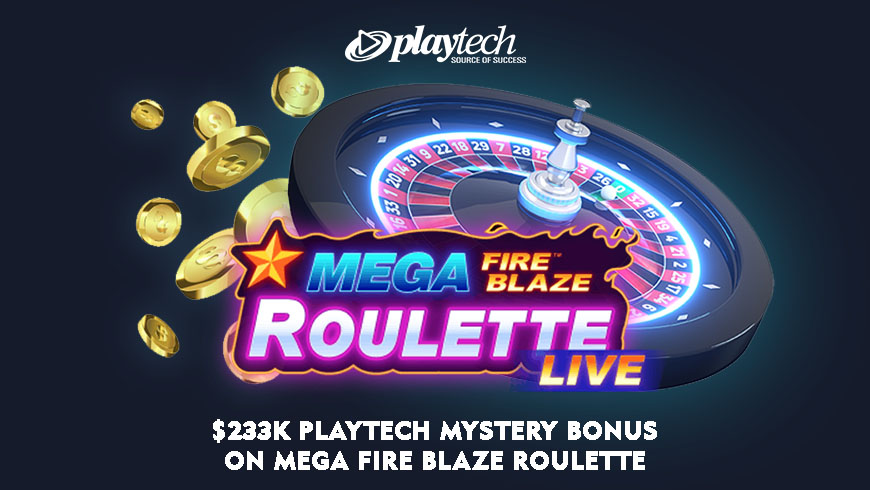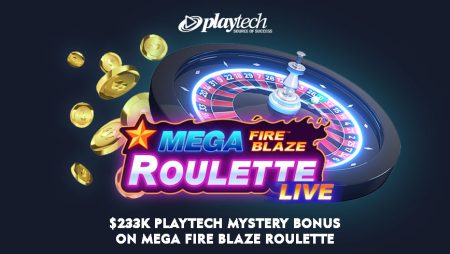 Playtech doesn't arrange promotions very often, but when it does, the promotion is fire. Again, Playtech is bringing the heat with its Mystery Bonus offer. Available only for roulette fans and those who want to get a cash bonus from the prize pool of $233,100! If you haven't yet tried Mega Fire Blaze Roulette from Playtech, this is the best time to do it. On top of the mega roulette experience, you have a chance to win cash! Read on to find out all the details and rules of participation.
The promotion is available only at Playtech casinos where you can find Mega Fire Blaze Roulette. Check out the gambling websites we reviewed on CasinoBest.ca and pick your favorite.
Mystery Bonus Promo
Playtech has arranged a promotion during which live roulette players can get rewarded with even more money. It started on June 15 and runs till August 3. However, be careful and watch the promotional hours. The Mystery Bonus can drop only between 16:00 UTC and 22:00 UTC. The promotional week runs from Wednesday to Wednesday. So make sure to play Mega Fire Blaze Roulette in these hours.
The promotional offer has a total prize pool of $233,100, which is shared among players every day. The daily prize fund is $4,662. It is also divided into 6 Bonus Rounds with a prize pool of $777 each. In other words, every day you have a chance to win a share of all 6 bonus rounds.
How to Participate in Playtech Mystery Bonus
You don't have to opt-in for this promotion. But you need to be a registered player. So check if your online casino operator offers Playtech games and log in. If not, you can always sign up at a different Playtech casino in Canada. Then, follow the steps:
Make a deposit to play a live roulette session.
Open Mega Fire Blaze Roulette during the promotional hours.
Place $1 or more to qualify for the bonus round prize.
Play and try to get the cash.
In total, there are 6 bonus rounds per day. So if you don't win the first one, you have 5 rounds more.
How It Works
Mystery Bonus is a network promotion that takes place in all Playtech casinos. However, we advise you to check your casino if this offer is active. For this, join the Mega Fire Blaze Roulette live table during the promotional hours and check the user interface. It should notify you that the Mystery Bonus is active.
As you place a minimum bet of $1 on the live roulette table, you qualify for participation in the bonus rounds. Mind that you are eligible for the cash prize regardless of how much you bet. Higher bets do not change your chances of winning.
All 6 bonus rounds are triggered randomly with the help of a random number generator during the promotional hours. A bonus round is displayed in the user interface with a shared amount of prize. Only one bonus prize winner is selected randomly out of all straight-up betting positions.
Thus, if you have placed a bet on the position picked by RNG, you get a share of the bonus round prize pool. The prize is divided equally between the winners.
You will receive a pop-up notice, and the cash will be credited to players' accounts. At some casinos, you will have to claim the real money reward within a certain period of time. Depending on the casino, you may be asked to convert this prize into cashable money by wagering it a few times.
Rules of Mystery Bonus
We highly recommend reading the terms of the promotion at your selected online casino because they may differ from casino to casino. For example, some online casinos may require you to sign up and subscribe to email notifications, while others will tell you to make a deposit and claim a welcome pack before you can be eligible for the Playtech promotion.
The general rules of participation in Mystery Bonus are as follows:
Players can receive rewards only within the promotional period from June 15 to August 3, 2022.
The Mystery Bonus option is active every day during the promotional hours: 16:00 – 22:00 UTC.
Available to all players who place bets of $1 or bigger.
Mega Fire Blaze Roulette
The Mystery Bonus is available only on Mega Fire Blaze Roulette. This is why we'd like to share a few words about this live roulette game.
First of all, the game pays 97.3% back to players. And the biggest bet multiplier you can catch on Mega Fire Blaze Roulette is x10,000. So you can significantly multiply your bet in the main game and win extra cash from the Mystery Bonus promo.
When you first open the game, you see a gorgeous studio room colored in orange, that evokes the fire element in the game's title.
Mega Fire Blaze Roulette has a standard 37-number wheel with a single zero. Players can choose between inside and outside betting positions to wager real money. However, only inside bets qualify for the multipliers.
When time's up, the game chooses 5 or 10 numbers that become fire numbers. Then, the wheel spins, and the bonus round is played if the ball lands on a fire number.
Mega Fire Blaze Roulette features the Fire Blast round that can be activated randomly. This round is played on a 3×12 grid split into 6 pieces. Each piece has either a multiplier or a fixed jackpot value.
In total, there are four jackpots that multiply your bet by 2,000x (grand), 500x (major), 100x (minor), or 20x (mini).
Try Your Luck With Playtech!
Especially if you love Playtech and its live roulette games, you will be happy to participate in the promotion. Give your luck a try as you have 6 chances to win extra cash every day!
If you are looking for the best Playtech online casino, check our casino reviews and gambling blog to find your perfect casino to play slots and live games from the world-leading software developer Playtech.
Rate this post, please:
5
4
3
2
1
FAQ
In the general rules of Playtech's promotion, the prizes are cashable. However, it depends on the casino too. For example, on Casino.com, you receive prizes from Mystery Bonus in casino credits. Then, players need to convert them into real money by wagering the number of winnings 10 times. Though, at LeoVegas, players need to claim the winnings from the My Offers page and receive the prize on their balance.
The prize pool of one bonus round in Mystery Bonus is $777. The winners get an equal share of this fund. Since there are six $777 prize pool bonus rounds a day, you can win multiple cash prizes every day.
No, you don't. Participation in the Mystery Bonus starts automatically as you place a $1+ bet on Mega Fire Blaze Roulette. But make sure that your Playtech casino offers this network promotion.
More articles on gambling topic