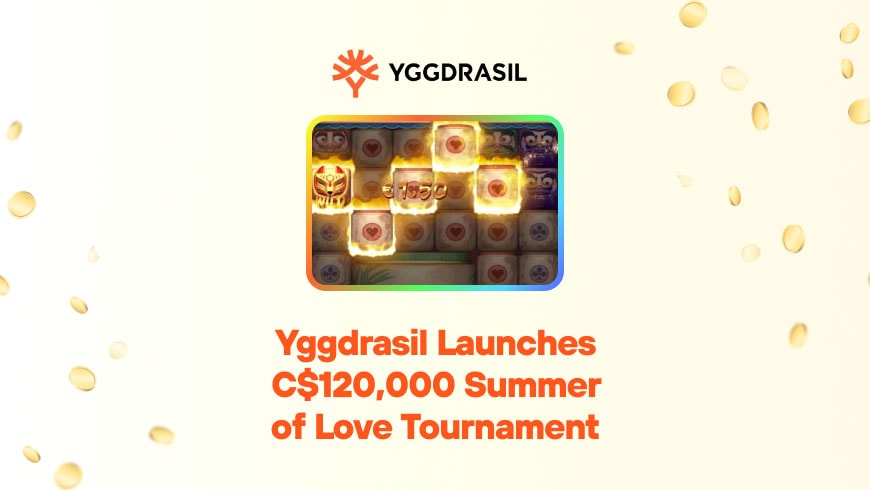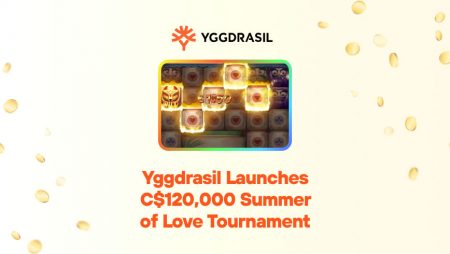 To celebrate summer that has finally come, Yggdrasil software provider launches a two-week tournament with a prize pool of CA$120,000! The biggest share that will be given to one and only player is CA$15,000. That is how much Yggdrasil loves its players and summer! So, take part in the Summer of Love tournament by Yggdrasil to enter this June month with some extra cash in the pocket, and we will tell you where to do this best in Canada!
Summer of Love Casinos
How to Take Part & Win
This Yggdrasil promotion is very engaging with the C$120,000 up for grabs. Here's how to take part in the tournament and win a share.
Sign up at one of the Yggdrasil casinos listed above.
Open a qualifying slot game from Yggdrasil.
Click 'Join Now' in the pop-up window.
Place real money bets playing the participating games.
Continue playing to see the random prize drop!
There is no exact winning strategy in this slot tournament. Neither is there a purpose to bet the biggest and the fastest of all. However, if you play more, there is a good chance that you will receive multiple prizes. If you have seen one random prize drop, soon you will see another. It can be of a bigger or smaller size. Who knows?
Details of Summer of Love Tournament
The campaign starts on June 1 and runs until June 13 at 23:59 CEST. The prizes ranging from C$15 to C$15,000 and totalling to C$120,000 can be yours if you complete the task — place bets! Yes, it is that easy. However, the thing is that you receive a prize randomly. They just appear during the game at any time.
No certainty as the games and the prize drops are powered by a random number generator mechanism.
Though, of course, to win any share of the Yggdrasil tournament, one should comply with the terms. To be eligible for the prizes, follow the rules below.
Make sure you are a player of a Yggdrasil casino.
Opt-in is required.
Only real money bets on qualifying games. No minimum bet is required.
Prize Pool of CA$120,000
The total amount of money set by Yggdrasil is C$120,000 that will be paid out in cash. So, you don't need to play through these prizes later. Just win and withdraw without any requirements. Or you can place them all on games, it's up to you.
The following prizes are spread over the players. Mind that during these two weeks only 900 Yggdrasil casino players will win a share. Besides, one player can win several cash prizes depending on the random number generator.
| Number of Winners | Prize |
| --- | --- |
| 1x | C$15,000 |
| 4x | C$7,500 |
| 5x | C$3,000 |
| 10x | C$1,500 |
| 10x | C$750 |
| 20x | C$300 |
| 50x | C$150 |
| 100x | C$75 |
| 200x | C$30 |
| 500x | C$15 |
Qualifying Games
There are only 8 games participating in the tournament at the moment. Some of them are new releases from Yggdrasil, so you can have a chance to explore them more and win extra cash dropping on the reels.
Gator Gold Gigablox

Gator Gold Gigablox game by Yggdrasil was released in May 2021. It features the Safari theme with the animals pictured on the symbols. There are small symbols and bigger ones that cover all four positions at a time. With the 4096 ways to win and special features such as wilds, and free spins with re-triggering function, a player has a 96% theoretical return.
Golden Fishtank

Awesome graphics and animation is what catches your eyes first, and you immediately realize that this game is hot. The new fish-themed slot by Yggdrasil has two theoretical payouts: 95.9% in a basic mode, and 96.4% in Golden Bet mode. This mode can be activated by clicking on the button on the left side from the 'Spin' button. Golden Fishtank also features free spins, wild symbols, random wilds, 2x multipliers, fish stacks and more.
Multifly!

This game is a jungle-themed slot machine that features up to 4x multipliers set on the reels. Every win is multiplied, sometimes even more than twice. Multifly slot has a dropdown feature, free spins, and wilds. In figures, the game has 243 ways to win and 96.3% theoretical payout.
Valley of the Gods

It starts with a short video preparing you for the super game. The Egypt-themed online slot by Yggdrasil has many exclusive features like the two gods by the side of the reels. One god rewards you with multipliers, while the other gives you extra lives. However, you can activate this feature only by unblocking all the positions on the reels. To do so, you need to have a succession of winning results. Once you lose, the positions become covered by the Scarab blocks. All in all, this game features re-spins, win multipliers, lives, destroying blockers, 3125 ways to win, and a payout percentage of 96.3%.
Lucky Neko

Lucky Neko is a China-themed slot game with a theoretical return of 96.4%. The game features Gigablox symbols which are very big covering 4 or 6 symbols on the reels. Among the other features, there are free spins and the blessed symbol which is worth 5 times more when triggered in the free spins mode.
Holmes and the Stolen Stones

The game is themed with the very well-known British character, Sherlock Holmes. Reveal the secret of the stolen stones together with the greatest detective of his time. The game features a bonus game where you are allowed to open a few boxes and uncover amazing prizes. Holmes and the Stolen Stones has five local progressive jackpots which you can win anytime. The general payout is 96.8% which is very good for a jackpot game.
Jackpot Raiders

Another progressive jackpot game with 5 local jackpots by Yggdrasil is Jackpot Raiders. This slot has many features like the ones relating each reel — the maps. You need to collect 5 identical maps to activate the 10 jackpot free spins. Besides, the game features the compass that can activate either the jackpot free spins or a treasure hunt bonus. Multipliers, many types of free spins and other specials give the players a theoretical return of 96.3%.
Cauldron

Cauldron is a slot machine featuring a witch theme. Above the reels, you can see the witch's hands making magic to your results. The game features are bonus bottles which you need to collect to activate the super free spins round. The meter on the left indicates how many of them you've got and left to get. Besides, Cauldron features the regular free spins, scatters, wilds, and a payout of 96.1%.
Play With Yggdrasil!
Yggdrasil has always been one of those providers that create exclusive games with many interesting features and high-quality design and animation. Their RTPs almost never reduce to 95%, so there is a good chance to win even a jackpot prize! So, why not take this chance and boost your balance with the cash prizes from the Summer of Love tournament. In summer, it's all about love, fun, and joy!
For more gambling news about recurring promotions and tournaments like Summer of Love or Drops and Wins, follow our gambling blog on CasinoBest.ca.
Rate this post, please:
5
4
3
2
1
FAQ
All participating games from Yggdrasil are exquisite with a lot of fun features and high-quality design. If you are looking for the high-paying games, you can try the progressive jackpots 'Jackpot Raiders' and 'Holmes and the Stolen Stones'. The games with the highest RTP are also Golden Fishtank and Lucky Neko. Though, no matter which game you choose, the cash prize can drop anytime and anywhere.
During the promotional period, you can receive as many cash drops as possible. It all depends on the random number generator. However, within one spin, you can win only one prize. So, spin the reels as many times as you want and win random cash prizes.
Yes, of course. You can try the qualifying games for the Summer of Love tournament for free. Simply open any Yggdrasil casino and launch the game. However, mind that no cash prizes can drop in demo mode. To receive a share of CA$120,000, you need to make a real money deposit, first. Also, mind that some online casinos will not allow you to play progressive jackpot games such as 'Jackpot Raiders' and 'Holmes and the Stolen Stones' in demo mode.
More articles on gambling topic