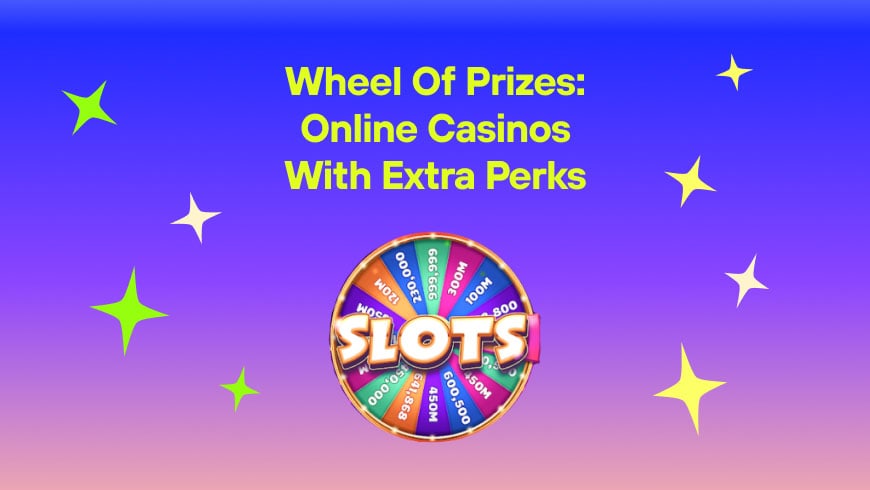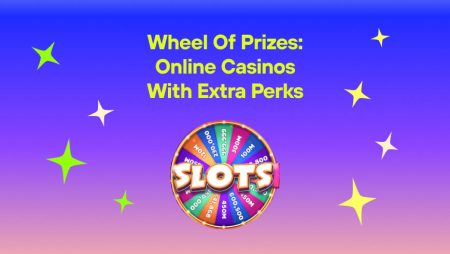 Almost all gambling sites will give you bonuses and extra prizes as soon as you start playing their games. These little extra perks can come in different forms and sizes. Sometimes, it's just a mailbox offer, which you can get only by subscribing to the marketing emails of your online casino. Alternatively, Canadian online casinos can launch a seasonal promotion that lasts a month or two with their best casino bonuses in Canada. During this period, players get extra casino bonuses every day.
However, some online casinos find a more creative way to offer their players guaranteed gifts on almost a daily basis. These sites develop a whole wheel of prizes, which you spin and win a random gift.
The prizes are also different. As a rule, they include players' favorite free spins, deposit bonuses, cashback, and even jackpots. Depending on the casino and its loyalty program, the prizes may vary. Also, the terms to these extra bonuses are different. Sometimes, they have specific requirements, and sometimes not.
To spin the best wheels of prizes, join the following recommended online casinos. They will reward you with nice perks that will make your daily gameplay much better!
Rizk Casino: Wheel of Rizk
Rizk casino has a very awesome Wheel of Rizk. And we're not exaggerating. Just imagine that you get a bonus, which is absolutely wager-free. And this happens every time you level up!
There are unlimited levels, so don't worry, you can still get your level-up reward. Just mind that you have 7 days to claim it until the reward expires.
Perks from Wheel of Rizk
The perks from Wheel of Rizk become activated level by level. At the start, you have a few available random prizes such as free spins and cashable money. When you grow to level 10, you can spin the wheel and win a huge Jackpot!
Aside from these rewards, there are several free spins chips and double speed chips. The latter helps you move up the power bar twice faster. Therefore, you can level up with a double speed, which leads you to the next level-up reward.
How to Level Up & Get Prize
To level up, you need to play games for real money. Rizk online casino doesn't set specific terms for the program. Just fill up the Power Bar, which shows your current level. As soon as you do so, spin the Wheel of Rizk and get your prize! Spend it during the next 7 days and be happy to take your cash home!
Playamo: Wheel of Fortune
Playamo online casino has its Wheel of Fortune running every Sunday. But you can activate it any day of the week by providing a bonus code. The Wheel of Fortune gives a guaranteed prize to everyone who spins it on Sunday. Here's what you get from Playamo.
Perks from Wheel of Fortune
By spinning the Wheel, you can get different rewards. For example, up to 50 free spins on games, up to $150, a jackpot of $15,000, and material prizes such as an iPhone and MacBook.
Though, there are certain requirements to these perks. If you win free spins, you will have to wager the winnings from them 50 times. If your Sunday reward is money, wager it once. And the Apple items do not have the requirements, but you can exchange them for cash. The choice is up to you.
How to Spin Wheel of Fortune
In the Playamo menu, click 'Wheel of Fortune' and watch the Joker inviting you to spin the Wheel. Click to make a deposit of at least $50 and type in the promo code JOKER. Then spin the Wheel of Fortune and get your random prize.
Betway: Prize Wheel
Betway's promotional Prize Wheel is a bit different from the previous two wheels. It rewards you with daily prizes. Besides, Betway offers you to spin a Super Wheel with bigger prizes. But first things first.
The key condition which will determine that you are eligible for the gift from the Wheel is that you need to be a Canadian customer who has deposited over the past 90 days to a Betway account.
However, new players who have deposited within 48 hours after their registration will also qualify for the super daily prizes.
One more important thing to do is to download a Betway app. This Wheel is available to mobile app players only. Remember that you can install a mobile app which suits you best according to the activity. For example, if you prefer slots, download the Betway casino app. If you like sports betting, choose Betway sports app. The same is for Live & Real casino, and Vegas app.
Perks from Betway Prize Wheel
The prizes are typical for casino players and they also have their own requirements. Below, you can briefly see them all.
Cash prizes — no wagering requirements.
Free spins — 30x wagering requirements.
Free bonus on live casino — 30x play-through.
Scratchcard games — 30x wagering requirements.
Free bet on sports mobile app only — wager it at odds 3.00
How to Get Betway Daily Prizes
You have two options on Betway site: Prize Wheel and Super Wheel. To get the classic prize, you need to log in and get your free spin on the Prize Wheel.
To spin the Super Wheel, you need to deposit at least $20 once a day.
As soon as you receive the result of the spins, the prize is credited to your account. Claim it and enjoy the time. To use your prize, load the qualifying game and play.
Mind that all free spins prizes are valid for 1 day only. So, if you don't spend them over this time, they will be gone.
Cookie: Wheel of Sweets
The Wheel of Sweets from Cookie casino reminds of the Playamo's wheel. Still, the prizes and terms are a bit different. You can receive the prize every Friday by providing a bonus code along with your deposit. Here's how to spin the Wheel of Sweets and more details on rewards.
Perks from Wheel of Sweets
After you make a spin at the Wheel of Sweets, you can have one of the following guaranteed prizes. First, you can receive 10, 25, or 50 free spins. The winnings from them will have 40x wagering requirements.
The second type of reward is money, either $15 or $150. Or you can win a jackpot of CA$15,000. These money rewards will have a play-through of 1 time.
You can also win physical prizes, such as MacBook and iPhone. You can redeem them for cash if you want. But we advise to take it as it is.
How to Spin Wheel of Sweets
Log in to Cookie casino and make a deposit of at least $50. While doing so, type the promo code FRIDAY in the deposit bonus field and click 'Add'.
Then go to the Wheel of Sweets on the Cookie casino menu and press Spin. Get your random prize and enjoy it to the fullest!
Spin the Wheel!
Casino promotions that feature the wheels of prizes are not only catchy, they are also rewarding. Some of them have awesome prizes like huge jackpots or physical items. However, most rewards are free spins and cash. It's great that online casinos give the opportunity to get extra prizes, especially for free and without wagering requirements. Still, each wheel of prizes is individual, so pick your favorite and join the casino for more perks.
Rate this post, please:
5
4
3
2
1
FAQ
Not all gambling sites feature this system. Most online casinos have loyalty programs, VIP clubs, or simply recurring bonuses. All these sources can bring you bonuses and gifts. However, the rewards from the wheel of prizes feels more special to receive. Go and see for yourself!
Some casinos never impose wagering requirements on rewards from the wheel of prizes. Such a site is Rizk casino. However, there are casinos that make you wager the bonus a few times before you can withdraw. Usually, the prizes with playthrough rules are free spins and deposit bonuses. But it can vary, so check it in each particular case.
It depends on two things: your casino and the prize itself. If the prize is a bunch of free spins, deposit bonus, or a physical thing, then it will hardly be cashable. But when the wheel stops at a cashback bonus, cash money, or jackpot, the prize can be withdrawable. Still, this may not be true if the bonus terms state different conditions like wagering requirements. So, check the terms, first.
More articles on gambling topic